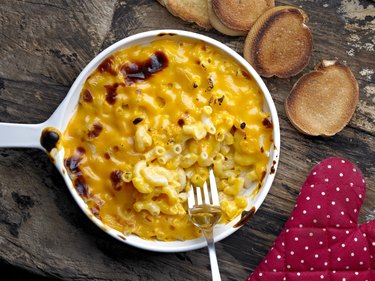 Like peanut butter and jelly and bread and butter, macaroni and cheese make the perfect pairing. Unfortunately, this fan-favorite — traditionally laden with saturated fat and refined carbs — doesn't offer up much in the nutrient department.
But you don't need to cut out this comfort food entirely. With some healthy tweaks, a big bowl of mac and cheese can be a nutritious addition to your weekly meal plan.
These four healthier homemade mac and cheese meals — all under 500 calories — beat the box kind. Plus, some of these recipes come with a few perks for dairy-free disciples thanks to the tasty cheese alternatives.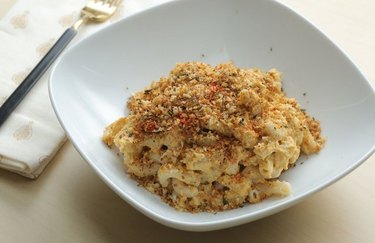 ‌Calories:‌ 427
‌Protein:‌ 11 grams
A creamy, dairy-free cheese substitute, nutritional yeast provides the cheesy flavor plus, as a complete protein, all nine of the essential amino acids that your body needs. Just one modest tablespoon of nutritional yeast seasoning supplies 5 grams of protein and 2 grams of fiber.
To top it off, seasoned breadcrumbs add a crunchy texture to round out this delicious dish.
2. Mac and Cheese and Peas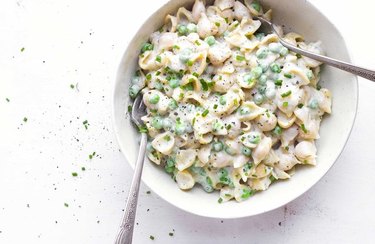 ‌Calories:‌ 362
‌Protein:‌ 12 grams
Protein-packed peas give this vegan mac and cheese a satisfying 12 grams of protein per portion, Largeman-Roth says. With a whopping 8 grams of protein and fiber and 64 percent of your daily value for vitamin C, every cup of peas adds a powerful nutrient punch to your plate.
"If you don't have the time to make this mac and cheese recipe from scratch, you can use a healthier store-bought boxed version like Banza Chickpea Mac and Cheese and then just toss in the peas," Largeman-Roth says.
To simplify even further, opt for frozen over fresh peas. That's what you call ‌easy peasy‌.
3. Plant-Protein Powered Butternut Mac and 'Cheese'
‌Calories:‌ 350
‌Protein:‌ 22 grams
This plant-based mac and cheese pops with protein (22 grams per serving) and overflows with fiber (11 grams) thanks to nutrient-dense chickpea pasta, which also contains fewer net carbs compared to its traditional white pasta counterpart.
"Butternut squash and nutritional yeast combine to make a creamy 'cheese' sauce that will fool even non-vegans," according to Largeman-Roth.
Not to mention this savory sauce serves up a staggering amount of beta carotene and vitamin A. Indeed, one cup of butternut squash brims with 83 percent of your daily value for vitamin A, an essential nutrient for healthy vision, reproduction and immunity that also sports antioxidant properties to help fight dangerous free radicals, per the Mayo Clinic.
4. Clean and Light Mac and Cheese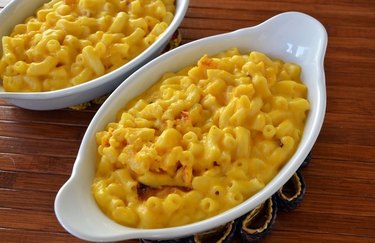 ‌Calories:‌ 468
‌Protein:‌ 22 grams
"If you're looking for a traditional tasting mac and cheese that's on the healthier side, look no further than this recipe," Largeman-Roth says.
Made with a handful of whole-food ingredients — including sharp cheddar cheese — this high-protein homemade version nixes all the unnecessary ingredients found in the store-bought stuff. That means no artificial flavors, preservatives or dyes.
The addition of dry mustard adds a wonderful tanginess to give this common cheese sauce more complexity and a culinary upgrade, Largeman-Roth says.