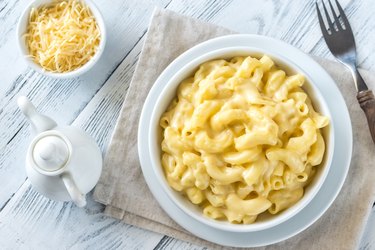 Macaroni and cheese is the comfort food of all comfort foods, but making your own homemade mac and cheese can be pretty time consuming. Because of that, you may want to double up on your recipe and save half for later by freezing the mac and cheese.
But how do you freeze homemade macaroni and cheese? Can it even be frozen successfully? The answer is yes, and it's really easy. And once the macaroni and cheese is frozen, you can keep it in your freezer for up to three months.
Freezing Mac and Cheese
There are two ways of freezing mac and cheese. You can either freeze it after it's baked (and then reheat it when it's time to eat) or you can prepare your mac and cheese, but freeze it before baking. If you freeze it before baking, it tends to come out creamier and less grainy when it's time to cook it because it hasn't been heated up twice. Either way, the process for freezing your mac and cheese is almost identical.
Prepare your recipe according to the recipe's instructions and transfer your macaroni and cheese to a freezer-safe glass dish. If you want to bake your macaroni and cheese before freezing, cook it now per the instructions, but shave a few minutes off. According to the University of Georgia Extension, foods that you're planning to reheat should be slightly undercook before freezing.
Once your mac and cheese is done cooking, allow it to cool completely and then cover it tightly with plastic wrap and place it in the freezer. If you're freezing the macaroni and cheese before baking, skip that part and cover with plastic wrap right after transferring the mac and cheese to your dish. Transfer your dish to the freezer and freeze. According to PBS, you can keep frozen macaroni and cheese for up to three months.
Best Freezer Mac and Cheese
The way you prepare your mac and cheese also makes a difference. While you can successfully freeze any type of mac and cheese, preparing what's called a "make ahead" mac and cheese may give you a better finished product that's less grainy after you reheat your mac and cheese.
To prepare the make ahead mac and cheese, all you have to do is add some cream cheese into your cheese sauce mixture when you're cooking it. You may also want to decrease the amount of flour a little bit, since the cream cheese will thicken it a little bit and reducing the flour will help prevent graininess when reheating.
Another helpful tip that comes from cooking instructor Linda Carucci in an interview with the Washington Post is to cook the pasta al dente if you're planning to freeze it and reduce the amount of pasta you use. Carucci says that this can help prevent mushiness and dryness after freezing mac and cheese, since the pasta will be firmer and there will be less to absorb the cheese sauce.
Reheating Frozen Macaroni and Cheese
When it's time to reheat or cook your frozen macaroni and cheese, you don't have to let it thaw out or come to room temperature. You're going to cook it right from the freezer.
Preheat your oven to 375 degrees Fahrenheit and place your frozen dish on a baking sheet. Remove any plastic from the top of your dish and then cover with aluminum foil. Cooking time will vary based on what size dish you're cooking, but for a 9 x 13-inch dish, you can expect to cook your macaroni and cheese for 60 to 70 minutes or until it's hot and bubbly. Smaller dishes, like 8 x 8-inch pans will need 40 to 50 minutes.
After the appropriate amount of time, remove the foil and then continue baking until the top is golden brown. It should take about 5 to 10 more minutes. Remove the oven and allow to cool for about 10 minutes before serving.