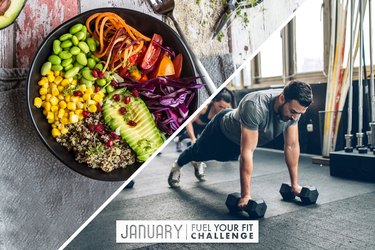 You logged sweat-worthy workouts paired with optimized nutrition plans to work toward your long-term goals. So... now what?
It's time to take what you've learned from each week's challenge and apply it to your own food and fitness habits. Incorporating elements from Week 1 through Week 4 can help deliver better results, especially if you're trying to lose weight in 2020: A healthy diet coupled with an exercise regimen is more effective for weight loss than either method alone, according to an October 2012 study in Obesity.
Putting It All Together
Rather than repeat each weekly challenge and risk overtraining, use components from the last four weeks to build a balanced and sustainable plan for February and beyond.
What that plan looks like will depend on your goals. If you're looking to shed belly fat, you might want to get the maximum four HIIT workouts in one week. If you're more keen on building muscle, you'll need to max out with four strength-training sessions instead.

Click here for a printer-friendly version of this plan!
For more information on the MyPlate + LIVESTRONG.com January Fuel-Your-Fit Challenge Sweepstakes, click here.