Together with Athleta, we're compiling actionable wellness advice you need from the experts — and Well+Good is bringing it to life at events in NYC. Here, Ruan Living founder Sophia Gushée shares how to detox your home.
It's public knowledge that outdoor air pollution is a thing (hello, truck train, and car exhaust that you see on the daily), but what you might be surprised to find out is that indoor air pollution is actually two to five times higher than outdoor pollution, according to a 1987 report by the EPA (that the agency still cites as fact today, FYI).
That means that out of the thousands of options of cleaning products, toys and other household necessities on the market, chances are that many of them contain some trace of toxins.
"Furthermore, since some chemicals last for years or decades, the accumulation of chemicals in our homes is impossible to measure," Gushée says. "But dozens of toxic chemicals and heavy metals have been detected in house dust (keep in mind that there can be many more in dust but they just weren't tested for)."
This is where a home detox comes into play, and what Gushée's entire book is centered on. She suggests buying fewer plastics and vinyls, making safer swaps — for example, instead of bleach, opt for hydrogen peroxide — as well as being aware of what you're tracking in with your shoes. (Just leave them at the door next time, your body and your carpet will thank you.)
To get even more insight on why detoxing your home is beneficial to your health, keep on scrolling.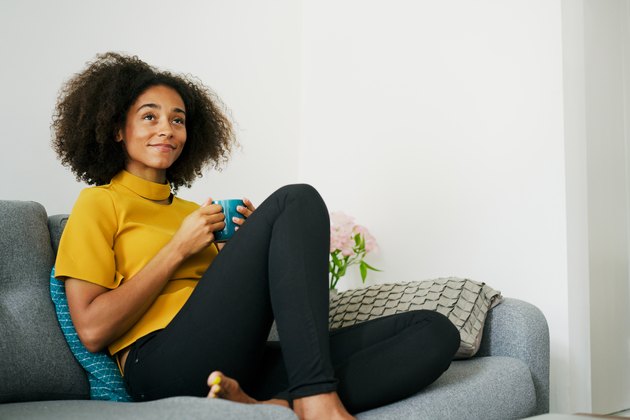 1. You'll Avoid Potentially Cancer-Causing Fumes
There's a range of fumes linked to cancer found in everyday items like furniture, cosmetics, plastics and more, including cadmium (according to 2008 data from the Agency for Toxic Substances & Disease Registry, or ATSDR) and formaldehyde (says the ATSDR again). Gushée suggests opting for natural materials when possible, and that goes for your personal care products, too.
While toxic exposures don't necessarily cause long-term damage, Gushée looks at it as the same way as smoking. "Just like not all heavy smokers get lung cancer, heavy smokers are much more likely to develop lung cancer." You're simply decreasing your chance of something going wrong.
2. You Could Help Protect Your Brain
In addition to the carcinogens lingering around in your indoor airflow, neurotoxins — or toxins that alter the structure of nerve tissue — can be common, according to Gushée. Lead is one, says a 2009 study in Reviews on Environmental Health. "Lead is still found in households, including in children's rain coats, toys, shower curtains, window blinds, and more," adds Gushée.
That's where you'll want to start making small swaps that equal out to some positive indoor air changes. Double check the labels on toys to ensure they're BPA-free, and remain mindful of the ingredients in your everyday cleaning or household products. Opt for a simple cleaning spray like castille soap with essential oils.
3. You Can Watch Out for Your Hormones
Buckle up for this one: Gushée says that endocrine-disrupting chemicals are pervasive within household products — including phthalates, cited as an endocrine-disrupter in a June 2014 study in Frontiers in Public Health, which are found in beauty products and soft plastics.
According to a December 2014 study published in Annals of Pediatric Endocrinology & Metabolism, the neuroendocrine system (made up of the nervous and endocrine system) work together to keep the body operating normally — so this isn't something you want to mess with.
4. You Could Protect Your Reproductive Health
"Many chemicals are being studied for their influence on reproductive health. For example, prenatal exposures to phthalates has been found to adversely affect the male reproductive system," Gushée says, citing the Frontier in Public Health study.
And according to a July 2017 report published in Environmental Health, the research shows that air pollutants may cause defects during gametogenesis (the process in which cells form gametes, aka the male and female cells that are essential for fertilization), which could lead to a potential dip in reproductive capabilities.
A home detox will be a welcome one — for freshening your air and doing your body a solid.
Is This an Emergency?
To reduce the risk of spreading COVID-19 infections, it is best to call your doctor before leaving the house if you are experiencing a high fever, shortness of breath or another, more serious symptom.