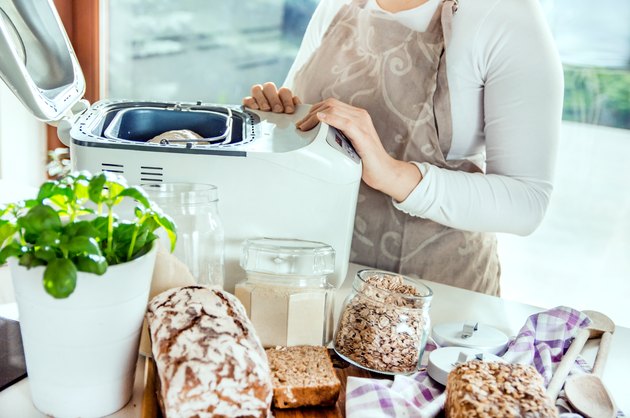 While grabbing a loaf from the bread aisle is easy as pie, there are perks to baking your own bread at home.
You can control which ingredients go in (and which don't), it'll taste fresher and, over time, you'll probably save some money given the inexpensive ingredients involved. Plus, you can finally get your hands on some harder-to-come-by loaves like whole-grain sourdough.
While you certainly can make your own dough and bread at home with a Dutch oven, you can simplify things by investing in a bread machine. The handy tool will take a lot of the timing and guesswork out of the equation.
Whether you're on a budget or looking to spend, have a family of five or live alone, we have the perfect bread machine for you.
1. The Best Bread Machine for Large Families
Breville Custom Loaf Bread Maker
Bread machines typically come in specific loaf sizes: 1-, 1.5-, 2-, 2.5- and 3-pound. There are a few machines out there that make a 3-pound loaf but they're more difficult to come by and they don't rate as highly as the Breville Custom Loaf Bread Maker.
This machine makes up to a two-and-a-half-pound loaf, which is perfect for larger families. Other family-friendly features: The surface is non-stick, making for easy clean-up and the machine comes with a recipe book featuring 46 different recipes, so there's something for everyone.
One of its most unique features is the dispenser that automatically adds fruit and nuts to the dough in the baking process. There's also a pause option so that you can shape the bread or top with a glaze.
2. The Best Bread Machine for One or Two People
Zojirushi Home Bakery Mini Breadmaker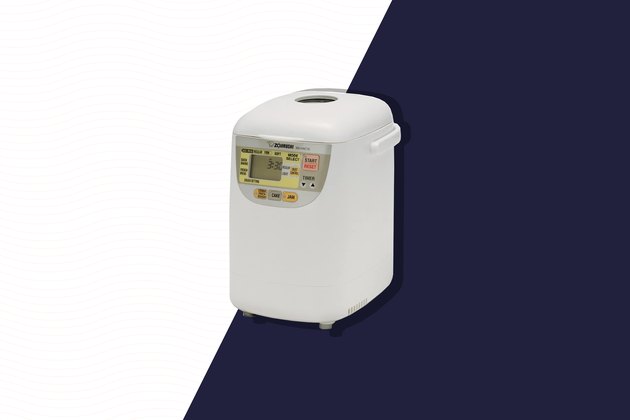 One of the best things about making bread is the lack of preservatives in your home-baked loaf (which is not the case for most store-bought kinds). But that fresh loaf is not going to last you long.
If you're a household of one or even two, there's likely not much need for a bread machine that makes a two-pound or even a three-pound loaf of bread.
That's why we love this mini bread maker by Zojirushi, which creates one-pound loaves of bread. Zojirushi is one of the most trusted, top-rated brands in kitchen appliances and this model allows you to purchase one of their high-quality machines for less than $250.
Like many other bread machines, you can make jams and cookie and pizza dough in it as well.
3. The Best Inexpensive Bread Maker for the Budget-Conscious
Hamilton Beach HomeBaker 2-Pound Bread Maker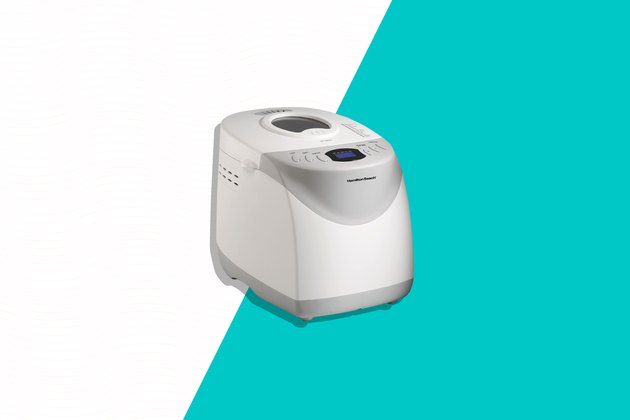 Perhaps you're interested in making your own bread at home but don't want to invest a ton upfront for this new "hobby."
Or maybe you're on a budget and realize making your own bread at home can actually save you some serious cash over time. Whatever your reason, this is the bread machine for you.
The lower price point doesn't mean you're getting fewer features. This bread baker has 12 different cycles (including basic, French, dough, jam and express), three crust options (light, medium and dark) and a delay timer.
4. The Best Bread Machine for Gluten-Free Diets
The good news is bread-making machines are not for the gluten-loving and/or tolerant only. A few machines have a gluten-free function available but none to our knowledge offer as many options as the T-FAL Acti-Bread.
This bread machine has 15-cycle options including three gluten-free-specific options: gluten-free savory bread, gluten-free sweet bread and gluten-free cake. You also have the option for three crust settings: light, medium and dark.
With a 15-hour delay start option and an auto-warming function, this bread basically bakes itself.
5. The Best Bread Machine for Small Kitchens
Cuisinart Compact Automatic Bread Maker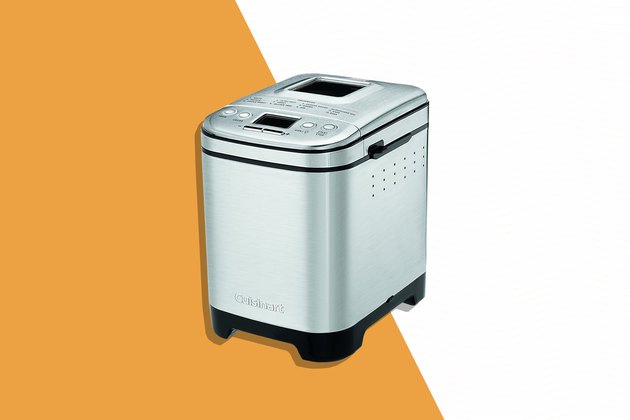 Lacking counter space? This bread machine is for you. Its compact base and vertical shape makes it perfect for anyone with limited real estate in the kitchen.
Just because it's smaller in size doesn't mean you're left with making mini loaves — it bakes up to a two-pound loaf.
Despite its size, it's not lacking in features either. This bread machine offers 12 menu options (white, French, whole-wheat and more), as well as a 13-hour time delay and a variety of crust options.
6. The Best Top-of-the-Line Bread Machine for Big Spenders
Zojirushi Home Bakery Virtuoso Plus Breadmaker
If you're willing to spend some dough to make some bread, then we've got just the machine for you. This is the top-of-the-line, highest-rated bread machine you can currently get your hands on.
Zojirushi is known for its high-quality kitchen appliances and this one has all of the bells and whistles. It has an expanded menu list offering white bread, whole-wheat, gluten-free, rapid whole-wheat and even sourdough starter.
You can also customize the knead, rise and bake times. This machine comes with dual kneading blades, an additional heater for even baking and a 13-hour delay timer so you can set it, forget it and still wake up to warm bread in the morning.