Self-rising flour is a Southern favorite for fluffy, flaky biscuits -- but not for yeast breads. The flour has baking soda and salt added, which could throw off the ratios of ingredients in your bread recipe. Self-rising flour also has other qualities that make it ill-suited for yeast bread.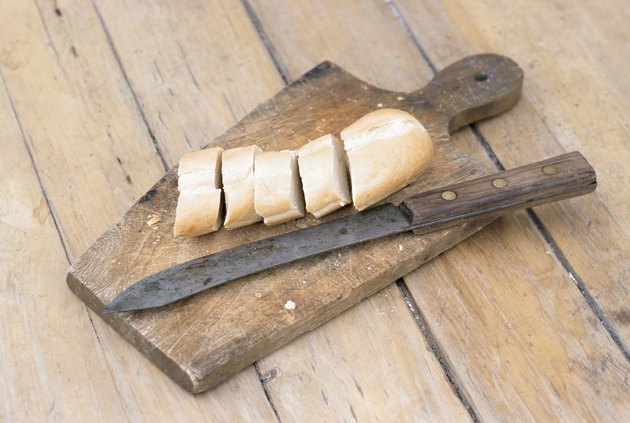 How Bread Rises
Bread flour is generally made from hard wheat, giving it a higher protein, or gluten, content. When gluten combines with water, it forms sticky, stretchy strands that trap the carbon dioxide emitted from the yeast as it ferments. This is what makes your bread rise.
Self-Rising Is Low in Protein
Self-rising flour is usually milled from a soft winter wheat, which results in a low-protein content. Low-protein flour is ideal for baked goods in which you want a tender texture -- such as biscuits, scones or pancakes -- but not so good for ones in which you want heft and chew -- such as bread. If you use self-rising flour that's low in protein for your bread, your loaf won't rise as high.
Interference with Bread Making
Self-rising flour already contains a leavening agent in the form of baking soda. Combining baking soda with yeast doesn't provide any added benefit to your bread and may, in fact, throw off the chemical reactions of the other ingredients. Bread machine manufacturers warn against using self-rising flour for this reason.
Throws Off Your Recipe
Because of its low-protein content, self-rising flour absorbs less water than high-protein flour. It also already has salt added. If you were to use self-rising flour in a bread recipe, you'd have to alter the amount of liquid ingredients to make the dough the right consistency and the amount of salt to preserve the flavor. Since self-rising flours vary in protein content and amount of added salt, you'd have no way to know how much you'd have to change the amount of liquid and salt in the recipe to create a quality loaf of bread.