When you're watching your weight, whole-wheat bread is a smart choice. It helps you stay satisfied as you reduce calories and supplies a greater assortment of nutrients than its refined counterpart, white bread. As with any food, however, eating too much whole-wheat bread can cause weight gain, so stick with moderate portions.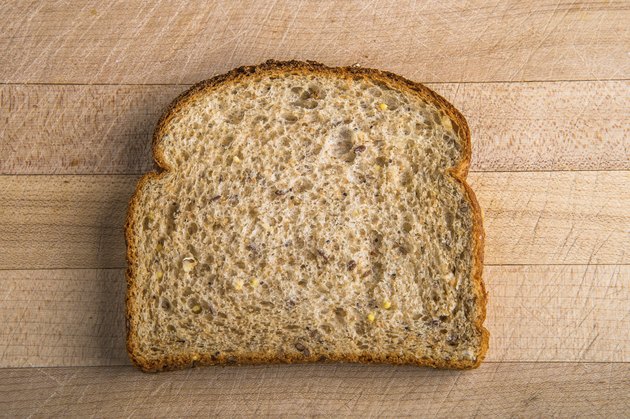 Filling Fiber
Whole-wheat bread is rich in fiber -- containing more than double the amount in white bread -- which may help keep your diet on track. Fiber adds volume to food without adding calories, helping you feel fuller longer so you may eat less throughout the day. Most Americans don't get enough fiber in their diets. The 2010 Dietary Guidelines for Americans recommends eating 14 grams of fiber for every 1,000 calories you consume. Whole-wheat bread typically contains 1.5 grams of fiber per slice. Get the rest from fruits, vegetables and other whole grains such as barley and oatmeal.
Belly-Fat Burning
Choosing whole-wheat bread over white may help you burn more abdominal fat while dieting, according to a study published in "The American Journal of Clinical Nutrition" in 2008. Researchers randomly told dieters to either get all of their grains from whole sources or to avoid whole grains completely. Although all lost weight, the whole-grain group enjoyed the greatest decrease in belly fat.
High Nutrient Density
When you're reducing calories for weight loss, you have less opportunity to get the vitamins and minerals you need for optimal health. That's why it's especially important to choose foods with high nutrient density, meaning they pack significant amounts of nutrients in relatively few calories. Whole grains, such as whole-wheat bread, contain far more B vitamins, vitamin E and other nutrients than refined grains, helping you get the most nutritional bang for your caloric buck. For proper nutrition, however, spread calories among all major food groups. Include fruits, vegetables and protein sources such as beans and fish in your diet along with whole grains.
Calories Still Rule
Although eating healthy foods such as whole-wheat bread is important for weight loss, your success ultimately depends on consuming fewer calories than you burn. Calorie needs vary, but most women lose weight eating 1,200 to 1,500 calories per day, while most men lose weight eating 1,500 to 1,800 calories per day. Averaging about 80 calories per slice, a serving of whole-wheat bread provides just a small percentage of those needs. If you snack on bread all day long, however, the calories will add up quickly.