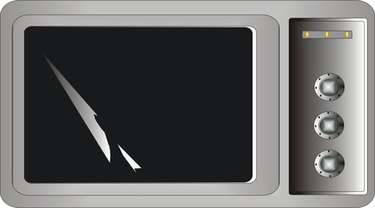 Low-calorie frozen meals offer an easy diet solution for busy people. Two of the most common brands, Lean Cuisine and Healthy Choice, are available in most grocery stores. Several factors might affect your choice of frozen diet dinners, including taste, variety, calories, fat, and sodium levels. Compare these two product lines to find the foods that you'll enjoy while staying slim.
Frozen meals like Healthy Choice and Lean Cuisine offer a reasonably balanced meal, including protein, carbohydrates and vegetables. Total calorie counts range between 170 and 410 calories depending upon the meal. You can prepare these meals in your microwave at home or at the office and be ready to eat in less than five minutes in most cases. Although prepared frozen meals are more expensive than home-cooked foods, they are significantly more affordable than eating out.
Lean Cuisine offers traditional frozen entrees, larger dinnertime selections and specialty spa meals, as well as panini sandwiches, quesadillas and pizzas. Healthy Choice offers entrees, complete meals with vegetables and desserts, all-natural selections and steamers that use innovative cooking techniques, as well as soups and shelf-stable meals. Both companies offer some Mexican- and Asian-inspired dishes. You can also find more traditional favorites, like pasta with Alfredo sauce, meatloaf and macaroni and cheese, in these diet meal brands.
Both Healthy Choice and Lean Cuisine are including more whole grains in their products. Lean Cuisine Spa Selections include whole grains such as whole-wheat pilaf and have five to six grams of fiber, reports LeanCuisine.com. Some Healthy Choice meals have as much as 12 grams of fiber and 24 grams of whole grains. Sixteen different Healthy Choice meals contain whole-grain pasta or rice, according to HealthyChoice.com.
If you need to eat a heart-healthy diet, limiting sodium might be a priority. The American Heart Association recommends that adults consume less than 2,300 mg of sodium daily, and your doctor might suggest a lower limit if you have certain health conditions. Lean Cuisine meals contain between 340 mg and 700 mg of sodium. The Lean Cuisine website allows you to search for lower sodium options. Although Healthy Choice does not allow you the convenience of searching for lower sodium meals, the frozen options top out at 600 mg of sodium.
Although diet frozen meals can help you lose or maintain weight, for many people they won't be enough food or enough calories to make it through the day. Lean Cuisine suggests adding a small salad, dinner roll and a glass of milk to round out a meal. Mandy Walker from "Consumer Reports" recommends adding fruits, vegetables or yogurt to frozen meals to add calories and boost nutrition.