A good bread recipe can inspire you to plan an evening of baking that results in the wonderful smell of fresh bread wafting through your home. Many bread recipes call for bread flour, and you might have only all-purpose flour on hand. There is a way to make the all-purpose flour more suitable for use in a bread recipe by adding wheat gluten to the flour.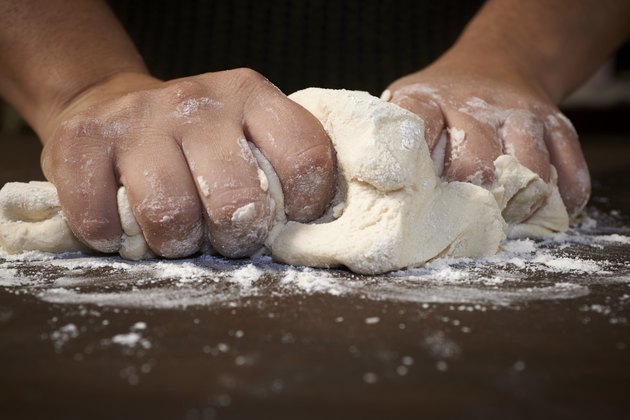 The Difference
Bread flour has a higher percentage of protein, also known as gluten when you're talking about flour protein, than all-purpose flour. Gluten from grains is the stuff people with celiac disease have to avoid. The gluten makes bread or pastry thicker and chewier. Cake flour, meant to produce light dough that is not tough, has a much lower protein content. All-purpose flour is a few percentage points lower in terms of protein content when compared to bread flour, but it has more protein than cake flour.
Packaged Wheat Gluten
Wheat gluten, vital wheat gluten or wheat gluten flour -- it can go by any variation on these names -- is already a part of flour, and it is also available separated out as a powder for sale both online and in stores. It's typically kept near the bean and alternative-grain flours in gourmet and health food stores. Storage directions vary, but should be included on the packaging.
No Consensus
The only consistent advice about converting all-purpose flour to bread flour is that you have to add some wheat gluten. The problem is that no one agrees on an amount. The Red Star Yeast company suggests adding 1 teaspoon of vital wheat gluten to 1 cup of all-purpose flour; Cook's Thesaurus recommends 2 teaspoons of gluten per 1 cup of flour; TipNut.com recommends adding 1 tablespoon of gluten to an unspecified amount of all-purpose flour; and Better Homes and Gardens suggests 1 to 3 tablespoons of gluten per recipe. The amount of gluten all-purpose flour already has can vary, so before you add more it is probably a good idea to bake some test recipes. Start adding small amounts of gluten to the tests to see how they work out. Unfortunately, this will be a trial-and-error process.
Canadian Flour
Another option is to buy some all-purpose flour made in Canada. Sweetapolita, a Canadian cake design website, notes that Canadian all-purpose flour has a slightly higher protein content than all-purpose flour in the United States, making Canadian all-purpose flour better for use in bread recipes. Canadian bread flour itself also has a higher protein content than U.S. bread flour.