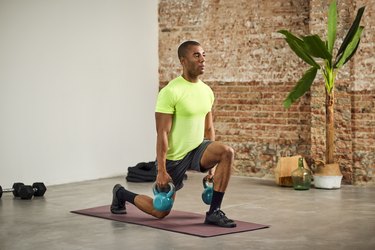 You've probably heard the saying "life is about balance" — and it's true. Life is also about coordination. Focusing on both will help you be able to do everyday tasks, such as standing and walking, as well as activities like running, kicking or throwing a ball, riding a bike and more.
Lack of balance and coordination can contribute to falls and injuries, so it's important to incorporate this type of training into your fitness programming.
When training balance and coordination, it's important you do exercises that challenge your core because your core is primarily responsible for stability.
Contrary to popular belief, your core is not just comprised of abdominal muscles. It also includes your hips, shoulder girdle and pelvic girdle. Because of this, doing a full-body workout will be most helpful, making sure you target all areas of the core. A strong core helps to maintain a good foundation for your body, and therefor keep you balanced.
Try these five exercises to help challenge your core stability while you break a sweat. Do each exercise for four sets and the amount of reps listed below, and you'll find that life is indeed easier when you find balance.
1. Speed Skater
Start with your feet hip-distance apart.
Jump to the side landing on one foot, letting your arms swing to that side.
Quickly jump back the other direction, landing on the opposite foot.
Repeat.
Tip
For a lower impact option step to the side instead of jump and hold for one second before reversing directions.
2. Single-Leg Balance With Biceps Curl
Start standing with your feet hip-width apart, holding a dumbbell in each hand.
Lift your right leg until your thigh is parallel to the floor (or as close as possible).
Squeezing your core, bend your elbows bringing your weights up to your shoulders to perform a biceps curl.
Return to the starting position.
Complete 6 reps, then repeat for 6 reps on your left leg.
Tip
For less of a challenge, you can lower the leg, or even keep your toe slightly touching the ground.
3. Single-Leg Deadlift
Start standing with your feet hip-width apart, holding a dumbbell in your right hand, and your left arm out to the side, parallel to the ground.
Keeping your left foot on the ground with a soft bend in your left knee, hinge your body forward at the hip and lift your right leg up behind you. Your back back should be nice and tall.
Continue lowering the dumbbell until your upper body is parallel to the ground (or as close as possible) and you feel tension in the back of your left leg.
Keeping your back flat, return to the upright position.
Repeat 6 reps on your left leg, then complete 6 reps on your right leg.
Tip
Think about keeping a straight line from the top of your head to the heel of your foot to keep your body from collapsing as you hinge forward. On the standing foot, think of your foot as a tripod and keep your weight in the ball of your big toe, ball of your pinky toe and your heel. You can also try this without using a weight to start.
4. Dumbbell Renegade Row
Start in a high plank position with both hands on dumbbells, shoulders over wrists and core engaged so your body forms a straight line head to toe.
Pull the right dumbbell up to your rib cage, creating a 90-degree angle with your elbow.
Return the dumbbell back to the starting position, and repeat on your left side.
Continue to alternate arms for 12 reps.
Tip
To modify this exercise, perform the plank on your knees or without dumbbells. You can also use padding for any knee pain. Make sure you keep your hips square, so they don't rotate.
5. Reverse Lunge to Hop
Start in a standing position with your feet hip-width apart.
Step your right leg 3 feet behind you and bend your knees until they form 90-degree angles. Your back knee should hover an inch above the ground and your front thigh should be parallel to the ground.
Drive through your right foot and power your knee up to hip height with a hop.
Return back to the lunge and repeat for 6 reps.
Repeat on your left leg for 6 reps.
Tip
For a low-impact version of this exercise, leave out the hop, but be sure to drive your knee up quickly. Also remember that everyone's range of motion on a lunge will be different, so only bend your knee to where your range of motion allows.