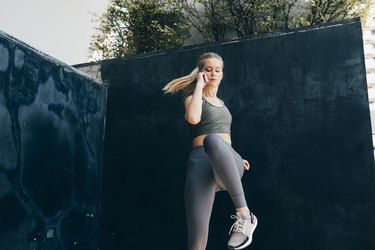 Our range of activities is at an all-time low these days. And though quarantine has definitely taken a toll on our mental wellbeing, our bodies are complaining about the lack of variety, too.
Playing at a park with the kids, tossing a frisbee, hiking with friends — all the simple things in life worked together to make us supple and coordinated, thanks to a breadth of movement.
Now that our movement is restricted to houses and apartments — with the occasional thrill of grocery shopping — you might be experiencing stiffness, pain and postural problems that didn't exist pre-COVID (even if you're a home-workout champ).
This workout, designed by Mark Lauren, author of You Are Your Own Gym and creator of Mark Lauren On Demand, outlines a simple (but definitely not easy!) circuit that will leave you feeling lithe and limber. All you need is a bit of floor space and 20 minutes.
Try This Mobility Workout for Better Balance
"I'm giving you a full-body workout made up of three simple exercises," says the former Army Special Ops trainer. "With these movements, you'll get stronger and leaner while improving posture and coordination."
It'll not only help you move through day-to-day life with greater efficiency, but maximize your time, since stimulating the entire body ensures the most results for the least effort.
"Your mission," Lauren says, "is to complete the circuit 5 times." But not everyone will be capable of finishing the whole thing at first. If you're feeling overworked by set 3, stop there and gradually work your way to 4 and then 5 sets, Lauren says.
"Consistency is king!" Lauren says. "Get started with this workout and keep showing up!"
March in place for 2.5 minutes.
Do: each of these exercises for 50 seconds with 10 seconds of rest in between, then repeat the circuit 5 times
Move 1: Y Cuffs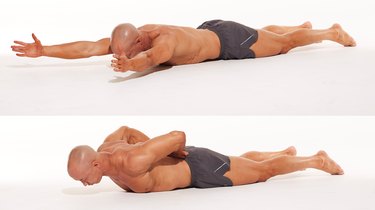 Lie on your stomach and extend your arms past your head to the Y position with your thumbs pointing up to the sky.
Pull your hands down to your armpits, then behind you, placing them on your lower back.
Drop your elbows to the ground, then raise them as high as you can by squeezing your shoulder blades together.
Reset and return to the starting position.
Tip
This is a wonderful exercise for improving the mobility of your shoulders, which also affects your head positioning. Anyone sitting for hours each day will find this one especially useful.
Move 2: Alternating Back Lunge
Stand up tall and straight with your arms overhead, hands together.
With your core tight, take a big step backward and let your hips sink back and down until the back knee almost touches the ground.
Return to a tall, standing position as you draw your back knee up toward your chest.
Set the foot down before repeating on the other side.
Tip
This movement strengthens your legs and hips while improving overall flexibility and balance so you can get into (and maintain) better joint alignment, head to toe. Make yourself as tall as possible throughout this exercise while keeping your midsection tight.
Move 3: Bear Crawl
Get into a crawling position on all fours and lift your knees off the ground.
Step forward with your right foot and left hand at the same time.
Repeat with the left foot and right hand.
With each step, try to raise and lower the opposite hand and foot at the exact same time.
Take 4 steps going forward, then take 4 steps going backward.
March in place (or do jumping jacks) for 2.5 minutes.
More 20-Minute Workouts We Love