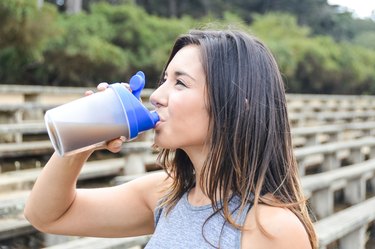 If you've ever tried — or thought about — losing weight with meal-replacement shakes and nutritional supplements, you might have heard of the Herbalife weight-loss programs.
The good news is, if you're set on trying Herbalife, it may help you lose weight — but there are some things you should know before you get started. We'll break it all down here.
Herbalife is a direct-sales company founded in 1980. It sells dietary supplements in the form of meal replacements, protein powders, snacks and teas. You can only buy Herbalife products through the company's independent distributors.
Herbalife positions itself as a nutrition company rather than a weight-loss company, but some of its products promote weight loss. Other products promote general wellness, sports nutrition, specialized nutrition and skin health.
What Do You Eat on Herbalife for Weight Loss?
If you're purchasing Herbalife for weight loss, you'll replace two meals a day with Herbalife Formula 1 shakes. Basically, you lose weight by drastically cutting calories and only eating one full meal each day.
There are three weight-loss program options:
‌Quickstart Program:‌ Contains Formula 1 replacement meal powder, Formula 2 multivitamins, Formula 3 supplement and herbal tea concentrate
‌Advanced Program:‌ Contains everything in the Quickstart Program, plus two other supplements.
‌Ultimate Program:‌ Contains two additional supplements, along with all the contents of the Advanced Program
Your third meal of the day should ideally be healthy and balanced, but it's up to you to shop for and prepare that.
The shakes will give you around 34 grams of protein total for the day (9 grams per serving of meal-replacement powder and 8 grams per cup of milk). That means you need to play catchup on your third meal to ensure you get all of your macronutrients.
Your third meal should contain a lean protein (think: skinless chicken breast, fish, eggs, tofu), at least two servings of vegetables, a fruit and a serving of whole grains (such as quinoa, brown rice, whole-wheat pasta).
The shakes are only 170 calories each (including milk) so you are likely going to get hungry and should plan for snacks.
Good options for snacks include:
Fresh fruit
Veggies with hummus
Nuts and nut butters
Yogurt or cottage cheese
Popcorn
Ultra-processed foods like hot dogs, french fries, chips and other packaged snack foods
Foods high in added sugar like candy, sugar-sweetened cereals, sugary beverages like soda, yogurt high in sugar and sugary coffee drinks
Alcohol, which contains more calories per gram than protein and carbohydrates (7 calories/gram), according to January 2019 research published in ‌Obesity‌, and can be a major source of empty calories in the diet
Fast food — according to January 2016 research in ‌Health Promotion Perspectives‌, fast food was linked to poor diet quality, an increase in abdominal fat and an increased risk for type 2 diabetes and heart disease
Warning
Speak with your doctor before beginning any weight-loss program to make sure you're on the same page with your health goals.
Does Herbalife Work for Weight Loss?
Simple math will tell you that if you're accustomed to eating, say, 500 calories for breakfast and lunch and you take that down to 170 calories per meal, you're going to drop some weight — but not without some hunger pangs, and that could spell disaster for weight loss if it drives you to overeat at your third meal or at other times during the day.
Herbalife may help you lose weight. Different programs work for different people, so if you've tried everything under the sun and you feel like taking a leap of faith, it might work for you.
Keep in mind, though, that the rate of safe and healthy weight loss is 1 to 2 pounds per week, according to the Mayo Clinic. That means cutting between 500 and 1,000 calories per day from your diet. Slashing more calories than that can lead to too-fast weight loss, which means your body may shed muscle instead of fat. This can backfire in the long run, leading to weight gain later on, since having more muscle supports a healthy metabolism (aka helps your body burn more calories, even at rest).
Also keep in mind that the minimum number of calories you should be getting per day is 1,200 for women and 1,500 for men. Dipping below that puts you at risk for nutrient deficiencies.
Pros and Cons of Herbalife for Weight Loss
Weight-loss programs are bound to come with a list of pros and cons, and Herbalife is no different. This is where you figure out if the pros outweigh the cons for you, or vice versa.
‌Healthy eating and fitness are prioritized:‌ The company emphasizes the importance of an overall healthy diet and how it fits into a lifestyle change that includes physical activity. You have access to healthy meal recipes and meal plans to help you on your weight-loss journey. There's a registered dietitian on staff, which shows the company is committed to credibility when it comes to nutrition.
‌1. The cocktail of dietary supplements:‌ Each Herbalife weight-loss program comes with an assortment of supplements. The problem is, dietary supplements are not tightly regulated by the Food and Drug Administration, and the supplement "cocktail" you are taking does not have any research backing up its safety or effectiveness.
A review on the safety of Herbalife's supplements by the National Center for Biotechnology Information found that as many as 50 cases of liver injury were linked to Herbalife supplements. It is difficult to know exactly which supplement might cause the issue, but green tea extracts and aloe vera extracts have been known to cause liver problems.
‌2. Cost:‌ Let's say you want the Ultimate Program — that's going to run you around $238 for a 15-day supply of meal-replacement shake powder and 60- to 90-day supply of supplements. Don't forget, you're also going to have to buy groceries for your meals and snacks.
If you are a healthy adult with no other medical conditions that keep you from eating a whole food diet, you probably don't need to spend the money on this program. The only reason to supplement your diet with dietary shakes and vitamins is if you are unable to get the same nutrients from real food.
Here's how whole foods compare with Herbalife:
Herbalife Formula 1 Healthy Meal Nutrition Shake vs. Whole Food
| | | | | | | |
| --- | --- | --- | --- | --- | --- | --- |
| | Total Calories | Total Fat | Sodium | Total Carbs | Fiber | Protein |
| | 170 calories | 1.6 g | 225 mg | 25 g | 3 g | 17 g |
| | 185 calories | 5.4 g | 529 mg | 10.4 g | 4 g | 20 g |
On the other hand, if you have had a conversation with your doctor and you both agree that this program is safe for you, then there is no harm in trying something new.
You also have the option of personalizing your program as well — one that does not include all the fancy supplements, but buying only what you need and what you think would help you get closer to losing weight.
Always remember that eating whole foods is best. They give you nutrients that cannot be manufactured in a lab, so it's important to keep those foods in your diet.
Was this article helpful?
Thank you for your feedback!