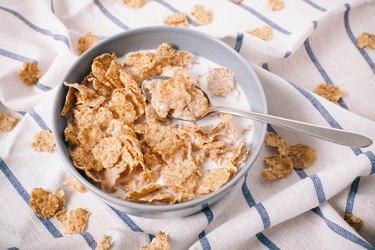 Whether it's morning, noon or night, a cold bowl of Frosted Flakes is about as laid-back as a meal can get. Throw on a good TV show and you're set.
Unless, of course, you're following a gluten-free diet.
Breakfast cereal is a convenient go-to, especially considering so many varieties are fortified with vitamins and minerals. But if you're sensitive to gluten or have celiac disease, Frosted Flakes aren't the best way to go, as they may contain gluten.
​Gluten-Free Corn Flake Cereal​
Why Frosted Flakes May Contain Gluten
Unlike a lot of processed cereals at your supermarket, Frosted Flakes don't actually have too many ingredients. They're primarily made of milled corn, which is a gluten-free food, according to the Kellogg's website.
Quick recap: Gluten is a type of protein found in wheat, barley, rye and these grains' derivatives, according to the Celiac Disease Foundation.
Although corn is gluten-free, the popular cereal also contains malt flavor, which may not be gluten-free and therefore may not be safe to eat on a gluten-free diet. Malt is a sweetener that's made from barley, one of the three primary gluten-based grains.
Some cereals may contain malt that's made of corn, which is gluten-free, according to registered dietitian Shena Jaramillo, RD. But unless it's explicitly stated, you can assume the malt is barley-based and a cause for concern.
Frosted Flakes do not list barley in the ingredient list or gluten in the allergen listing, but the box also doesn't boast a Gluten-Free label.
This label is regulated by the U.S. Food & Drug Administration (FDA) and guarantees that the food contains less than 20 parts per million (ppm) of gluten, a value that's generally safe.
Before buying any processed food, including cereal, you'll want to look for this label.
You'll also want to keep an eye out for a Certified Gluten-Free seal. This mark is regulated by a trusted third-party organization called the Gluten-Free Certification Organization (GFCO). The GFCO sets stricter standards and independently verifies that foods contain less than 10 ppm of gluten.
Bottom line: If you're following GF diet, skip the Frosted Flakes.
Gluten-Free Frosted Flakes Alternatives
Although you may want to skip the Frosted Flakes, there are plenty of gluten-free cereals that are similar in taste, texture and shape to pour into a bowl and spoon into.
1. Nature's Path EnviroKidz Amazon Frosted Flakes Cereal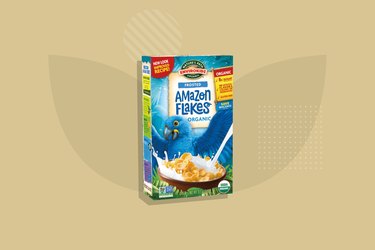 Nature's Path EnviroKidz cereal has a frosted flakes flavor that's certified gluten-free by the GFCO. With only three simple ingredients, you won't second guess adding this option to your cart.
2. Cheerios Frosted Cereal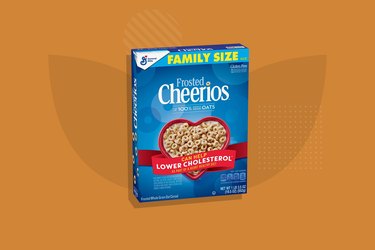 Although these aren't in flake form, Cheerios are a classic breakfast go-to and these are frosted and gluten-free.
3. HighKey Keto Protein Frosted Cereal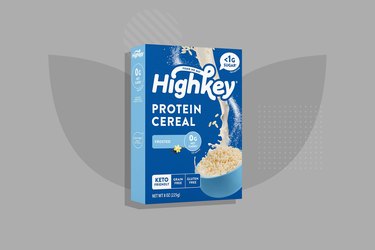 HighKey's frosted breakfast cereal is high in protein and guaranteed to keep you feeling full throughout the morning. Plus, this gluten-free frosted flavor makes a great alternative to Kellogg's Frosted Flakes.
4. Kashi Organic Indigo Morning Cereal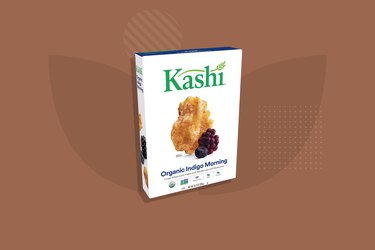 Although this gluten-free Kashi cereal isn't frosted, it has the same corn flake shape and texture you love about Frosted Flakes.