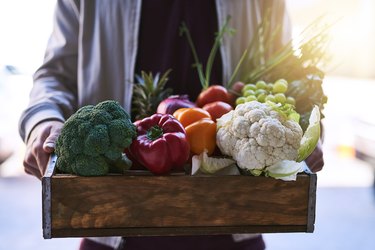 Avoiding the grocery store at all costs — not just on Sundays — is completely understandable these days.
But ordering online isn't any fun, either, considering the long wait times for delivery, high service fees and items that are often out of stock.
If you're looking for another option to stock up on perishable fruits and veggies, consider going the Community Supported Agriculture (CSA) route.
A CSA is a production and marketing model where members of the local community buy into a farm's harvest in advance of the growing, according to the North Carolina State Extension.
To join a CSA, you pay membership dues upfront, which provides the farmer with the financial resources he or she needs for the season and helps to alleviate some of the production risks.
In exchange for your shares, you receive a variety of fresh fruits and vegetables on a schedule of your choosing, depending on your annual membership. Some CSAs even provide fresh meats, eggs, dairy and other products.
The Benefits of Joining a CSA
1. Fruits and Veggies Will Taste Better
First and foremost, joining a CSA will ensure your produce will taste better. Why? You'll be eating what's in season.
To eat locally is to eat in season. Sure, we all wish we wish we could get local strawberries in Minnesota in the dead of winter but the best time to enjoy them is really in the summer and from a local farmer.
2. You'll Skip Supermarket Lines
A box will arrive at your doorstep every week, every other week or on some sort of regular cadence that you signed up for.
You'll no longer rely so heavily on the grocery store for fresh fruits and vegetables — unless there's something specific you're looking for that may not be in season.
3. It's a Great Way to Do Right by Your Community
By investing in a local farm, you're investing in your community. Money spent at small businesses, like a farm, stays close to home. It's recirculated back into the local economy, according to Eat Local First.
You're also helping farmers in the area by supporting their cash flow upfront and allowing them to focus on marketing.
4. You'll Challenge Yourself in the Kitchen
Are you familiar with the show ‌Chopped‌? Think of your CSA box as offering a similar challenge but without millions of people watching or chefs judging your work.
You don't always know what's going to show up in your CSA delivery, so you have to be prepared to think on your feet and get creative. Some CSAs provide recipes or ideas to use, and of course, the Internet has no shortage of recipes either.
Tip
Another way to get a mix of fruits and veg is by ordering Raw Generation's Produce Boxes. Choose either a 25-pound box of fruit or vegetables or a mixed box (you'll pay $3.19 per pound) and have it delivered straight to your door.
5. You Might Eat a Wider Variety of Healthy Foods
By joining a CSA, you'll likely be exposed to new fruits or vegetables that you've either never seen before, eaten before, or cooked before. If this excites you, a CSA may be for you.
A growing body of research shows that the closer kids get to their food, like in helping to grow their own food, the more likely they are to eat it, according to the Academy of Nutrition and Dietetics.
This applies to community-supported agriculture, too. As part of your membership, you often get to do a farm visit. In fact, kids might be more open to eating a variety of fruits and vegetables (even if it's their first exposure to them) if they come from "their" farm, according to Local Harvest.
How to Find a CSA Near You
The great thing about CSAs is that they're nationwide, although what you'll find at different times throughout the year will vary greatly.
Here are a few places to get started on finding a CSA in your community:
When looking for a CSA, here are a few things to take into consideration:
Memberships or shares sell out, so don't wait. If you're interested, get started now on looking for a CSA to join.
Some CSAs, especially those in colder climates, are not available year-round.
Determine out what's important to you. Do you want organic foods? Many CSAs are. Do you want to customize your box? Some allow you to. Do you want just vegetables or fruit, too? What about eggs or dairy?
What can you afford? Make sure there's an option that's meets your financial needs.