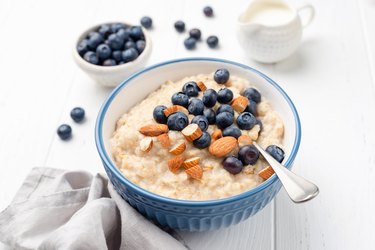 In what feels like overnight, our day-to-day has completely changed. While we're no longer rushing out the door in the morning, the commute from bed to our work-from-home desks saves us so much time we're able to put a little more focus on breakfast.
Non-perishable pantry foods and freezer items most of us stocked up on can actually make a variety of nutritious and filling breakfasts.
To help you build a morning meal you won't get bored of, we've pulled together our favorite breakfast recipes that have just five ingredients or less. Bonus: The featured ingredients are items you can store in your freezer or on your pantry shelves — think: nut butter, oats, shelf-stable almond milk and frozen fruits. (Note that we didn't count water or spices as an ingredient in some of these recipes.)
And rest assured that each morning meal is packed with nutrition to help keep you feeling your best at a time when it's so important to stay healthy.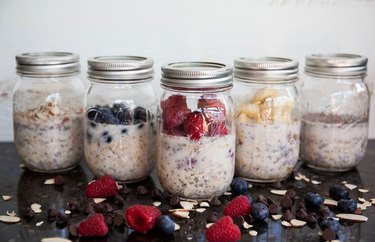 Overnight oats is one of the easiest breakfasts you can make because you prep it the night before and then enjoy it in the morning. Plus, it's a crowd-pleaser because everyone can top their own bowl the way they like it (opt for frozen berries, nut butter or seeds.)
The great thing about rolled oats is that they're a source of beta-glucan, a specific type of soluble fiber that's linked to lowering cholesterol levels and enhancing satiety.
A small January 2016 study published in the ​Journal of the American College of Nutrition​ compared fullness and a sense of hunger after eating either a bowl of oat-based cereal with fat-free milk or a bowl of oatmeal with fat-free milk. Despite receiving the same amount of calories, those who ate the bowl of oatmeal versus the cereal felt less hunger after eating and ate less at the following meal (lunch).
2. Toasted Coconut Smoothie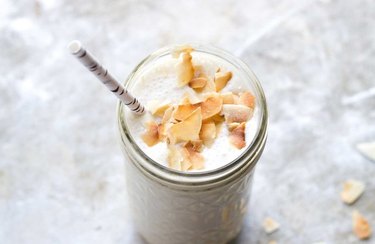 Freeze a stash of bananas and you'll be all set to make this refreshing sip. Frozen banana lends smoothies an extra creamy texture while adding potassium to your glass.
This recipe also features flaxseed, which is a plant-based source of omega-3 fatty acids called alpha-linolenic acid (ALA). Alpha-linolenic acid supports your heart by helping to lower triglyceride levels, reduce blood pressure and inflammation and potentially protecting against stroke, according to the Cleveland Clinic.
Flaxseeds are also the richest source of lignans in our diet. Lignans are phytoestrogens and antioxidants that are tied to helping prevent certain diseases such as cancer and heart disease.
Because you're mixing all of this into a food processor, using a frozen banana that's been thawed will work perfectly in this recipe. We also love that these bars feature prunes — in addition to flaxseeds and oats — because they're linked to many health benefits (and they're shelf-stable!).
4. Chia Seed Pudding With Blueberries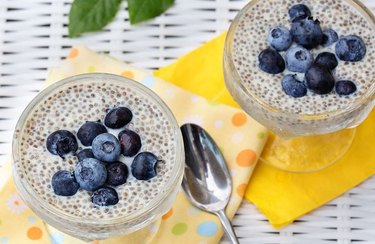 This is another super-easy one that you can prep the night before and enjoy in the a.m. Our fruity pudding calls for almond milk, chia seeds and blueberries — but we recommend adding nuts and/or seeds and a whole grain would give it extra staying power, too.
You can't go wrong with frozen blueberries (or any frozen fruit for that matter). They're frozen at their peak ripeness, which locks in all of their nutrients for you to benefit from. Eating blueberries and/or anthocyanins (which blueberries are rich in) is linked to a reduced risk of heart disease and type 2 diabetes as well as brain function protection and weight management, per a March 2020 paper published in ​Advances in Nutrition.​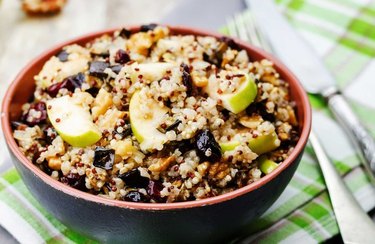 Swap oats for quinoa to create a more unique breakfast bowl option. While this recipe calls for fresh apple, you can use any frozen or dried fruit you have on hand if fresh is not available.
The healthy fats in the almond butter (combined with the protein-packed quinoa) gives this recipe staying power. Almond butter is high in healthy unsaturated fats along with vitamin E, an antioxidant and fat-soluble nutrient.
Tip
When buying almond butter, look for a simplified ingredient list if possible — try to avoid added sugars or oils.