Having a tough time getting your brain to function in the morning? Your breakfast might be to blame. Sure, devouring a doughnut is a quick and easy fix when you're in a rush, but it's bound to leave your brain in an unfocused fog. However, eating the right foods may help boost your brainpower.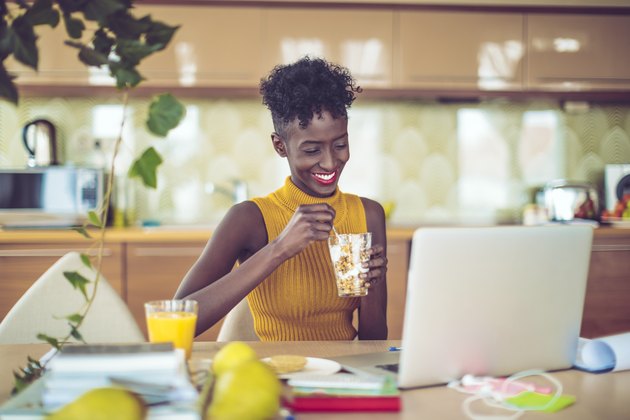 From improved memory to better concentration, these brain-friendly breakfasts are packed with ingredients to help you start the day with a sharp mind.
1. Eggs Benedict on Avocado "English Muffins"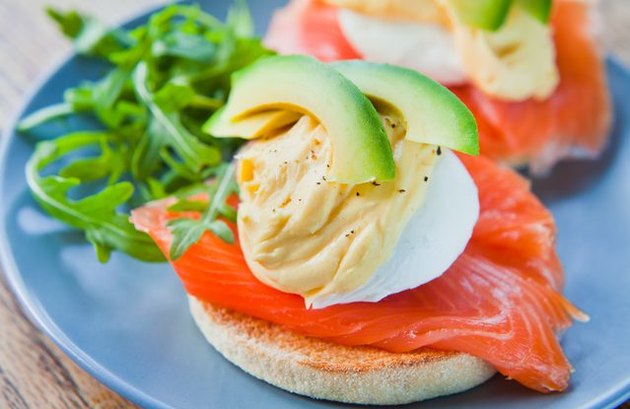 Try this keto-friendly recipe that swaps bread with avocado for added healthy fats and fewer carbs.
2. Avocado Smoothie Bowl With Almonds and Mint
An avocado a day keeps the brain fog away. That's because avocados contain powerful antioxidants including lutein, which is linked to better cognition. In an August 2017 study published in Nutrients, participants who ate an avocado a day for six months showed improvements in memory, sustained attention and efficient problem-solving.
So, if you have a big test or an important work presentation coming up, it would behoove you to add an avocado to your breakfast bowl. This a.m. meal comes packed with crunchy almonds and bananas for added creaminess.
3. Smoked Salmon Avocado Toast
4. Coconut Pomegranate Smoothie
5. Middle Eastern Savory Yogurt Jar
6. Almond and Yogurt Cereal
7. Red, White and Blue Parfait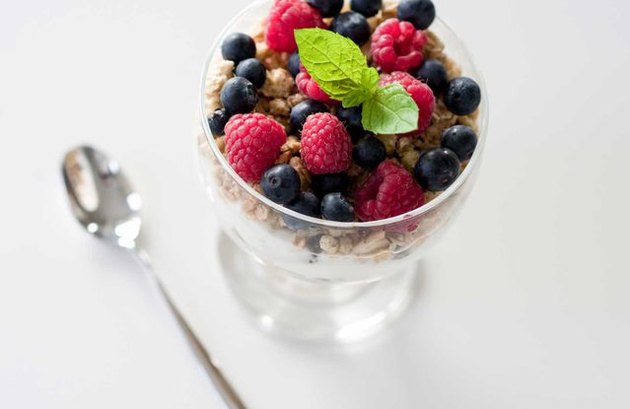 This parfait is the perfect way to jumpstart your brain in the morning. The dynamic duo of antioxidant-abundant almonds and blueberries makes this recipe the ideal brain food. ICYMI, these little blue marvels have a serious health benefits including improved brain function.
Indeed, drinking blueberry juice is tied to better memory and decreased symptoms of depression, as reported in an April 2010 study in the Journal of Agriculture and Food Chemistry. (However, note that the study is preliminary and that blueberries shouldn't replace medication for depression.) Plus, eating more blueberries (and strawberries), which are rich in flavonoids, is associated with slower rates of cognitive decline in aging women, according to an April 2012 study in the Annals of Neurology.
This creamy parfait pairs protein-packed cottage cheese with blueberries and strawberries for the perfect morning treat.
8. Teff Breakfast Bowl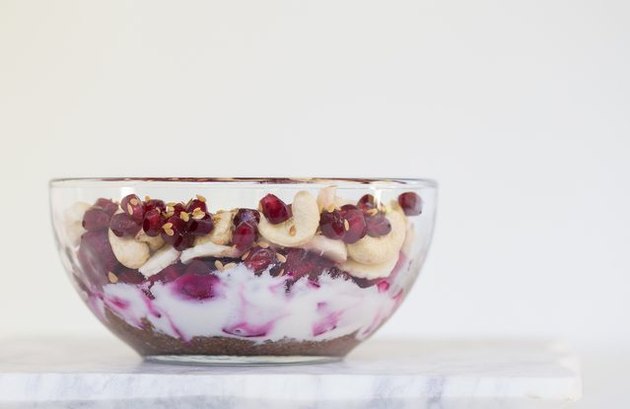 If you need a brain boost, you can't beat the benefits of beets. These root vegetables are rich in nitrates, which can help open blood vessels. That can be especially good for your brain as you age. Matter of fact, drinking beet juice has been shown to increase blood flow to the brain in older adults, according to a January 2011 study published in Nitric Oxide: Biology and Chemistry. Why is that important? Well, when areas in the brain that don't receive enough blood flow, it may cause dementia and poor cognition.
Between the beets and pomegranates in this breakfast bowl, you might have enough brainpower to perform feats of mental gymnastics at work or school.