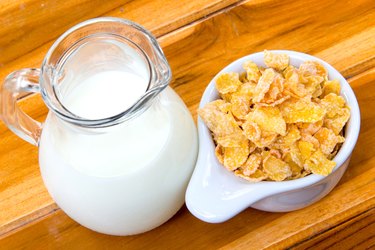 The adequate intake (AI) of calcium for adults, as explained by the U.S. National Institutes of Health (NIH), is 1000 to 1200 mg per day. Children ages 9 to 18 need 1300 mg per day, while younger children have an AI of 500 to 800 mg. Many people obtain less than half of the calcium necessary for effective bone maintenance, according to the University of Maryland Medical Center (UMMC). Eating cereals fortified with calcium can help. Calcium content is listed as mg per 200-cal serving, which may be about 1 or 2 cups, depending on the cereal.
Cereals under the brand Total from General Mills contain the most calcium per 200-calorie serving. Whole Grain Total provides 2001 mg, Total Corn Flakes 1787 mg and Total Raisin Bran 1176 mg. Other General Mills cereals that are good sources of calcium include Harmony, Country Corn Flakes, Fiber One, KIX, Basic 4 and Cheerios, with about 220 to 590 mg calcium per 200-calorie serving.
Other Ready-to-Eat Cereals
Several other brands of ready-to-eat breakfast cereals provide 200 to 620 mg calcium per 200 calories. They include Malt-O-Meal Honey Graham Cereal, Marshmallow Mateys and Apple Zings, along with Kashi Mighty Bites Honey Crunch and Cinnamon Cereal. Kellogg's All-Bran with Extra Fiber contains 432 mg while All-Bran Original has nearly 300 mg. Optimum Slim and Optimum from Nature's Path both provide about 270 mg calcium per 200 calories.
Some hot cereals also are high in calcium. Quaker Instant Oatmeal Nutrition for Women in various flavors provides about 450 to 460 mg of calcium per 200 calories. Quaker Instant Oatmeal and plain Malt-O-Meal both have nearly 300 mg of calcium. Quaker Corn Grits Butter Flavor is another option, with 223 mg of calcium per 200-calorie serving.