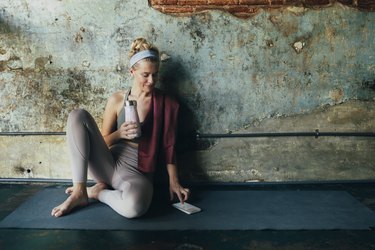 The best way to strengthen and grow your muscles is by training with progressive overload. To see consistent improvement, you need to gradually increase your sets, reps or weight. In other words, sticking to the same routine week after week won't do you any good.
The same can be said of your fitness feed on social media. Scrolling through the same accounts that showcase the same workouts isn't going to help you learn much. But diversifying your feed can expose you to new training methods and, ultimately, help shift the fitness space toward more inclusivity.
Face It: Fitness Is an Exclusive Space
Boxing, running, weight lifting, hula hooping, swimming, yoga — with endless exercise options out there, there's seemingly something for everyone.
Still, fitness also leaves people out. Some people don't have room in their budget for initiation fees or monthly dues to join a gym, attend $40-classes at boutique studios or sign up for online programs or apps. Others don't see their race, age, nationality, abilities, sexuality or body type reflected in mainstream fitness circles.
That's readily apparent on social media, where algorithms make it easiest to follow and consume more and more of the same content. Yes, everyone and anyone can make an Instagram account, but that doesn't make the fitness community there an inclusive space, personal trainer Ridge Davis, CPT, tells LIVESTRONG.com.
You don't have to wipe all the accounts you follow and start from scratch. But putting in a little effort every day to follow more diverse users, companies and brands can add up over time.
"If other people start showing support and engagement with diverse accounts consistently, it opens up the possibility for people to see each other as equal human beings with equal things to offer," Davis says.
You'd probably be doing a disservice to your education if you only read the same genre of book over and over again. It's OK to love romance novels, but if that's the only genre on your shelf, you're missing out on a whole world of stories and perspectives.
The same can be said for your fitness social media feeds. Your experience depends almost entirely on the accounts you follow. In the digital fitness world, the content you consume also determines the kind of training styles, methods and modalities you're seeing, Davis says.
If that content's always similar, you won't learn anything new or fill holes in your current training plan. Following diverse accounts that promote a variety of training methods or exercise styles is a win-win: You expand your learning and you help the user grow their presence in the space.
"If other people start showing support and engagement with diverse accounts consistently, it opens up the possibility for people to see each other as equal human beings with equal things to offer."
With that larger presence comes more attention from brands and marketers, Davis says. Large-scale workout companies often pay fitness influencers for social media content, but right now, most lack racial diversity in those partnerships, says founder of Dean CrossFit Maillard Howell, CF-L2.
"Other than using their 'go-to' or 'safe' Black trainer, there isn't inclusivity [in social media marketing] at all," Howell says. "But wait until Black History Month, for instance, and suddenly, they throw up MLK quotes and the like. The remainder of the year their feeds are pretty homogenous, non-minority trainers."
"The consistent posting, using and showcasing of a primarily whitewashed profile is problematic," Howell adds. "To be good enough, one must look white and be white. ... This, in essence, is the visual and marketing form of systemic racism."
While it's on the brands themselves to diversify their imagery and audience, most choose which accounts to sponsor based on the size of their followings. In other words, the millions of social media users drive the supply and demand. By broadening the accounts you follow, you can encourage big-name brands to do the same.
Follow and Support These Fitness Accounts — and More
Considering the way social media algorithms work, it may take some searching before your feed and suggested accounts to follow begin to showcase more variety. Start small, and start now: We've compiled 30 Instagram accounts worth a follow below.