Even though it seems super-modern, teletherapy isn't new. Telehealth statistics show it's been around for more than 20 years, according to the American Psychological Association. However, as technology has improved, the practice of visiting a mental health professional virtually, whether via phone, webcam, text message or email, has grown in spades.
The Benefits of Teletherapy
Although some people surely prefer seeing their therapist face-to-face, teletherapy comes with some built-in advantages:
Teletherapy is convenient and flexible. By eliminating the commute, it can allow people who didn't feel like they had time to see a therapist to schedule sessions more easily.
For some, being able to control the location may make sessions more comfortable. "Even though therapists' offices tend to have couches and a calming, serene environment, certain clients may still feel it is too much like going to the doctor and be uncomfortable and tense up and not be as open to sharing their thoughts and feelings," says clinical psychotherapist Jennifer Tomko, LCSW, owner of Clarity Health Solutions.
Additionally, remote sessions may help lessen the stigma of seeking support. "There shouldn't be, but there is a stigma in society about seeking mental help," Tomko says. "Some people may be afraid of who might spot them at a therapist's office and therefore not go."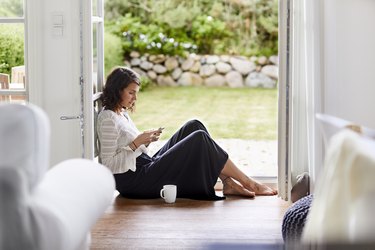 Even if you have an established relationship with a mental health professional, transitioning to teletherapy can be overwhelming. If you're just starting out on your mental health journey, the first step is to find the right therapist for your needs.
Whether you want teletherapy or traditional in-person visits, start your search for a mental health provider by asking for recommendations, suggests Mental Health America. If you feel comfortable talking about mental health with family and friends, see if they know of anyone who might fit your needs.
You can also turn to the internet to search for a therapist. Tomko recommends the online directory at PsychologyToday.com, which allows you to search by city or zip code and then filter by preferences.
Consider choosing someone nearby, even if you plan to do telehealth appointments. "If you think that you may want to do in-person sessions in the future, then find someone in your area," Tomko suggests. "Changing therapists can disrupt the process."
If you find a therapist that seems to match your needs, but they don't use telehealth or aren't accepting new patients, ask them if they know of any other professionals you can contact. "Therapists are often great referral sources," says Ryan Soave, clinical director of telehealth services for behavioral health facility All Points North Lodge in Colorado.
2. Determine Your Insurance Coverage
For most people, part of choosing a therapist is ensuring that insurance covers the sessions. First, ask a potential mental health provider if they accept your insurance plan. Alternatively, you can obtain a list of in-network providers from your insurance company.
Next, determine if your insurance covers telehealth. The answer to this might be dependent on the situation — for example, some insurance carriers have allowed telehealth during the COVID-19 pandemic when it wasn't covered previously — so the smartest action is to get on the phone with your insurer and ask directly, according to the International OCD Foundation.
Tip
If you have difficulty finding an in-network provider that offers teletherapy, you can pay an out-of-network provider and submit the bill to your insurance company for potential reimbursement, Tomko says.
"You must request a superbill from your therapists' office," she says. "This form will allow you to count your therapy session costs toward your deductible, and often you will be able to get reimbursement for your sessions, making them more affordable."
Teletherapy is typically done via phone or video conference. "Teletherapy via phone can be helpful, but it also has limitations," Tomko says. "Non-verbal communication is a key part of the therapeutic process, both for the client and the clinicians. For that reason, she prefers to do sessions via video, which offers a better exchange of subtle expressions.
If you're doing a session via phone, all you need is a reliable connection with a good signal.
For video sessions, you may need to download an app. "Your therapist should tell you in advance what platform they use and what resources they expect you to have," says Roseann Capanna-Hodge, LPC, BCN, a psychologist and pediatric mental health expert based in Connecticut. "Most teletherapy platforms are very user-friendly, and you are emailed the appointment along with instructions for downloading."
Ideally, your therapist will use a HIPAA-compliant platform, so you don't have to be worried about security. These platforms, according to Tomko, include Zoom for Healthcare, Doxy.me, GoToMeeting, Updox and more. Ask which platform the therapist uses, suggests Tomko, who adds that public-facing social media platforms such as Facebook Live, Twitch and TikTok cannot be used for telehealth.
4. Set Yourself Up for a Successful Session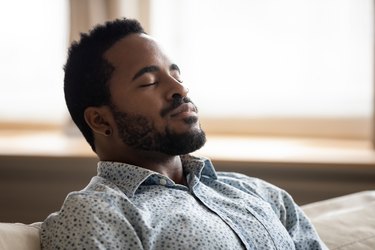 When you're used to the peace and quiet of a therapist's office, the transition to home-based therapy can be difficult. Follow these tips:
The key is to find a quiet, private place to have your sessions, and let your family know about it, Soave says. That way, you can have a conversation with your therapist without any interruptions.
If you're at risk of domestic violence, it's vital to find a safe place to talk to a therapist. "Get in the car, drive to a parking lot or other public place that is safe. Use your phone's personal hotspot or public wifi to conduct the call," Soave recommends.
When you've finished your session, give yourself a minute to get grounded, rather than jumping right back into your daily life. "Take some time to yourself to process the session," Soave advises. "Maybe meditate or take a walk. Whatever you decide to do, just be sure to give yourself some space, be kind to your mind and let the work you just did settle in peacefully."
Is this an emergency? If you are experiencing serious medical symptoms, please see the National Library of Medicine's list of signs you need emergency medical attention or call 911.