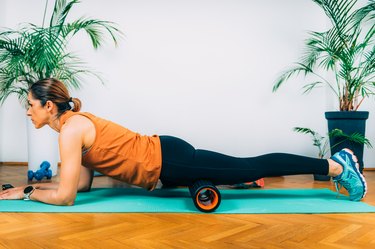 Your quads work hard. Those big muscles on the fronts of your thighs help you squat, run, climb, cycle, walk and kick. It's no wonder, then, that people who do those things a lot have a tendency to get sore.
"Runners. Teens who are in track. People who are lifting. Clients who just want to do cardio," says Quianna Camper, a certified personal trainer in New Jersey. If you're trying out new exercises or increasing the intensity of your workouts, you can also wind up with sore, tight quads. And that tightness can lead to more than just the discomfort of delayed-onset muscle soreness.
The Benefits of Quad Stretches
The best way to highlight the benefit of stretching your quads is to explain what happens when those muscles get tight.
"When a muscle is tight, it's shortened, and it pulls on the muscles on either side of it," says Heidi Kristoffer, founder of CrossFlow Yoga. Since the ends of your quadriceps are at your knees and your hips, tight quads can result in knee pain or injuries. They can also lead to lower back pain, as the tight quad pulls down on the front of the pelvis and causes extra stress on the back, she says.
Plus, tight quads can impact your performance. If you don't loosen them up before a workout, it'll feel much harder than it's supposed to, and may even be less effective, says Tunde Oyeneyin, a Peloton instructor.
If you want less chance of pain and injury, better performance and lighter-feeling legs, stretch those quads! These five moves are essential for keeping them from getting tight and sore. Do one or more after your workout's warm-up or after your workout is finished. You can even try another before bed. Just make sure you keep those quads loose!
1. Classic Quad Stretch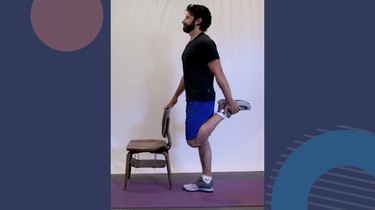 Stand with your feet about shoulder-width apart, holding onto a chair or door jamb with your right hand for balance (optional).
Lift your left lower leg behind you by bending your knee, keeping your hips level, torso upright and thighs close together.
Grasp your left foot with your left hand.
Focus on pressing your left foot into your left hand.
Hold for 20 to 30 seconds, then switch legs and repeat.
Tip
The simple heel-to-butt quad stretch works even better if you ‌don't‌ focus on pulling your heel to your butt, says Tatiana Lampa, a certified personal trainer in New York and founder of Training with T.
"It's about pressing your foot against your hand" rather than pulling your foot towards your rear, she says. When you change this focus, you can put more stretch on the quad and less stress on your knee.
2. Kneeling Hip Flexor Stretch With Rear Foot Grab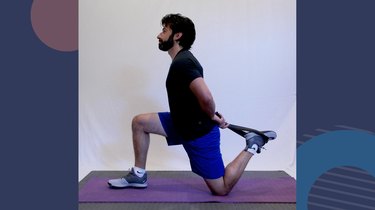 Get into a low lunge on the floor. Your right (front) shin should be vertical, but your left (back) leg should not be at 90 degrees — the pelvis should be in front of the knee, creating an angled thigh.
If necessary, place a mat or rolled towel under your knee to prevent discomfort.
At the bottom of this lunge position, reach back to grasp the left foot, pulling it toward the butt. If this is too hard, wrap a strap or band around the foot to pull it.
Hold for 30 seconds on each side and do 3 rounds.
Tip
Grasping the foot in the rear of a classic kneeling hip flexor stretch pulls double duty, says Glenn Higgins, a Surrey, England-based personal trainer. It's an intermediate stretch because it can difficult to balance.
The classic version of the stretch loosens up the quads and the front hip flexors, which can get tight from many of the same activities that cause quad soreness.
And the foot grab creates a deeper quadriceps stretch due to the shin angle and additional knee flexion.
Try it on a mat or pillow if you have any knee discomfort or pain.
3. Quadriceps Foam Rolling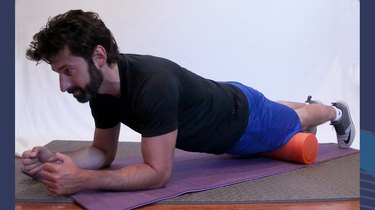 Get in a forearm plank, but with the roller between your upper legs and the floor, about 2 inches above your knees.
Use your elbows to control your body as you roll forward and backward along the front of your thigh. Pause on any spots that are particularly tight or slightly painful.
Continue rolling for about 20 seconds. If you like, you can roll one leg at a time instead of both.
Tip
Foam rolling right after your workout or even a day after can reduce the tenderness of your quads, according to a January 2015 study from the ‌Journal of Athletic Training‌. And for Camper, it's a must on leg day.
"Foam rolling can get intense, though," she says, so she prescribes only up to 20 seconds on each quad. "Feel it out and pay attention to your body." When it feels like the muscle is loose or you can't take more, stop. You can wait a couple of minutes and try foam rolling again.
You can extend the duration — and reduce the pain — of your foam rolling session by picking the right roller. Instead of grabbing the densest, hardest one you can find, start off with something more forgiving.
4. Rear-Foot Elevated Quad Stretch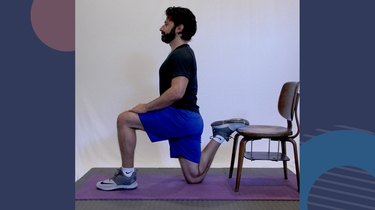 Get into a lunge in front of a wall or chair with your knees bent to 90 degrees.
Scoot back toward the wall or chair. If performing the stretch against the wall, place your knee and shin upright against the wall. If using a chair, place the top of your foot on the seat of the chair.
Work your torso up your front leg until your arms are on top of your thigh, trying to make your torso upright.
Feel the stretch in the quad of your planted leg. To deepen the stretch, push your butt back toward the wall or chair.
Tip
This stretch can be performed with your back leg against a wall or with your rear foot elevated on a chair or couch. In either position, you can push your butt back and forward, Kristoffer says, to deepen the stretch.
5. Prone Quad Stretch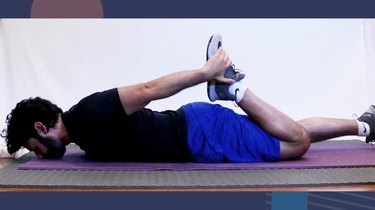 Lie on a mat on your stomach.
Bend one knee as much as possible, bringing your heel toward your butt.
When you can, grab your ankle and begin to pull the heel toward your butt. If you can't reach that far back, you can use a strap or resistance band to do this stretch.
Hold the leg for 30 seconds.
Return to start, and repeat on the other side. Do 3 to 4 rounds.
Tip
For Oyeneyin, this stretch is a must before every ride. It's similar to the classic standing quad stretch, but performed while lying on your stomach or side.
"When in the prone position, the floor helps to stabilize your pelvis, maximizing the stretch," she says.
Was this article helpful?
Thank you for your feedback!