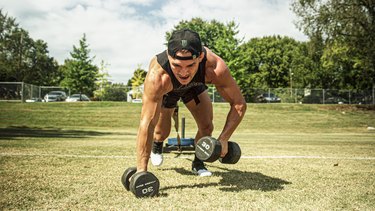 When you can't think of what to cook for dinner, you scroll through a foodie's Instagram account. When you run out of workout ideas, you hit up YouTube for a new routine. But when it's the motivation to work out that you're lacking? It's not as easy as picking up your phone and searching for it.
Take it from a professional athlete. People at every fitness level struggle with lack of motivation from time to time, but the key to getting past that blasé feeling is the same no matter whether you're a casual exerciser or a pro, according to three-time World Champion MMA fighter and Monster sponsored athlete Michael Chandler: Be grateful for your ability to move.
"I like to remind myself that I am blessed to be able to fight at the elite level, and I realize the gifts I've been given to do what I do," Chandler says. The next time you're feeling unmotivated about working out, stop and think about why you do it. To take care of your health, to feel powerful or to soak up the feel-good endorphins afterward are all great options.
There's another tool Chandler relies on to get himself into sweat mode: Monster Energy Zero Ultra. While you may have thought exercising and energy drinks don't mix, Chandler is here to set the record straight.
"I've been drinking Monster since my college wrestling days," he says. "Whether I was cramming for a test or needed a pick-me-up after our 6 a.m. workouts, Monster always gave me that extra boost." Plus, Monster Ultra has a variety of sugar-free flavors, so you can crush your workout without the sugar.
Want even more athlete-approved tips on how to stay motivated? Keep reading to see how Chandler remains energized and inspired throughout his toughest workouts.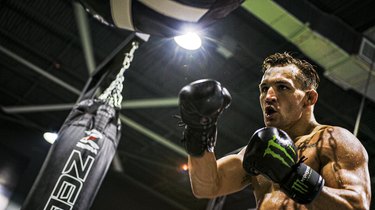 How many times have you sworn to yourself that you'll hop out of bed at 6 in the morning and smash your cardio session only to hit snooze for another hour? According to Chandler, staying motivated starts with setting goals that make sense with your lifestyle.
"Instead of starting with running a marathon, make it two miles, three miles and work your way up," he says. "The small victories will remind you that you are capable of improving and growing and will fuel you to go farther."
Couple attainable goals with the mentality shift toward gratitude and you've got a foolproof formula for motivation, he says. "If you've been blessed with capable arms and legs to walk, run and be active, you should look at it as 'I get to work out' not 'I have to work out.'"
Opt for an Energizing Pre-Workout Drink
Once his mindset is in the right place, Chandler turns to energy drinks when his motivation is still in need of a little push. "I love Monster's wide variety of drinks and how there's a product for every person, at every level of training," he says.
"For me, I love to have a Muscle Monster with protein and energy and Monster Energy Hydro Sport with electrolytes to keep me hydrated, with low sugar, low calories and energy to give me that boost to push a little harder in my workouts."
If you're wanting an all-around lift, Monster Ultra helps increase energy and supports focus, so you can feel pumped about your workout, not lethargic and distracted. "For me, as soon as I twist off the cap or pop the can, I almost feel the effect right away because of knowing I'm about to have one of my favorite drinks that's going to help me power up," Chandler says.
Nourish Your Body With Whole Foods
Drinks aren't the only thing Chandler leans on to support his energy, though. Eating lean protein (like chicken or salmon) with veggies (like broccoli or Brussels sprouts) sets him up for optimal success and helps him avoid post-lunch slumps so he's not tempted to skip his afternoon workouts.
"Eating a clean, consistent diet for me while I'm in peak training helps my body get into the routine of burning energy efficiently and helps me improve day in and day out," Chandler says.
If you have a day (or several) when your diet's a little off or you just can't seem to muster any workout motivation no matter what you do, cut yourself some slack when you need it. "It's important to realize we are all on different paths, but the right path and most sustainable path to having a happy, thriving life is to take care of your body as much as possible," Chandler says.