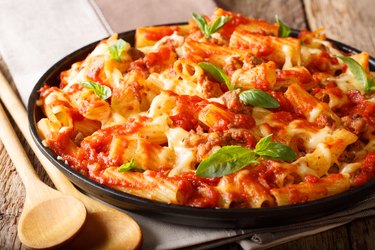 Tofu takes a lot of heat for being bland. But its mild taste is its beauty: The soft soybean curd can absorb any flavor you throw at it. From breakfast to dinner, you can scramble, sauté, stir-fry, bake or blend versatile tofu into countless delicious dishes.
Ranked number five on the USDA's list for foods highest in omega-3s, tofu possesses the plant-specific omega-3 called alpha-linolenic acid (ALA), which is linked to a reduced risk of heart disease, improved blood pressure and decreased inflammation.
And just one cup of firm tofu touts a whopping 43 grams of protein, plus a font of fiber, a boatload of B vitamins and many essential minerals.
Far from boring, these seven tasty tofu recipes will tickle your taste buds and boost your daily protein intake.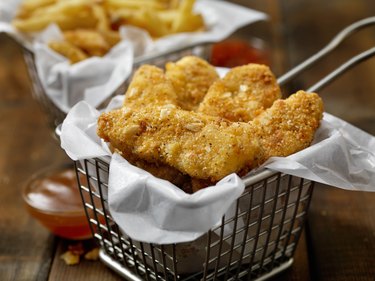 ‌Calories: 344‌
‌Protein: 12 grams‌
This vegan version of juicy chicken nuggets will turn tofu skeptics into believers. The secret to these flavorful faux nuggets is the mouthwatering marinade of buttermilk, Dijon mustard and hot sauce — believe us, you won't be missing the meat.
‌Get the Tofu Nuggets recipe and nutrition info at House Foods.‌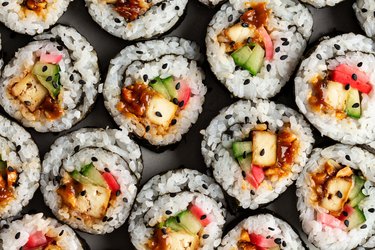 When a California roll craving strikes, this homemade seaweed tofu wrap will satisfy your sushi hankering. Coated in a sticky peanut butter glaze and tossed with a five-spice medley, this sweet plant-based sushi serves up a satisfying crunch thanks to cucumbers, pickled radishes and toasted peanuts. And all this flavorful filling gets wrapped in nutrient-packed nori, an ideal food source for iodine.
3. Sweet Potato Sliders With Guacamole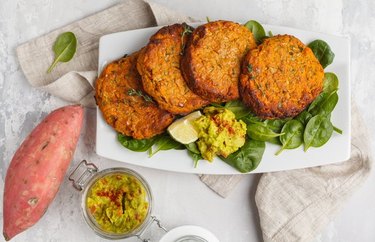 ‌Calories: 446‌
‌Protein: 16 grams‌
A cross between sliders and potato skins, these plant-based patties serve up sweet potatoes in a whole new mouthwatering way. Combined with tofu and hummus, these tasty tubers brag 16 grams of satisfying protein per serving. Cayenne pepper supplies a speck of spice and breadcrumbs bring a bit of crunch to these palate-pleasing patties, perfect for dipping in a big bowl of guac.
4. Lemony Charred Greek Tofu Kebabs on Couscous
‌Calories: 378‌
‌Protein: 20 grams‌
Marinated tofu and colorful red peppers get grilled to charred perfection (in just 10 minutes) to make these Mediterranean-inspired kebabs bursting with bright flavors from tart lemon juice and fresh mint leaves. Serve these savory soybean skewers on a bed of fluffy couscous alongside a tall, refreshing glass of iced unsweetened black or green tea.
5. Baked Ziti With Spinach and Herbed Ricotta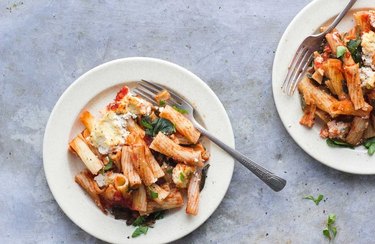 ‌Calories: 328‌
‌Protein: 18 grams‌
Craving comfort food? When you're pining for pasta, this baked penne dish will definitely hit the spot. Seasoned with pepper, basil and garlic, the herbed ricotta in this bubbly, crispy baked ziti boasts tofu as its base. Sneaking in some baby spinach will add volume to your plate, a pretty pop of color and a bunch of nutrients.
6. Quinoa and Tofu Stuffed Pepper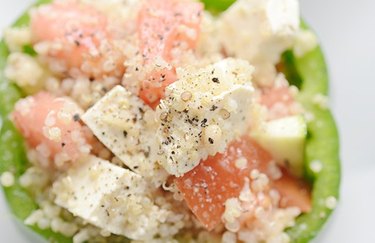 ‌Calories: 304‌
‌Protein: 12 grams‌
This healthy take on stuffed peppers replaces ground beef with tofu for more filling fiber and nutrients without sacrificing satiating protein (each pepper provides 12 grams per serving). Quinoa — another plant-based all-star — bumps up the protein count, while providing all your essential amino acids and a nice nutty flavor.
7. Tofu Tex-Mex Black Bean Soup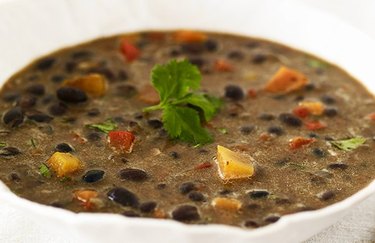 ‌Calories: 301‌
‌Protein: 15 grams‌
Tofu gets a Tex-Mex twist in this straightforward black bean soup recipe that deserves a regular spot in your weekly meal rotation. By topping with tofu, you add even more belly-filling protein and fiber to your bean bowl.
And using canned soup cuts prep time to a mere five minutes. Just be sure to review the nutrition facts label since soups are often stuffed with sodium. For reference, a 20 percent DV or more per serving is considered high.