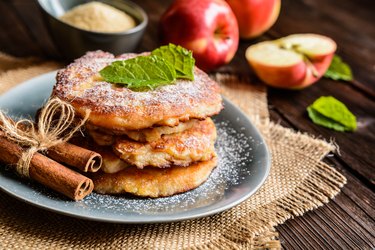 Applesauce makes for a healthy alternative for oil and butter in baked goods, but this versatile fruit puree shouldn't be limited to muffins, cakes and cookies. Bursting with vitamin C and fiber, applesauce can add a sweet (and nutritious) touch to your morning meal.
And when pectin ferments in your large intestine, it produces short-chain fatty acids that can improve gut barrier function, which, in turn, may decrease inflammation and oxidative stress, Harris-Pincus says.
What's more, these short-chain fatty acids are linked to playing a role in blood sugar control, healthier cholesterol levels, immune function, appetite regulation and obesity, she adds.
Start your day on the right foot with these breakfast recipes using applesauce that boast 5 or more grams of gut-friendly fiber.
Tip
When you're purchasing applesauce, just remember to avoid artificial sweeteners and preservatives.
1. Greek Yogurt Pancakes With Strawberries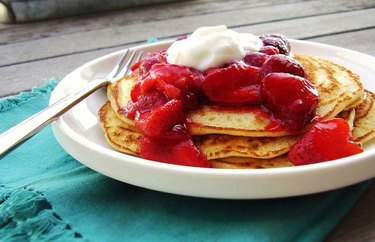 ‌Calories: 259‌
‌Fiber: 7 grams‌
Topped with juicy, sweet strawberries, these gorgeous griddlecakes get a protein upgrade thanks to Greek yogurt, which yields 9 grams per serving. Applesauce — which stands in for sugar and butter — keeps the calorie count in check without sacrificing the flavor in these crowd-pleasing pancakes. And using whole-wheat pastry flour instead of the all-purpose variety bumps up your breakfast's B vitamins.
2. Gluten-Free Protein-Packed Cinnamon Roll Waffles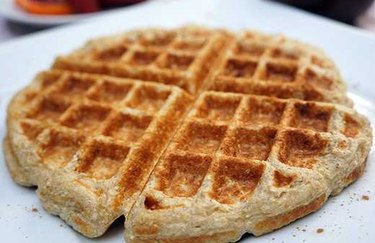 ‌Calories: 365‌
‌Fiber: 12 grams‌
Fluffy and soft, these cinnamon roll waffles will crush your Cinnabon cravings without all the empty calories and added sugar. Sweetened with raw honey and applesauce, these moist waffles will melt in your mouth and help maintain muscle with the addition of plant-based pea protein. Just two waffles pack a whopping 23 grams of the filling macro.
3. Apple-Cinnamon-Almond Smoothie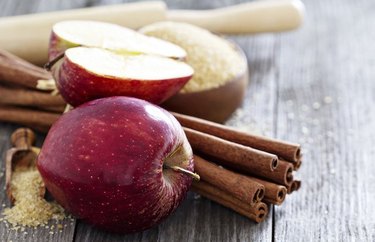 ‌Calories: 314‌
‌Fiber: 6 grams‌
Fall is in the air, and there's no better way to awaken to a crisp autumn morning than sipping on this apple cinnamon smoothie. Your favorite fall spices — cinnamon, allspice and nutmeg — lend warm, comfy flavors while a drizzle of maple syrup, a pinch of vanilla and a dollop of applesauce supply the natural sweetness. Almond butter and flax seeds round out the earthy taste and keep your belly full for hours with satiating, heart-healthy fats.
4. Best Applesauce Waffles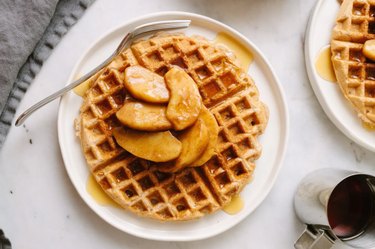 ‌Calories: 264‌
‌Fiber: 5.9 grams‌
Made with ingredients you likely have on hand, these mouthwatering waffles are totally vegan and a perfect addition to a plant-based diet. Single-serve applesauce cups — which contain just half a cup — provide the precise amount of apple puree for this simple yet satisfying recipe. Garnish with good-for-you toppings like fresh berries and a sprinkle of nuts or seeds for a tasty crunch (and an extra dose of healthy, filling fats and protein).
5. Healthy Carrot Cake Pancakes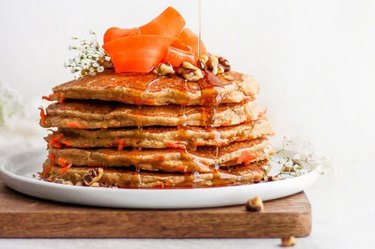 ‌Calories: 323‌
‌Fiber: 5 grams‌
An aromatic medley of cinnamon, ginger and nutmeg recreates the signature spicy, savory flavors of a classic carrot cake in these palate-pleasing pancakes made with shredded carrots for texture. These filling flapjacks are jampacked with protein — an impressive 10 grams for two — and supply the fuel you need first thing in the morning.
Whip up a big batch and freeze them, this way you have plenty of pancakes primed and ready to go whenever a carrot cake craving strikes.
‌Get the Healthy Carrot Cake Pancakes recipe and nutrition info at Fit Foodie Finds.‌