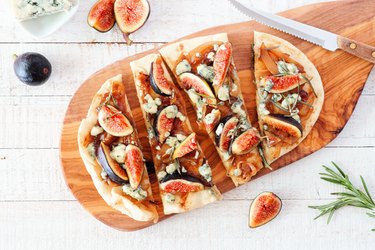 While figs might be associated with those soft and chewy cookies your grandma likes, the truth is, these little fruits are delicious on their own and easy to incorporate into various recipes.
Figs are very sweet and soft and squishy in texture on the outside; they're a bit crunchier inside thanks to the edible seeds. They're available fresh, dried, canned or frozen.
You'll get nearly 4 grams of fiber — which is about 10 to 16 percent of your daily recommended amount — in two fresh figs. Our bodies need adequate amounts of fiber daily to support healthy digestion, Zhu says. So as long as you aren't allergic to figs, they make a healthy addition to any diet.
Now that you're convinced to add these small-but-mighty edible flowers to your shopping cart, try these delicious, gut-healthy fig recipes you'll want to make time and time again.
1. Butternut Squash, Balsamic, Fig and Goat Cheese Pizza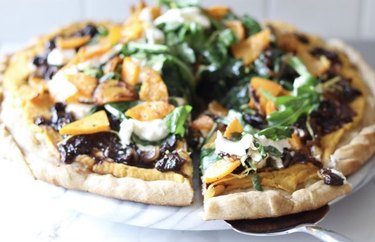 Who said pizza couldn't be a healthy lunch or dinner option? The key to getting nutrients for your pie is all in the toppings. This recipe incorporates dried figs which are cheaper and easier to find in a local grocery store, but if you've got fresh figs on hand, you can use those too. One slice of this fig pizza will provide you with 6 grams of fiber. Zhu recommends pairing one serving of this pizza with a salad for extra fiber and vitamins.
2. Fig-ocado Pitaya Smoothie Bowl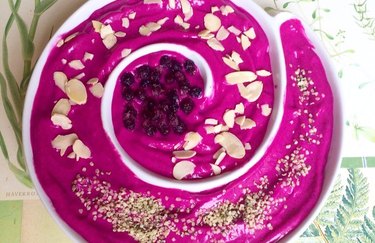 We're not sure what to love more about this bowl — the gorgeous color or the fresh ingredients? "The dragon fruit provides us with antioxidants which, when consumed in adequate amounts, can support overall skin health and immunity," Zhu says. To increase the protein in this bowl, Zhu recommends adding plain Greek yogurt or chia seeds to keep you fuller for longer.
3. Balsamic Chicken and Figs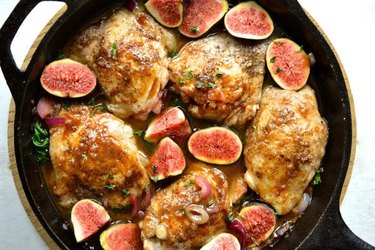 You'll love the combination of sweet figs with tangy balsamic atop this crispy chicken dish. It's gluten and dairy-free and provides 34 grams of protein per serving. "Serve this dish alongside a source of fiber-rich carbohydrates such as quinoa or brown rice and vegetables for a balanced meal and a boost in fiber," Zhu says.
4. Sweet Potato, Fig, Blackberry Fall Salad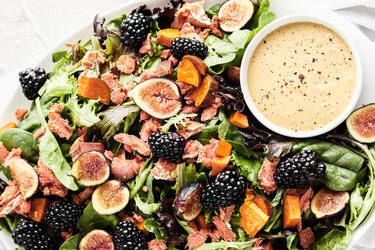 Salads are more fun and economical when you fill them with seasonal produce. This salad is so appropriate for fall because it's made with sweet potato, figs and blackberries. When served alongside the salmon, this dish provides everything you need in a balanced meal including protein, fiber-rich carbohydrates, fats and a variety of micronutrients, Zhu says. If you're looking for a plant-based protein, Zhu recommends choosing a legume like chickpeas of tofu.
5. Caramelized Onion, Prosciutto and Fig Quesadilla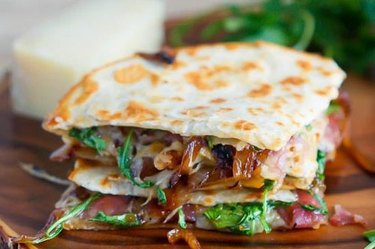 The trio of caramelized onions, sweet figs and salty prosciutto is like a flavor bomb in each bite. "While this can be part of a balanced lifestyle, it's important to note that prosciutto can often be higher in sodium," Zhu warns. Pork is a good source of protein and contains important B vitamins our bodies use for energy production. To amp up the fiber content, try swapping a white tortilla with a whole-grain or grain-free option.
6. Roasted Brussels Sprouts With California Fig Compote and Pecans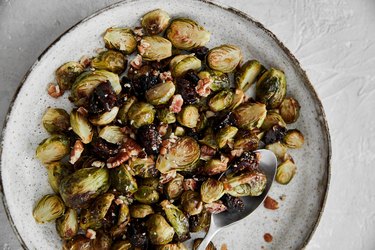 "Brussels sprouts are an excellent source of vitamin C and fiber, which can help promote digestive health by feeding the beneficial bacteria in your gut," Zhu says. This side dish can be paired with any protein of your choice, but Zhu recommends choosing proteins that are high in iron, like beef, since the vitamin C will help your body absorb the iron better.