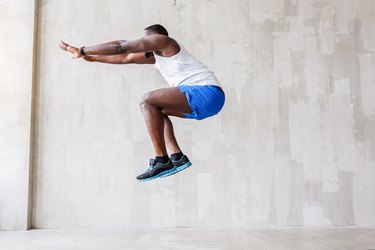 After eating the same dish at your favorite restaurant time and time again, you'll probably experience a bit of palate fatigue. And just like you might get sick of that salmon risotto, repeating the same exercises over and over will certainly grow a little dull (and potentially painful).
If high-intensity interval training (HIIT) is a part of your weekly workout plan, you may be looking to incorporate some new, challenging exercises into your usual routine. To shake things up, April Whitney, certified personal trainer, suggests you try one (or all) of these five grueling moves.
1. Plank Jack to Jumping Jack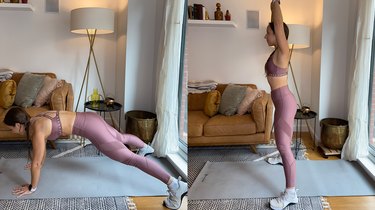 Begin in a high plank, palms directly beneath your shoulders, body in a straight line from head to hips to heels.
Keeping your upper body stable, jump your feet a few feet apart, then back together.
Then, jump your feet toward your hands and stand up.
Perform one jumping jack, hopping your feet apart and sweeping your arms overhead, then brining your feet back together and hands back down to your sides.
Bring your hands back down to the ground and hop your feet back into a plank to set up for the next rep.
2. Reverse Lunge to Knee Drive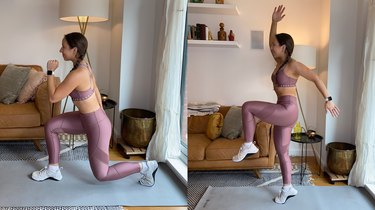 Stand with feet hip-width apart.
Step back with your right leg and lower the knee to hover just above the ground, bending both knees to 90 degrees.
Press through your front foot and use your core to drive your right knee to the chest as you stand up.
As you drive the right knee up, jump off the ground with your left leg.
Land right back into the lunge and continue with the lunge-knee drive pattern.
Tip
Form comes first. So if you start to fatigue, take the jump out of the exercise to keep your form as perfect as possible.
3. Burpee Breakdancer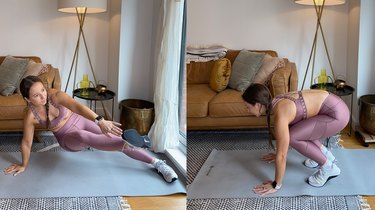 Start in a high plank with your hands under your shoulders, body in a straight line from head to hips to heels.
Pick up your right hand and sweep your left leg under your body, pivoting to allow your right hand to touch the left foot.
Return to a plank and repeat with your left hand and right leg.
Come back to the plank and jump your feet to your hands.
Finish like you would a burpee, jumping up into the air.
Land with knees bent, lower your hands to the ground and hop your feet back into a plank, preparing for the next rep.
Tip
Want to add a little more spice to this exercise? Add a tuck jump at the top of your burpee.
4. Frogger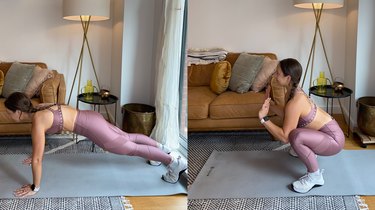 Begin in a plank with you core tight.
Jump your feet to the outside of your hands, coming into a deep squat.
Allow your hands to come off the floor and lift your chest.
Place the hands back onto the floor and jump back to the starting plank position.
5. Speed Squat Thruster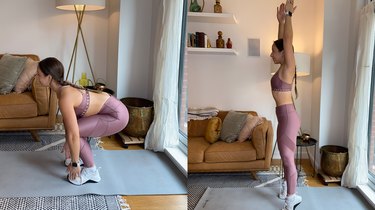 Stand with feet hip-width apart and lower into a squat, bending the knees to 90 degrees.
Touch the floor on the outside of your feet while keeping the chest lifted.
Keeping your feet planted on the ground, explode upward, pushing your hips forward and straightening your knees as you raise your arms above the head.
Lower back down into a squat and repeat.
Tip
"Once you've nailed the form, increase the speed and intensity of the exercise," Whitney says.