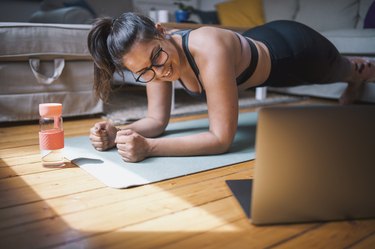 Pilates first-timers and experienced fans alike can grow stronger and more flexible in just 10 minutes — all you have to do is press play.
Amy Jordan, founder of Wundabar Pilates, has an at-home Pilates video for nearly every skill level and goal, from sculpting your arms and shoulders to strengthening your core, aka your powerhouse, to building your glutes.
Each video below takes about 10 minutes to complete, making for a quick, snack-sized workout. Or, try a few in a row for a longer, total-body session.
No matter how much time you have, grab a mat and get ready to lengthen and strengthen.
Sculpt Your Arms and Shoulders
This upper-body Pilates workout may be slow and controlled but that certainly doesn't make it easy. Jordan will lead you through 11 different equipment-free poses that will strengthen and sculpt your arms, shoulders and abs in a matter of minutes.
Pilates is best known for its core-strengthening benefits, and this ab-focused plank series is all about your midsection. You'll hold 10 ab-igniting poses for about a minute each. And while a 60-second plank hold may sound a little fiery, you can look forward to a cooldown cat-cow stretch at the end to ease the burn.
Your glutes are the biggest muscle group in your entire body, so they definitely deserve some extra attention — and this 10-exercise Pilates glute workout will do just that. You'll need a mat and sliders, but a pair of paper plates or towels will do the trick, too.
This total-body routine proves that you don't need to feel beat up to get a good workout. Although this 10-exercise sequence is low-impact, you'll find yourself a little shaky after just a few minutes — watch out for the lunge hover!
Want More Workout Videos?