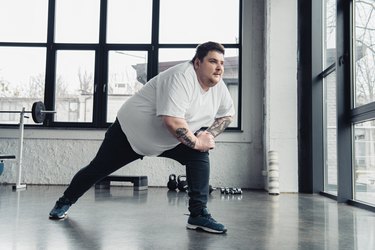 Afternoon workouts may not get as much glory as morning workouts, but saving your sweat session for the p.m. may have weight-loss benefits. For one thing, many of us feel better once our bodies and minds have had time to perk up.
"Working out in the mornings can be tough for some people because you may not feel alert and awake," Wesley Beans, CPT, personal trainer at TS Fitness NYC, tells LIVESTRONG.com. Exercising when you feel more energized may help you go harder and longer, which may net you better weight-loss results over time.
"I've also found that working out [in the afternoon] can help you get to bed earlier, and allow for quality sleep at night," Beans says. And sleeping at least 7 hours per night has been associated with lower levels of fat and a decreased risk of obesity, according to a February 2017 study from the ​Journal of Sleep Research​.
Plus, people who work out around the same time are more likely to score higher levels of physical activity every week (key for successfully dropping the pounds), no matter when they choose to exercise, according to research published in the July 2019 issue of ​Obesity​.
Are you an official member of the Afternoon Workout Club? This 20-minute weight-loss routine from Beans is for you.
Try This Afternoon Workout if You're Trying to Lose Weight
Tip
Always start with a dynamic warm-up to loosen up your joints, activate your muscles and get your heart rate up. Finish off with some static stretches.
​Do:​ 3 rounds of the following exercises.
Move 1: Alternating Spiderman Lunge With T-Spine Rotation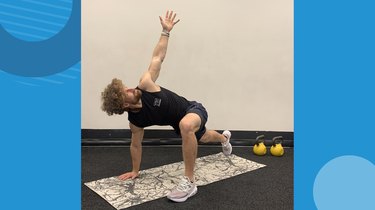 Activity
Mobility Workout
Begin in a high plank with your hands under your shoulders and body in a straight line from head to heels.
Bend your right knee to step your right foot to the outside of your right hand. Keep your left leg extended out straight.
From this position, raise your right arm out to the side. Rotate at your chest as you stretch your right arm toward the ceiling.
Return your hand to the floor and step your right foot back to return to plank.
Repeat on the opposite side.
Alternate for 5 reps per side.
Move 2: Marching Glute Bridge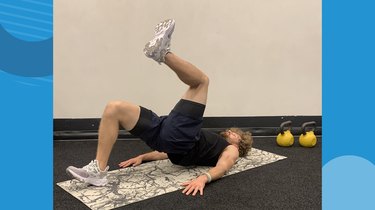 Activity
Mobility Workout
Lie on your back with knees bent and feet hip-width apart on the floor.
Squeeze your glutes and push into the floor with both feet to raise your hips. Bridge up onto your shoulders so your hips are extended as high as possible without arching your lower back.
Keeping your hips raised and level, raise one foot off the ground by bringing your knee up.
Return your foot to the floor and repeat with the opposite foot. Alternate marching steps for the full number of reps without letting your hips drop.
Do 10 reps on each side.
Move 3: Plank to Downward Dog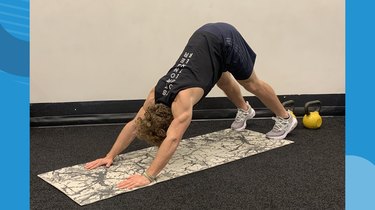 Activity
Mobility Workout
Begin in a high plank with hands under your shoulders and your body in a straight line from head to heels.
Keeping your arms and legs straight, press through your hands to push your hips up and back.
Gently press your heels toward the floor. Pause briefly.
Return to a high plank and repeat.
​Do:​ each move for 20 seconds, resting 15 seconds in between each. Perform 3 rounds total.
Move 4: Squat Jack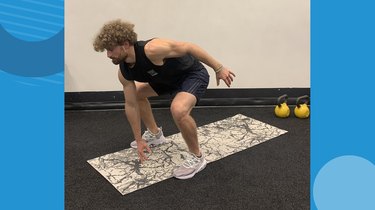 Stand with feet together, arms by your sides.
Jump your feet hip-width apart, landing softly in a squat with knees bent 90 degrees and one hand tapping the ground in front of you.
Jump your feet back together, hands at your sides.
Jump your feet hip-width apart again and tap the ground with the opposite hand.