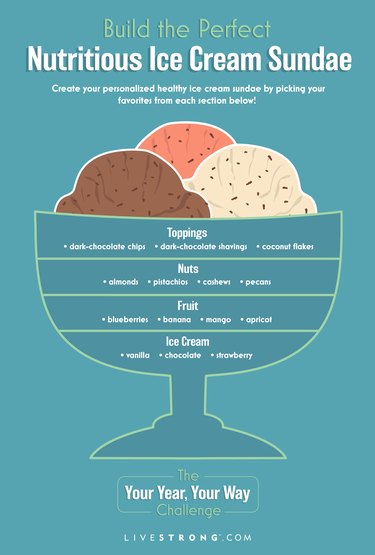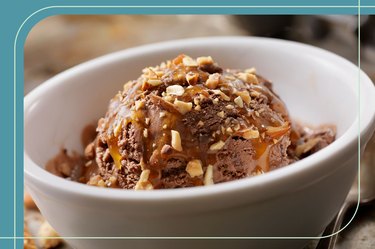 Even in January, there's always room for ice cream.
Instead of demonizing sweet treats, make ice cream (or any dessert) work in your eating plan by selecting tasty toppings that are also nutritious. With just a few modifications to ingredients and the size of your scoops, your upgraded sundae can be healthier ​and​ tastier.
"Have a reasonable portion and make it your own," Feller says. Here's how.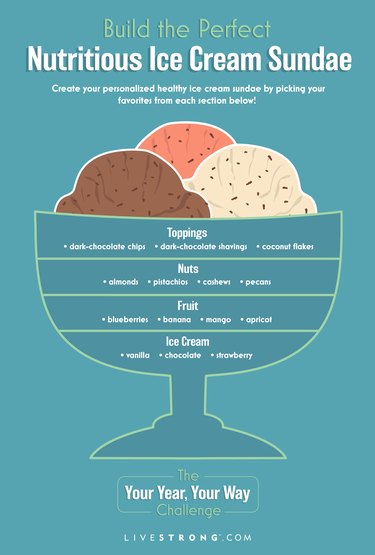 Step 1: Select Your Ice Cream
Homemade ice cream is the best way to control the quality of the base of your sundae, but if that sounds like a project beyond you, stick with store-bought brands that use whole-food ingredients and have short ingredient lists or ice cream from local creameries.
"There are a number of ice creams with five ingredients or fewer, and those are good options," Feller says. "I steer away from low-fat varieties, because there are quite a few additives in there, and sometimes they tend to have more sodium."
Because a traditional ice cream sundae combines a number of flavors, vanilla or strawberry ice cream may work best. Serving size and nutrition details per serving will vary between brands, but generally, stick to 1/2 cup total of any combination of these dairy or non-dairy flavors:
Vanilla
Chocolate
Strawberry
Try These Dietitian-Approved Ice Cream Brands
Fruity syrups are usually more sugar than fruit, so choose whole fruit instead for a boost of fiber, vitamins and natural sweetness that isn't overpowering. Toss it in fresh, roasted or freeze-dried.
"I really like the tropical fruits, like mango and papaya, which pair really nicely with coconut flakes," Feller says.
Aim for 1/2 to 1 cup of fresh or roasted fruit or 1/2 cup of freeze-dried fruit. Choose from any of the following:
Cherries
Raspberries
Banana
Pineapple
Mango
Peach
Apricot
Tip
If a fruit-based sauce is something you can't live without, make your own to cut down on added sugar: Place some fresh or frozen berries in a small sauce pan over medium heat. Add a small amount of water and orange juice, then simmer, stirring and breaking up chunks occasionally until the fruit cooks down to the consistency of syrup.
Skip the peanut butter sauce and opt for chopped nuts instead. They add flavor and texture as well as healthy fats and filling fiber.
"I tend to like cashews, walnuts and almonds together with a heaping portion of berries on top," Feller says.
Use up to 2 tablespoons of any of these options:
Almonds
Pistachios
Cashews
Hazelnuts
Pecans
Peanuts (technically a legume, but our tastebuds don't care!)
Tip
To avoid any bitterness in raw nuts, try toasting them first, which can add depth of flavor and crisp up the flesh.
Step 4: Sprinkle on Toppings
Fudge is a sundae standard, but plain dark chocolate satisfies that cocoa craving with a good dose of antioxidants and without the sugar and artificial ingredients.
Sprinkle on 1 to 2 tablespoons of:
Dark-chocolate chips

Dark-chocolate shavings
Coconut flakes
Put It All Together in These Recipes