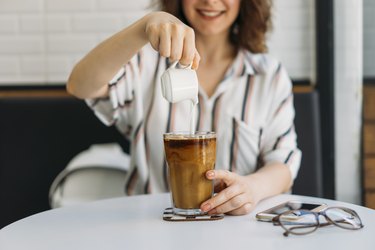 You've tried various milk alternatives in your morning brew, but perhaps you haven't experimented with one plant-based beverage that just happens to make your morning lattes rich and decadent. Please meet macadamia nut milk.
"It's important to know there isn't a one-size-fits-all for your coffee," says Jennifer Cole, RDN, a clinical dietitian at Montefiore Medical Center. "It's really about what you want out of it and how you use it in your overall diet — and that's really individualized."
Curious about this extra-creamy oat milk rival? Here's why we think macadamia nut milk might steal the show of your next coffee drink.
To best understand how macadamia nut milk fits into your coffee drinks and overall diet, it can be helpful to look at its overall nutrition.
​Calories​: 50
​Total fat​: 5 g
​Cholesterol​: 0 mg
​Sodium​: 96 mg
​Total carbs​: 1 g
​Dietary fiber​: 1 g
​Sugar​: 0 g
​Protein​: 1 g
Comparatively, an 8-ounce serving of oat milk contains:
​Calories​: 60
​Total fat​: 3 g
​Cholesterol​: 0 mg
​Sodium​: 84 mg
​Total carbs​: 7 g
​Dietary fiber​: 1 g
​Sugar​: 0 g
​Protein​: 1 g
1. Macadamia Nut Milk Is Low in Carbs
You'll notice that macadamia nut milk contains just 1 gram of carbs per 1-cup serving, compared to the 7 grams in oat milk. If you're on a low-carb diet, you might want to add macadamia milk to your grocery list.
"Macadamia nut milk is a good option if you're trying to manage diabetes," Cole says. "Because it's low in carbohydrates and high in fat, it could also be a good option for someone who is following a medically-prescribed ketogenic diet."
"In its minimally-processed form, macadamia nut milk is a great alternative," says Kasey Hageman, RD, a registered dietitian and founder of LiveinspiRD. "The only thing to be aware of is undesirable additives in the milk, such as sugar." The solution: Peruse the ingredients list and nutrition facts label and purchase an unsweetened variety.
2. It's High in Healthy Fats — the Key to Creamy Coffee
Although macadamia nut milk has 5 grams of fat per serving, it's the good, monounsaturated type that can support your heart health.
"Macadamia nut milk contains monounsaturated fat, which has many health benefits," Hageman says. "It has been linked to reduced inflammation, oxidative stress and insulin resistance."
The monounsaturated fat in macadamia nut milk benefits its texture, making it an extra creamy add for hot or iced coffee and lattes. "Macadamia milk is a personal favorite of mine for an extra creamy latte," Hageman says.
3. Macadamia Nut Milk Can Add Nutrients to Your Diet
Look for macadamia nut milk that is fortified to get important nutrients like vitamin D, vitamin B12, vitamin A and calcium into your diet. "Macadamia nut milk also contains iron, vitamin B6, manganese and potassium," Hageman says.
That said, you'll need to include it as part of an overall healthy diet because the amount in your daily coffee won't add up to much. "If you're consuming a cup per day, you're going to get some of those fortified benefits like calcium and vitamin B12," Cole says. "But if you're just splashing it in your coffee, you're not getting as much."
How to Make a Macadamia Milk Latte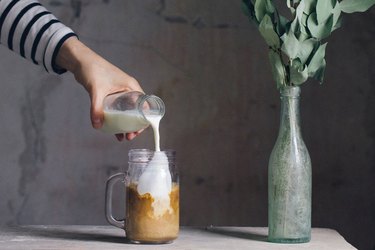 For a delicious latte, macadamia nut milk brand milkadamia recommends this peppermint latte recipe (for an unflavored version, skip the dark chocolate chips and peppermint extract):
Heat 1/4 cup macadamia nut milk* and 1/4 cup melted dark chocolate chips (microwaved) in a saucepan over medium heat until warm.
Add 1/2 cup fresh espresso and one to two drops of peppermint extract to the pan and mix.
Pour into one large mug or two small coffee cups.
Steam 3/4 cup macadamia nut milk and pour into the cup or cups.
Add your favorite garnishes, like cacao nibs, cocoa powder or peppermint candies.
*For this particular recipe, milkadamia recommends its Latte Da blend, made specifically for coffee.
Buy Macadamia Milk
At the moment, there aren't many macadamia nut milk brands available, Cole says. Try macadamia nut milk for yourself with these two common varieties of milkadamia: