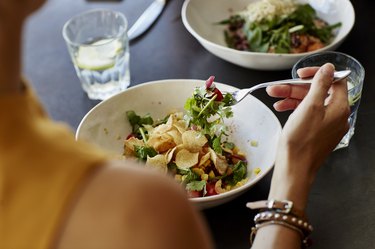 Hate to break it to you, but eating a salad does not automatically equate to having a healthy meal. While some salad choices can be super nutritious and support your weight-loss endeavors, others can sabotage your health-related goals, says registered dietitian Laura Burak, RD, CDN.
Here, Burak discusses eight mistakes you're making with salads that might be derailing your good intentions and impairing your weight-loss efforts.
Mistake 1: You Don't Add a Protein
When your aim is to shed pounds, you might think you need to skimp on your salad ingredients to reduce calories, but deleting a macronutrient like protein from the equation is a big mistake.
That's because if you skip the satiating protein in your salad, your greens won't count as a complete meal. Here's why: "Protein slows digestion and stabilizes blood sugar, so when it's lacking in your salad, you'll likely feel unsatisfied and be reaching for more food afterwards or later in the day," Burak says.
Indeed, a high-protein diet not only increases satiety, but it may also reduce fat mass and help preserve lean muscle during weight loss, according to a November 2014 study in ‌Nutrition & Metabolism‌‌.‌
‌Fix it:‌ Burak suggests stocking your salad with healthy proteins like eggs, chicken breast, turkey, fish, tofu, nuts and seeds.
Mistake 2: You Choose the Wrong Kind of Protein
While protein is an essential part of a healthy salad, the kind you choose makes all the difference when it comes to weight loss.
If you need proof, just browse a restaurant menu like The Cheesecake Factory, where some of the salads run upwards of 1,000 calories, Burak says. Most of the calories come from the excessive saturated fat counts in fried proteins, bacon, deli meats and cheeses.
Not only are these fatty proteins bad for your waistline, but eating foods that are high in saturated fats can also raise your bad cholesterol, which increases your risk of heart disease, per the USDA.
‌Fix it:‌ To keep your bowl of greens from becoming a high-calorie bomb, choose lean proteins like grilled chicken, shrimp and fish, Burak says. Plant-based options like legumes and tofu are terrific too.
In fact, people who eat more plant protein (and fewer animal products) may enjoy a longer life and a reduced risk of heart disease, according to a July 2020 meta-analysis in ‌The BMJ.‌
Mistake 3: You Forget About Healthy Fats
While you want to avoid piling your salad plate with saturated fats to help with weight loss (and overall good health), you don't want to shun fats altogether. Like lean protein, healthy fats slow digestion, keep you full and are key for a balanced meal, Burak says.
‌Fix it:‌ Always round out your salads with heart-healthy fats like avocado, olive oil-based dressings, nuts and seeds, Burak recommends. That said, healthy fats are calorie dense, so just be sure to practice portion control and enjoy in moderation.
Mistake 4: You Only Use Iceberg Lettuce
Let's be clear: It's not the end of the world if your salad only contains iceberg (it's still a vegetable), Burak says.
But iceberg doesn't boast all the nutrients of darker greens (think: spinach, arugula, romaine or mixed greens), Burak says. Indeed, dark, leafy greens like kale not only pack more antioxidants, fiber and iron, but they also tout a heartier, sturdier texture, which can add to your fullness factor.
‌Fix it‌ If you simply adore your pale green lettuce, try mixing half your salad with iceberg and half with a darker green variety.
Mistake 5: You Drown It in Dressing
If you think salads are boring and bland, it's all too easy to drown your greens in a creamy, high-fat, calorie-rich dressing to enhance the tepid taste. But, again, saturated fats aren't doing you any favors in the health or weight-loss department.
‌Fix it:‌ Instead, Burak recommends choosing olive oil with vinegar and avocado-based dressings with heart-healthy fats, which not only burst with flavor but satisfy your stomach too.
What's more, fat helps your body absorb all the vitamins and minerals found in your nutritious veggies, including vitamins A, D, E and K.
When dining out, ask for your dressing on the side. "I guarantee you will end up using much less than if the chef mixes it in first," Burak says, adding, "You just can't tell how much they use, and it can end up sending the calories of your 'healthy' salad through the roof."
And remember to practice portion control, limiting yourself to 2 tablespoons, which is a recommended serving, she adds.
Mistake 6: You Always Order Pre-Made Salads
Sure, they're quick and convenient, but pre-made salads might be harboring less nutritious ingredients.
"Unless you can visually see the components of your salad in a container — and it's mostly veggies with healthy toppings and dressing on the side — pre-made salads can be a big mystery," Burak says.
Just like when a chef mixes in your salad dressing beforehand, you have zero control over what toppings are tossed in and how much were used. In other words, "you may think you're having a healthy meal, but little do you know, the amount of bacon, cheese and dressing has added an extra 500-plus calories," Burak says.
‌Fix it:‌ Whenever possible, order your salad the way you want it, so you can control what's in it, or stick to homemade salads.
Mistake 7: You Don't Add Enough Veggies
Lettuce leaves don't have to be the only veggie in your salad bowl.
"When a salad lacks veggies and is mostly made of other foods, your salad game will be weak," says Burak, adding, "the main point of eating a salad is to increase your veggie intake and get more nutrients, antioxidants and fiber."
With that in mind, most of your salad should be a base of raw or cooked veggies. Aim for at least 3 cups worth, Burak says. Think of it like this: The more fiber-rich veggies you add, the fuller you'll feel.
Mistake 8: You Load Up on Toppings
For some people, tasty toppings are the best part of the salad (no judgment!), and salad bars, with their wide array of toppings, can be totally tempting.
But add-ons like tortilla strips, cheese, croutons, candied nuts and bacon bits can negate the whole point of eating a salad for health and weight-loss reasons, Burak says.
‌Fix it:‌ "Think of the toppings like condiments — a little goes a long way," Burak says.
For a crunchy texture, sack the croutons and toss in a handful of heart-healthy raw nuts and seeds. If you prefer a little sweetness, throw a few antioxidant-abundant blueberries or blackberries into the mix.