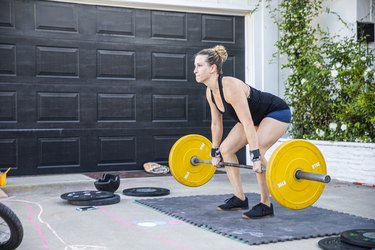 The barbell is like a two-for-one deal: You can target specific muscles, like your lats, traps and rhomboids, but lifting and moving the weight also has built-in core-strengthening benefits. It's also one of the simplest tools you can use to get stronger.
These four barbell exercises are guaranteed to help you build a powerful back in just a few training sessions, says New York-based certified personal trainer Carolina Araujo, CPT.
"Run through the movements with no added weight to perfect your form," Araujo says. "Then, when you feel comfortable, add weight gradually and pace yourself."
1. Barbell Deadlift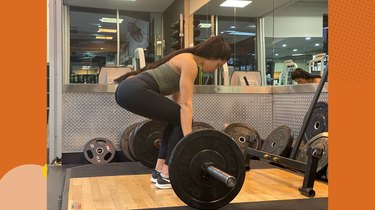 Body Part
[ "Back", "Abs", "Legs", "Butt" ]
Fix the weight plates on your barbell and position it on the floor in front of you. If needed, position it on an elevated platform to allow for a reduced range of motion.
Step up to the bar, shins almost against it, feet planted firmly hip-width apart. Keep your spine straight, chest up and shoulders back and down.
Hinge from the hips, softening your knees as your hips sink low enough to let you grasp the bar with your hands shoulder-width apart.
Check your posture: Your spine should be straight and long, chest up and open, shoulders back.
Engage all the muscles of your core to maintain this position as you push your feet into the floor, as if you were trying to push the floor away from you, and lift the bar.
Finish the motion by lifting your chest and engaging your lats to stabilize the bar in front of your hips.
Return the bar by reversing the motion, pushing your weight back into your hips and softening your knees, letting the bar travel in a controlled path back down to the floor along your body.
Tip
Although it's mainly a leg exercise, barbell deadlifts are excellent for strengthening the back of your body, Araujo says. Focus on keeping your shoulder blades down and back as you lift the weight.
2. Barbell Row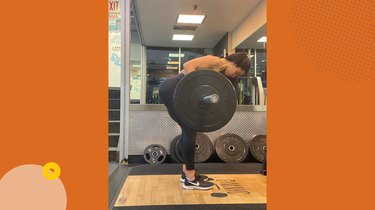 Body Part
[ "Back", "Abs" ]
Stand with your feet hip-width apart with the barbell on a low rack in front of you.
Take the weight off the rack, grasping the barbell with hands shoulder-width apart.
Shoot your hips back and hinge forward at least 45 degrees (as much as 90 degrees), keeping your back flat, arms extended towards the ground.
Draw your elbows up toward your ribs and pull the barbell up alongside your lower abdomen. As you lift the weight, focus on squeezing your shoulder blades together.
Lower back down with control.
3. Single-Arm Landmine Row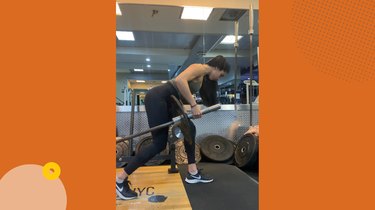 Body Part
[ "Back", "Abs", "Arms" ]
Start by attaching one end of the barbell to a landmine and fasten plates to the other side.
Stand on the right side of the barbell near the top of the bar.
Hinge your hips back and bend the knees to pick the barbell up off the ground with your right hand.
Draw your right elbow up, rowing the bar up to your lower abdomen.
Straighten your arm and bring the weight back down with control.
Once you've finished all your reps on this side, switch to the other.
Tip
As you perform this exercise, keep your back flat and neck long, Araujo says. If you struggle to hold the hip hinge position while you do this move, you may want to lower the weight on the barbell.
4. T-Bar Row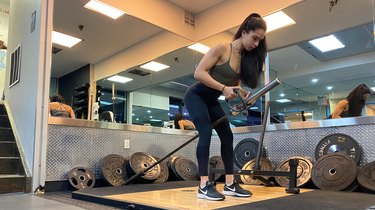 Body Part
[ "Abs", "Back", "Arms" ]
Start by loading plates onto a T-bar.
Grasp the handles of the T-bar, holding it in front of you with straight arms.
Push your hips back and hinge forward, holding this position throughout the movement.
Row the weight up to about chest level, pulling the elbows back.
Pause here for a moment.
Lower the weight with control.
Tip
If you don't have a T-bar, you can do this exercise with a landmine, too. Just attach a barbell to a landmine, load weight plates onto the opposite and and grasp the bar with a cable machine handle attachment.