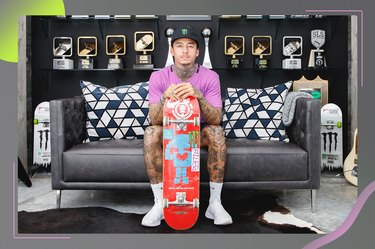 If you're one of the lucky few who wakes up in the morning feeling ready to jump out of bed as soon as your alarm clock goes off, congrats. But for the rest of us, an energy boost is always welcome — and starts with your diet.
Aside from sleep, what you eat plays a big role in your energy levels throughout the day (food is fuel, after all), which is why we asked Monster Energy athlete Nyjah Huston to share his daily meal plan. As a six-time world street skateboarding champion who represented the United States in the Tokyo Olympics, Huston knows a thing or two about eating for energy.
"Eating well and training consistently helps me stay energized for my training sessions ahead of competitions," Huston says. "I've always been a fan of eating healthy ever since I was raised vegan for 16 years, which I owe a lot of my health to. Normally, I get a workout in four to five days out of the week at my home gym. Besides that, I like going on hikes on the stairs at Thousand Steps Beach to keep the legs feeling strong."
And that's before you factor in his skating schedule, which includes four 2-hour sessions per week. "Ideally, I would love to train hard every day, but that's not really realistic nowadays because my knees and my ankles end up being really sore, especially when we're out there pushing the limits and practicing tricks," Huston says.
So what's his secret for keeping his energy up on these action-packed days? Eating nourishing meals before and after his workouts, taking high-quality vitamins and supplements and keeping Monster Energy drinks on hand are all part of his routine.
"I'll normally take B12 drops every day, magnesium for the brain power, and if I'm feeling like I need some extra hype and some extra energy, that's when I'll throw a Monster Energy Zero Ultra in the mix for the session," Huston says.
Monster Energy Zero Ultra has no sugar, only 10 calories and 150 milligrams of caffeine (ounce per ounce, it works out to be about half the caffeine of coffee-house coffee), and it's just one of the varieties of Monster Energy drinks that's full of ingredients like B vitamins, taurine and ginseng extract.
Beyond his go-to stamina-boosting sip, Huston eats a veggie-heavy diet (though he stopped adhering to veganism about 10 years ago) relying on chicken, turkey and fish as his primary protein sources. For the details on his daily menu, keep reading.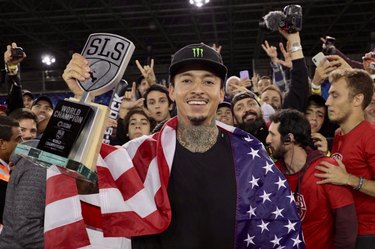 "I always like to eat a big breakfast because I'm a hungry guy. I have to eat a lot. For breakfast I normally cook for myself: sweet potatoes, spinach, mushrooms, chicken sausage, avocado and toast, and that will hold me over for the beginning part of the day."
"For lunch I'll normally eat a chicken meal with a side of Brussels sprouts, carrots, rice, quinoa, something like that from my favorite place (Urban Plates in Orange County). I definitely like to eat before and after my workouts to keep my energy up throughout the day. It also helps with recovery and keeping me feeling satisfied."
"For dinner, I like to have a carb and lean protein. It'll probably be pasta, sushi or salmon — a pretty overall healthy diet."