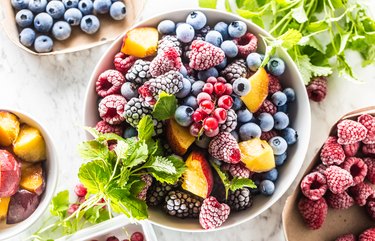 Freezing foods like fruit and vegetables extends their lifespan, but do frozen foods eventually go bad?
Freezing prevents food poisoning bacteria from growing, so no matter how long frozen food has been in the freezer, it's still safe to eat, according to the USDA.
Using frozen fruits and vegetables is not only convenient, but it's also nutritious. Frozen produce may have more nutrients than fresh produce, according to a January 2015 study in the ​Journal of Agricultural and Food Chemistry​.
While freezing your food runs the risk of freezer burn and loss of quality, it's a safe method to preserve food for a longer period of time. Here's how much time freezing your fruits and veggies buys you for maximum quality.
How Long Does Frozen Fruit Last?
When you purchase any food item in the freezer section of the grocery store, the label or packaging should have a "best if used by" date on it. This is ​not​ the expiration date — instead, this date indicates when a product has the most flavor and is of the highest quality, according to the USDA.
So, does frozen fruit go bad? No. Frozen fruit does not expire or go bad. Any frozen food is safe to use because bacteria and other pathogens can't grow in temperatures of 0 degrees Fahrenheit and below, according to the USDA.
But frozen fruit loses its quality after some time. Frozen produce may develop freezer burn and textural changes when frozen for long periods of time, according to Michigan State University.
Freezer burn occurs when water escapes from your frozen food. Food that has freezer burn is safe to eat, but the taste may be affected, according to the Library of Congress. You can prevent freezer burn by eliminating as much air as possible from the food packaging and keeping your freezer at 0 F or below.
Tip
For maximum quality, seal the food tightly, keep your freezer cold enough and use it by the date indicated on the package. Even if the best by date passes and frozen fruit develops freezer burn, it's still safe to eat.
How to Freeze Fruit at Home
You may not be able to use up your fresh fruit so quickly, so freezing fresh fruit at home is a cost-effective and safe way to preserve it for later. Registered dietitian and culinary educator Andrea Kirkland, RD, recommends the following method of freezing fresh fruit at home.
Things You'll Need
Fresh fruit

Knife

Paper towels

Parchment paper

Large baking sheet

Freezer-safe container or bag
Wash all fresh fruit under cold running water thoroughly.
Prep the fruit: Depending on the type of fruit, you may need to peel, core and cut them into the desired shapes.
Use paper towels to pat the fruit dry to eliminate excess moisture. This helps prevent freezer burn.
Arrange the fruit in a single layer on a large baking sheet lined with parchment paper.
Freeze until frozen solid, at least 4 hours.
Transfer the frozen fruit into a freezer-safe container or bag.
Remove as much air as possible from the container or bag to help prevent freezer burn and seal it.
Return the frozen fruits to the freezer.
How Long Do Frozen Vegetables Last?
While salad does not freeze well, frozen leftovers and vegetable soups and stews can last in the freezer for up to 3 months, according to the USDA.
Frozen vegetables have the same lifespan as frozen fruit: eternity if temperatures are cold enough. Over time, the texture, taste and quality may be affected, but frozen vegetables — even those that have freezer burn — are still safe to eat.
If freezing your own vegetables, try blanching produce before freezing. This helps them retain their flavor, color and nutrients. Blanching isn't required if you purchase vegetables that are already frozen.
For best quality, use frozen produce within 8 to 12 months of freezing, per the National Center for Home Food Preservation. If you're unable to use frozen fruits and vegetables within 12 months, they're still safe to use indefinitely, though the quality may be lower as time goes on.
How to Freeze Vegetables at Home
"Firm vegetables like carrots, corn kernels, broccoli, cauliflower, green beans, peas and Brussels sprouts freeze well," Kirkland says. "Even leafy greens, potatoes and those with a high moisture content like zucchini can be frozen, too."
For best results, Kirkland recommends a similar strategy to freeze vegetables as freezing fruits. There is one key difference: She recommends blanching the veggies first.
Things You'll Need
Fresh vegetables

Large pot of boiling water

Large bowl of ice water

Paper towels

Parchment paper

Large baking sheet

Freezer-safe container or bag
Wash and prep veggies.
Blanch the vegetables by boiling them for about 1 minute.
Immediately plunge them into a large bowl of ice water to stop the cooking process. Tempted to skip this step? Kirkland says, "it's essential for preserving color and texture and retaining nutrients."
Pat the vegetables dry with paper towels.
Arrange them on a baking sheet lined with parchment paper.
Freeze the vegetables for about 4 hours or until they're frozen solid.
Transfer them to a freezer-safe container or bag and remove as much air as possible.
Place the container or bag of frozen vegetables back in the freezer.