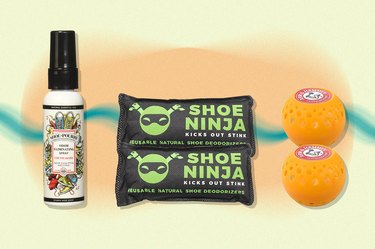 We all know the importance of purchasing quality shoes that fit our feet comfortably and help counteract one or more foot-related issues, from bunions to hammertoes. But when it comes to the wellbeing and comfort of our feet, it's not just shoes that matter.
One of the best-kept secrets that podiatrists know about promoting foot health and extending the longevity of your shoes is to invest in a shoe deodorizer. This type of product is designed to kill bacteria, fungus and viruses that can grow in moist environments, especially in shoes that we work in or wear for long periods of time, says Nelya Lobkova, DPM, a New York City-based podiatrist at Step Up Footcare.
"Upon swab testing, the bacteria found in shoes with bad odors was Staphylococcus aureus (S. aureus) and S. epidermidis, which can come off of the skin and onto the shoes," Dr. Lobkova says. "To effectively kill this bacteria you would need to heat or vacuum dry the shoes, which shoe deodorizers cannot provide, but they can decrease the bacteria from flourishing within the shoe in the first place by creating a drier environment."
Shoe deodorizers can be applied to the inside of shoes to absorb moisture and eliminate odor that comes from bacteria that harbors in moist environments. "If they are pads or inserts, they are made of a material that absorbs moisture, such as charcoal or cornstarch, and if it's a liquid spray, it is an astringent liquid that dries out the area," Dr. Lobkova adds.
Here, a look at the best shoe deodorizers to tamp down funky odors.
The Best Shoe Deodorizers
We chatted with a podiatrist who offered product recommendations and broke down what to look for in a shoe deodorizer to cut down on smell and sweat. We selected these products based on her criteria, including:
​1. Best Overall:​ Shoe-Pourri Shoe Odor Eliminating Spray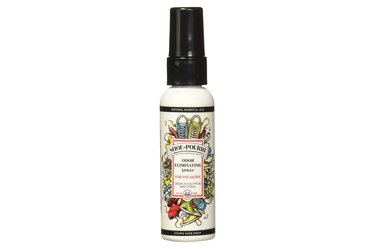 Pros
Made from natural ingredients
Small enough to keep in pocket or purse
Cons
May not fully eliminate all odors
You're probably familiar with this odor-reducing brand's product for defunking the smell of a just-used toilet, but may not have realized that they also sell a shoe deodorizer that's equally impressive. Using a gentle blend of grapefruit, eucalyptus and cedarwood essential oils, this spray cuts down on odor at the molecular level.
The spray can also be used to deodorize other items like clothing or even your trash can.
​2. Best on a Budget: FunkAway Odor Eliminator Spray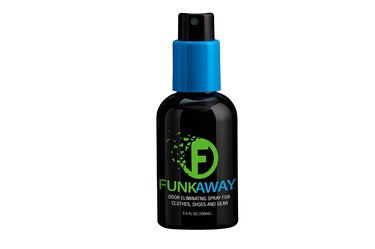 Pros
Affordable
Non-aerosol spray
Eliminates odors (instead of just masking)
Cons
Bottle may leak, per some reviews
For a fraction of the price of a typical shoe deodorizer, this spray offers an excellent product that actually works. It has a nice, fresh scent that works within minutes to squash odors and comes in a travel size that fits within the TSA regulations for what size liquids you can take with you on a plane. Reviewers say that despite it being small, at 3.4 ounces, this product lasts awhile since it only requires a few sprays to work well.
3. Best Spray: Mountain Top Organic Shoe Odor Spray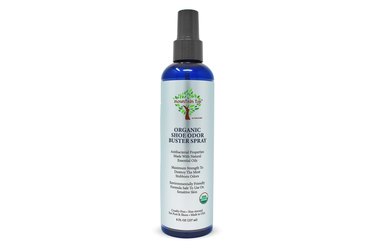 Pros
Formulated with USDA organic ingredients
Also helps prevent itching
Comes with satisfaction guarantee
If you're looking for a spray version, you'll be pleased to know that this brand offers an organic option — one that is all-natural and safe around babies and kids. It's formulated using USDA-organic certified extracts, including eucalyptus, peppermint and tea tree, which naturally reduce the odor that accompanies frequently worn shoes.
4. Best Powder: Arm & Hammer Talc-Free Foot Powder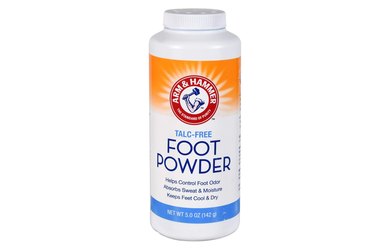 Pros
Powder, not a spray
Free from talc
Soothes irritation and itchiness
This product has been on the market for decades, and continues to be one of the most popular options for reducing the odor associated with shoes. Its main ingredients are simple: baking soda and cornstarch. Both work to help reduce odor naturally. This powder is talc-free and works within minutes — just sprinkle inside your shoe generously in all areas where you feet make the most contact.
5. Best Natural: Rocket Pure Natural Shoe Deodorizer Spray and Foot Spray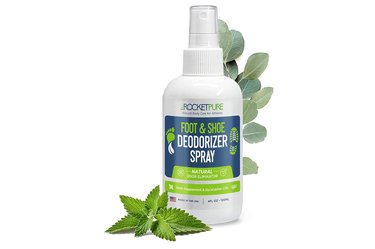 Pros
It's non-toxic, non-GMO and non-hazardous
Contains more than 700 sprays per bottle
Cons
Some reviewers report that it doesn't eliminate all-day odor
Here's another all-natural shoe deodorizing spray that works to cut down on odor.
It contains a botanical blend of essential oils, including eucalyptus, tea tree, peppermint and thyme, which all make for a refreshing scent that tackles odor. While this spray is designed for use on shoes, it is quite versatile and can really be used on anything stinky — your kitchen trash, diaper bag, toilets, etc.
6. Best Insert: Shoe Ninja Charcoal Shoe Deodorizer Inserts
Pros
Uses carbon-neutral bamboo charcoal
Come with a pair of nail clippers
Cons
May have a short lifespan, per some reviewers
These shoe inserts, which are meant to be placed in your shoe when you are not wearing them, use natural and refreshing ingredients to squash odor, including carbon-neutral bamboo charcoal.
Unlike baking soda-infused shoe deodorizers that need to be changed out frequently, these can be cleaned and recharged, so to speak, by the sun — just leave them out in direct sunlight for a few hours and they're ready to go.
7. Best Sneaker Balls: Arm & Hammer Odor Busterz Balls
Pros
Eliminates odor up to 60 days
Ideal for travel
These are Dr. Lobkova's personal favorite, mainly due to their simple use of one single ingredient: baking soda. They're also super easy to use — just give them a twist and pop them right into each of your pairs of shoes that you are looking to deodorize and watch them work their magic. The only downside about these balls is that they last for only two months at a time.
What to Look for in a Shoe Deodorizer
Before you invest in a shoe deodorizer Dr. Lobkova recommends considering what shoes you need to deodorize to determine which shoe deodorizer might work best for you. "For instance, work boots, sports shoes and sneakers will fit the shoe deodorizer balls," she says. "Kids' shoes may need the smaller odor balls on the market."
Replacing a shoe deodorizer every so often is important to make sure that the deodorizer itself does not harbor bacteria, fungus or viruses. However, you also don't want to be changing them out every few days. According to Dr. Lobkova, a quality shoe deodorizer should last you about two months.
Caring for shoe deodorizers is easy. Most of them are topical sprays or powders that you use until there's none left and then toss the empty container. The same is true for inserts and sneaker balls — you can use them until they no longer offer a clean scent and then toss in the trash.
If you are changing your device every few months, then the cost should not be too pricey, says Dr. Lobkova. If you're looking to save, she suggests buying in bulk, as this allows you to get more bang for your buck.
Is this an emergency? If you are experiencing serious medical symptoms, please see the National Library of Medicine's list of signs you need emergency medical attention or call 911.