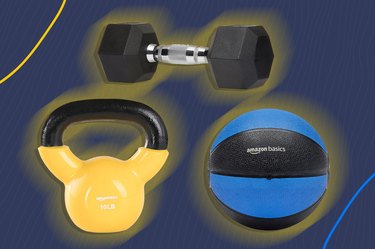 For anyone who has ever built (or thought about building) a home gym, cost was probably a big pain point. Unfortunately, gym equipment just isn't cheap. But shopping for Amazon Basics workout equipment is an excellent way to save a few bucks (or more) on gym staples.
Amazon's Basics line is made up of quality, low-cost items, and some of the most popular products are fitness equipment. If you want to save even more money, consider shopping during big sales (like Prime Day) and checking back often for price fluctuations.
Ready to upgrade your home gym without breaking the bank? Here are our picks for the best Amazon Basics workout equipment.
1. Amazon Basics Vinyl Coated Hand Weight Dumbbell Pair
These neoprene dumbbells are excellent for at-home workouts. The vinyl coating is easy to grip, so you don't have to worry about your weight falling on the ground. And the hexagonal shape prevents rolling as you set your weights down and move through different exercises.
Another bonus? The different weights are color coded, making quick switch-ups easy in the middle of your workout.
2. Amazon Basics Medicine Ball for Workouts Exercise Balance Training
Medicine balls are a functional piece of equipment that don't take up too much space but allow for plenty of different exercises. If you're new to working out with medicine balls, you don't want to go to high in weight too quickly — and Amazon makes their medicine balls in a variety of weights (from 4 to 12 pounds).
The textured, grip-friendly surface make it great for slams, and the smaller sizes would be good for Pilates workouts.
3. Amazon Basics Vinyl Coated Cast Iron Kettlebell Weight
Coated with vinyl so they're friendly on your floors, these colorful kettlebells are available in several weights, from 10 to 40 pounds. These also have a textured handle, giving you a better grip as you do your KB swings.
4. Amazon Basics Cast Iron Kettlebell Weight
Searching for a kettlebell you can use for outdoor workouts? This cast-iron kettlebell is corrosion-resistant and the finish won't chip or scratch if you drop your weight on the ground. These come in 15 to 40 pounds.
5. Amazon Basics Rubber Encased Hex Dumbbell Hand Weight
While vinyl-coated dumbbells are best for your living room strength sessions, these rubber-encased weights make a great garage gym or backyard workout buddy. The hexagonal shape helps prevent mid-workout rolling (great for plank rows) and the textured metal handle is easy to grip.
One thing to note: These dumbbells are sold individually.
6. Amazon Basics Battle Exercise Training Rope
A battle rope takes your home gym from casual to legit. You can seamlessly combine cardio and strength training with battle rope exercises. But they often cost $150 or more.
This option from Amazon Basics allows you to choose from two different lengths, depending on your available space, both for under $100. Plus, Amazon has an option to bundle your battle ropes with strength equipment, like a kettlebell or medicine ball, in the same order.
7. Amazon Basics Adjustable Barbell Lifting Dumbbells
For those who want to save space, adjustable dumbbells are the way to go. Instead of buying several pairs of weights, these enable you to add and take off weight plates, customizing the handles to your desired resistance. These already have two 3-pound and two 5-pound plates included.
8. Amazon Basics 1/2-Inch Extra Thick Exercise Yoga Mat
Whether warming up, doing a full yoga flow or stretching before bed, a comfortable mat is key. Some pricier exercise mats are beautiful — but thin, and offer little to no support for achy knees or sensitive backs.
This foam mat from Amazon Basics is a half-inch thick (that's more than twice as thick as the usual 5mm yoga mats), and the price is right, too.