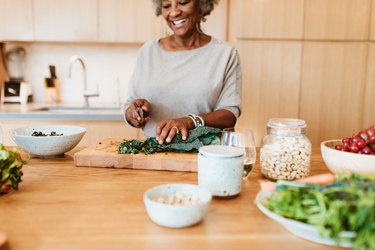 The vast majority of older American — 88 percent — want to live in their homes for as long as possible, according to a 2022 University of Michigan National Poll on Healthy Aging. If that sounds like you, you'll need to consider how safely you can navigate your environment — and the kitchen in particular — since this is one of the biggest determinants for living at home as you get older.
"A kitchen can have all sorts of increased hazards, including a higher risk of falls and burns," says Priscilla Flores, OTD, MSOTR/L, CDP, an occupational therapist at the Cleveland Clinic Lou Ruvo Center for Brain Health in Las Vegas. But of course, the kitchen is essential for living at home. "It's so important for people to be able to continue to cook healthy, nourishing meals as they age," Flores says.
Here are nine easy kitchen updates and modifications that will allow you to continue cooking through all decades of life.
"It's just really important to turn the lights on," Flores says. "It's easy enough to walk into the kitchen just to turn the stove on and slip and fall."
In fact, an October 2021 study published in the American Journal of Ophthalmology found that better lighting in the home is associated with fewer falls among older adults. You don't have to do any fancy upgrades, either: it can be as simple as making sure all overhead lights are on once it starts to get dark, Flores adds.
Don't add in any floor lamps, though. "You don't want any cords around that you can trip on," she says.
One option is to simply increase the wattage in your ceiling fixtures, says Elin Schgold Davis, an occupational therapist and coordinator of the Older Driver Initiative for the American Occupational Therapy Association.
LED lights are a good option, since they provide bright, clean light for the fraction of the energy use of traditional lights. Under cabinet lighting can also help illuminate areas, so that you can see what you're cutting or cooking (and reduce the risk that you nick or burn yourself).
If you or your loved one has arthritis, it can be hard to lift heavy pots and pans. To make cooking less of a chore (and more of something that you enjoy), switch to lighter pans like aluminum ones.
"There's no need to go out and buy a whole new set: I usually advise people to go through their pots and pans and pick a couple lighter ones to use in everyday cooking," Schold Davis says. The rest you can give away to your kids or donate. "This way, you've gotten rid of excess, and you can just store the items you need in one drawer," she explains.
Use pots and pans that have two handles, so that you can distribute weight more evenly into both hands, like cookware from Tramontina, which has a helper handle, per the Arthritis Foundation.
Now is the time to ask yourself: do you really need three different sets of plates? What about all those kitchen gadgets that are covered in dust sitting in the cabinets next to your microwave? Enlist a friend or loved one over a period of days or even weeks to go through your kitchen and decide what to keep, throw away, and gift or donate.
"A good rule of thumb is if you haven't used it for three months, get rid of it," Schold Davis says.
While you're at, clear off counters, too, so you can get more workspace. If you don't use that coffee maker, blender or toaster oven, consider getting rid of it.
Once you've pared down your kitchen items, figure out where to put everything so that it's reachable, and you'll remember where they are.
"Put all frequently used items either on lower cabinet shelves or drawers that you can easily get to," Schold Davis says. "You want to minimize reaching and bending as much as possible, while making the things you frequently use convenient and available."
Throw rugs and mats present a danger. Almost 38,000 adults aged 65 years or older are treated annually in United States emergency rooms for falls associated with carpets and rugs, according to a January 2013 analysis of data from hospital emergency rooms over a seven-year period published in the ‌Journal of Injury and Violence Research‌.
"You're much better off removing them and replace them with a kitchen mat that sticks to the floor," Schold Davis says. "These are much easier on your knees when you stand there chopping vegetables or doing dishes."
6. Take Extra Steps to Avoid Burns
Every year, thousands of older adults get burned from fire, warm liquids or contact with hot objects, according to NewYork Presbyterian Weill Cornell Medical Center. "As you get older, it's harder to move quickly out of harm's way, and skin thins which leaves it more prone to injury," Flores says.
Some ways to protect yourself include the following, per NewYork Presbyterian Weill Cornell Medical Center:
Turn pot handles in when you cook at the stove.
Use a pot lid to prevent grease splatter.
Cook on the back burners of the stove.
When you use the microwave, use microwave safe cookware with a cover to allow steam to escape.
When cooking at the stove, never leave food unattended. Set a timer to turn it off when you need to.
When cooking, wear short sleeve or tight-fitting clothes and keep the stovetop clear of things like paper towels that can burn.
Use oven mitts and potholders when you cook.
As you age, it's important to eat plenty of fresh, healthy food. But chopping up fruits and vegetables can be time consuming, Schold Davis says. She recommends that you separate the steps between washing, chopping and cooking.
"You don't have to do everything at once — wash produce in the morning, let it sit in the colander to dry, chop it in the afternoon and then cook it in the early evening," Schold Davis says.
If you have a lot to do, use a food processor, Schold Davis recommends. She also recommends a chainmail, or cut-resistant glove ($14.95, Williams Sonoma), to reduce risk of cutting yourself.
8. Invest in the Right Kitchen Equipment
If you have arthritic hands, you may benefit from some extra help. You might try the following, per the Arthritis Foundation:
Bagel or English muffin slicers
Magnetic measuring cups and spoons
Suction cup cheese graters
The Garlic Zoom ($14.99, Amazon) to finely chop garlic
But there are also other larger items that may be useful. Schold Davis recommends:
A high stepstool with a back that you can sit on when you do meal prep like chop veggies.
A cart that you can use to wheel items around, instead of having to carry them.
For cooking items like spatulas, use products with large rubber handles, which are easier to grip.
A slow cooker: it makes cooking a cinch since you can just throw items in and forget about them until they're ready, Schold Davis says.
Electric can and jar openers. They're easier for many older adults who may have lost dexterity in their fingers, and they can also help you conserve energy, Flores says.
You can't cook if it's hard for you to get to the grocery store, Schold Davis points out. Consider home delivery or pickup services, so you don't have to expend energy in the store.
Shop for precut fruits and veggies and ask the butcher to slice up meat for you.
Schold Davis also recommends that you cook double the amount you normally would, then freeze half and eat it later in the week.
Is this an emergency? If you are experiencing serious medical symptoms, please see the National Library of Medicine's list of signs you need emergency medical attention or call 911.