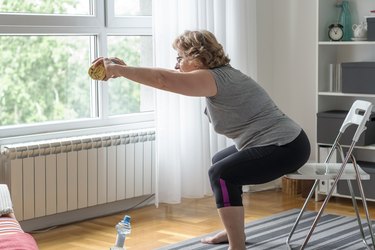 Seated exercises — while they're good for sneaking in more activity, regardless of age — are especially helpful for older adults with mobility or other health concerns.
If you're not confident in your balance, have diabetic neuropathy (diabetes-related nerve damage that can affect the legs and feet) or are recovering from a major health event, you should absolutely consider seated exercises, says Deborah Lensing, DPT, a physical therapist and board-certified orthopedic specialist with Twin Cities Orthopedics in Minnesota.
Plus, no matter your mobility, balance or strength levels, adding some seated exercises to your desk- or TV-time routine can help you get and stay more active for years to come.
5 Seated Exercises for Older Adults
These five moves, courtesy of Lensing, will help you build functional strength while also being gentle on your joints. To do them, you'll need a chair, long resistance band and mini band.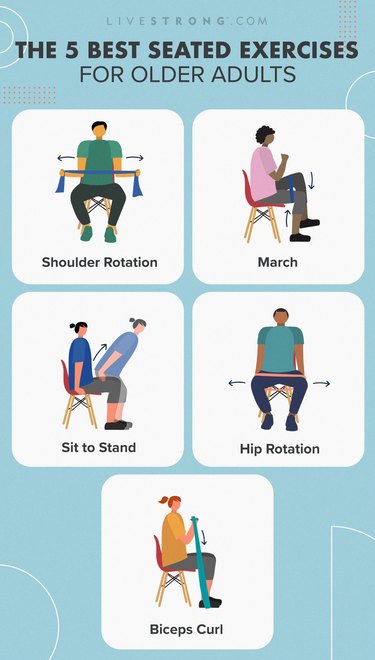 The Best Resistance Bands for Older Adults
Theraband Latex Beginner Set Resistance Bands (Amazon.com, $11.80 for 3)
RitFit Resistance Band With Handles (Amazon.com, $13.85)
Fit Simplify Mini Resistance Bands (Amazon.com, $11.95 for 5)
Move 1: Banded Shoulder External Rotation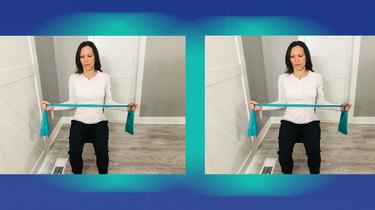 Sit tall with your shoulders back and down and your feet flat on the floor. Grip one end of a resistance band in each hand and hold it in front of your abdomen.
Keeping your elbows tucked against your sides, squeeze your shoulder blades together to pull the ends of the resistance band apart.
Slowly return to the starting position and repeat.
This move strengthens the upper back and rear shoulder muscles, helping improve posture.
Move 2: Seated March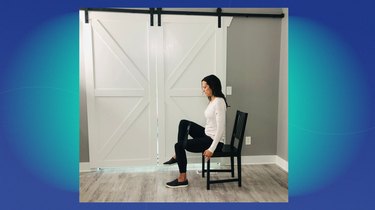 Sit tall with your feet hip-width apart on the floor. Grip the sides of the chair for additional support, if needed.
Brace your core, then lift one knee toward your chest while keeping your opposite foot planted on the floor. Keep your chest high and don't allow your shoulders to round forward.
Slowly return your foot to the floor and repeat with the opposite leg.
Tip
To make the exercise more challenging, loop a mini band around both legs just above your knees.
The seated march helps build leg strength to climb stairs, lift your legs to get dressed and get out of maneuver over the sides of bathtubs with ease, Lensing says.
Move 3: Sit to Stand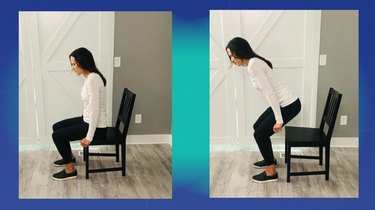 Sit tall with your feet hip-width apart on the floor and your toes pointing forward.
Keeping your chest tall, push through both feet to stand up. Try not to use the chair for help.
Return to a seated position by bending your knees to sit your butt down and back. Be sure to move with control; don't plop down into the chair.
Repeat.
This exercise is key for maintaining hip and leg strength to get in and out of chairs without help.
Move 4: External Rotation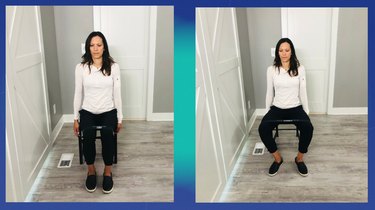 Sit at the edge of the chair and loop a mini band around both legs just above the knees. Press the insides of your feet together and grip the sides of the chair for support, if needed.
Keeping your chest lifted and your feet together, press your thighs against the mini band to pull your knees apart. Stop once you feel a gentle squeeze in your side butt muscles.
Bring your knees back together with control. Repeat.
The mini-band exercise works the outer hips and glutes, which often get weak from too much sitting. "Also, these are important muscles for walking," Lensing says.
Move 5: Banded Biceps Curl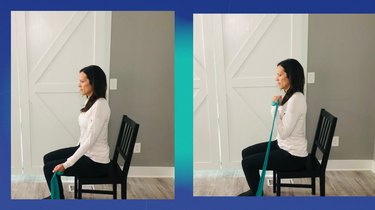 Sit tall with your feet hip-width apart on the floor. Place a resistance band under one or both feet and press your heels into the ground to keep it anchored.
Grip one end of the band in one hand, palm facing up, and let your arm hang down at your side. Keeping your elbow close to your side, curl your hand toward your shoulder.
Squeeze your biceps at the top before lowering your hand back down. Try to maintain constant tension in the band.
Repeat for reps before switching sides.
Doing seated biceps curls with a resistance band is a simple way to keep your arms strong for lifting everyday objects. "It also helps maintain upper-body bone density," Lensing says.
Why You Should Progress Seated Exercises
The goal of in-the-chair exercises is to eventually move, if possible, to standing ones. That's because "there are certain things we can work on in the chair, but it can only take you so far," says Randi Kant, MPH, CPT, a Chicago-based personal trainer who works with older adults.
For instance, to build better balance, you need to challenge your balance — something you can't really do sitting in a chair.
Similarly, seated exercises won't do much to improve bone density through your lower body. "We really need exercises, which force your body to resist gravity, for bone strength," Kant says.
Tip
Once you feel more comfortable, work on transitioning to standing exercises. You can even use the chair to help you balance while doing exercises, like squats, lunges and bent-over rows.
Was this article helpful?
Thank you for your feedback!