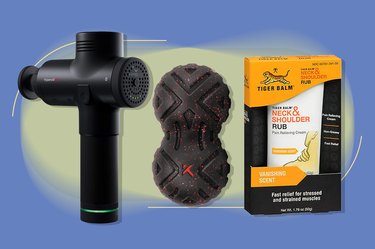 If you're reading this article there's a good chance you're hunched over a screen — computer, tablet or phone — and your head is positioned forward instead of sitting atop your spine. (You just checked, didn't you?)
Neck pain is wildly common: 80 percent of people will experience some sort of neck pain in their lifetime, according to Harvard Health Publishing.
And much of that neck pain is caused by poor posture, says Chloe Costigan, DPT, a physical therapist and co-owner of Mobility Doc. "Poor posture is related to most of our daily activities like being on our phones and laptops, and driving," she says. "Anything where you have to be oriented forward ends up moving the entire head forward."
Over time, that poor posture can lead to neck pain, something Costigan refers to as cumulative strain. Poor posture isn't the only culprit: Injury and poor sleeping form can also contribute to neck pain, says Brian Danshaw, DO, an orthopedic spine surgery with Main Line Health.
When you've got neck pain — whether it's due to poor posture, an injury or any other factor — there are plenty of products out there to help alleviate it.
The Best Products for Neck Pain
We spoke with an orthopedic surgeon and a physical therapist to determine what to look for in choosing a product that can help alleviate neck pain. It's important to note, however, that some of these products may not get at the ‌root‌ of the problem; they merely provide superficial relief (we've pointed that out where relevant).
We chose products based on the following criteria:
Ability to stimulate blood flow
Ease of use
Effectiveness
1. Best Percussion Massage Gun: Hypervolt Plus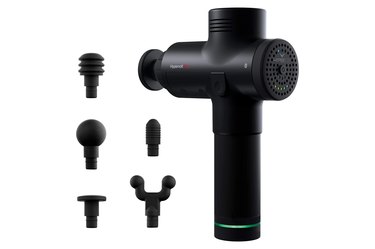 Pros
Lightweight
Quiet
Convenient
5 attachments heads and 3 speeds offer a variety of massages
Percussion massage guns are a popular and effective way to help stimulate blood flow to problematic areas, Costigan says. Once the area is loosened, it's much easier to stretch. She points out that combination therapies, for example, massage work plus stretching, will yield the best results.
The Hypervolt Plus comes with five massage heads that all work tight spots differently. And its three speeds are whisper-soft so you can massage and watch your favorite show without interruption. Costigan uses the Hypervolt in her practice, while Dr. Danshaw uses the Theragun ($449, Therabody.com) in his personal use.
‌Buy it: ‌Amazon; ‌Price:‌ $206.10
2. Best Massage Ball: Trigger Point Performance Universal Massage Roller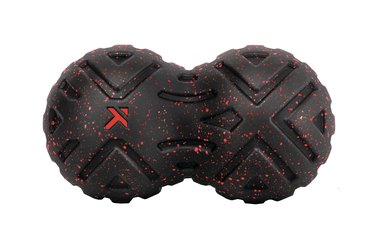 Pros
Allows for deep muscle massage
Cost-effective
Portable
Cons
Less convenient than massage guns
This peanut-shaped roller lends itself to deep neck massage thanks to its design. Costigan instructs people to place the "indent" on the bone at the base of the neck to allow the ball-shaped sides to massage deep into the muscles surrounding the neck. This model is no-frills, but there are some that vibrate.
Rolling with a foam roller or a ball like this is proven to help relieve knots and improve blood flow. Ultimately, that loosening and blood flow can alleviate neck pain.
‌Buy it‌: REI; ‌Price: ‌$26
3. Best Manual Massager: Theracane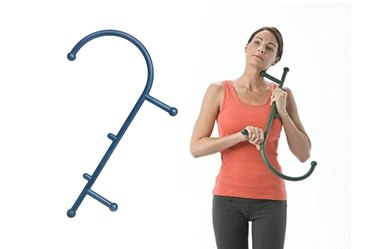 Pros
Simple and effective
Cost-effective
This oddly shaped device is a no-frills way to really dig into those neck muscles. Getting those muscles to relax, Costigan says, makes it easier to improve posture.
The design of this heavy-duty plastic feels a little awkward at first, but once you maneuver it around your upper shoulders, it's surprisingly effective at deep massage without requiring much user force.
‌Buy it: ‌Amazon;‌ Price: ‌$39.95
4. Best Pillow: Royal Therapy Memory Foam Pillow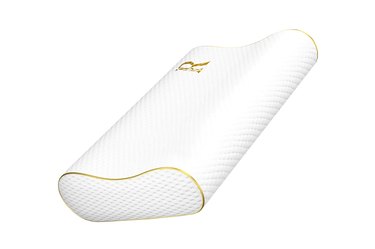 Pros
Adjustable
Breathable
Aligns the neck and spine
Cost-effective
Not only can the right pillow play a key role in alleviating neck pain, a good night's sleep comes with its own laundry list of benefits, including muscle recovery. Although we've selected the this model, choosing a pillow is a very personal thing. We like the Royal Therapy Memory Foam pillow for a few reasons: It has a removable layer to accommodate height preferences and the lip fits snugly under our neck to align the spine.
"You need to have something that keeps the spine as neutral as possible," Costigan says. "People often have issues with their necks because of their sleeping posture." She goes on to say that sleeping your stomach should be avoided.
‌Buy it: ‌Amazon; ‌Price:‌ $44.99
5. Best Heating Pad: Sunbeam Heating Pad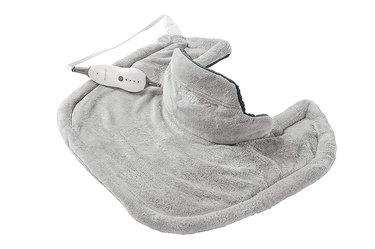 Pros
Designed to fit the neck
Washable cover
4 levels of heat
A heating pad can be an effective way to help quiet neck pain. That said, Dr. Danshaw explains that heat can actually worsen inflammation during the "acute inflammatory phase." In other words, in the first two weeks of feeling neck pain, heat can actually exacerbate the problem. During that time, he recommends ice instead.
But after that period heating pads can provide some relief. Costigan notes, however, that a heating pad (just like over-the-counter medication) is a temporary fix because it's not getting at the root of the problem.
We like this Sunbeam model, which fits comfortably around the neck and the upper back and has a magnetic closure to keep it snug. This heating pad offers four heat levels, depending on your need and preference.
‌Buy it: ‌Amazon; ‌Price:‌ $42.22
6. Best Pain Relief Cream: Tiger Balm Neck and Shoulder Rub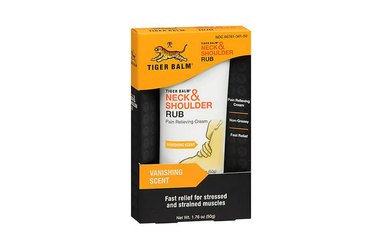 Pros
Heating and cooling sensations feel good
Cost-effective
Cons
Temporary solution
Minty smell can be overwhelming
Tiger Balm cream brings us back to the days of college intramural sport injuries — lather up with the heating-and-cooling cream and forge ahead. Like heating pads, creams serve a purpose but those with heating properties should be reserved after that acute inflammatory period, Dr. Danshaw says.
Tiger Balm Neck and Shoulder Rub uses herbal ingredients to provide warming and cooling sensation.
What to Consider Before Using Products for Neck Pain
It's important to remember, Costigan says, that no matter the tool you choose to help alleviate your neck pain, it will take time.
"Establish a routine [in treatment] instead of chasing symptoms," she says. "Commit to a schedule for a three- to four-week period doing the same things and then reassess."
She points out that a massage ball or percussion massage gun can help if you're currently experiencing symptoms, but otherwise, it's trial and error to determine what can help fix the root of your neck pain. For example, sleeping poorly isn't necessarily linked to your pillow, but shopping for a new pillow could help relieve neck pain.
Products that offer heat (heating pads, creams) can be effective but after the two-week "acute" period of symptoms, Danshaw explains. Heating within those first two weeks can exacerbate the problem, and ice is your better bet.
Seek medical attention for neck pain caused by an injury, or if pain is persistent or progressing for more than a week, Dr. Danshaw says. It's always beneficial to be proactive in your care and not waiting until pain gets worse to seek attention from a physician or a physical therapist, Costigan notes.
Was this article helpful?
Thank you for your feedback!
Is this an emergency? If you are experiencing serious medical symptoms, please see the National Library of Medicine's list of signs you need emergency medical attention or call 911.