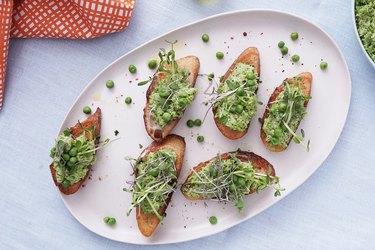 Ever tried to follow a celebrity's "what I eat in a day" or adopt a friend's fitness regimen? If you have (and were left feeling exhausted and/or hungry), you know there's no one-size-fits-all approach when it comes to building a health routine — and that's especially true for weight management. So how do you go about finding solutions that are right for ‌you‌?
"It's not about following anyone else's standards," says Noom behavior-change coach Yasmin Essa, who is board certified in holistic health coaching by the American Association for Drugless Practitioners. "Weight loss is a personal topic and requires personalization to be sustainable. Many [people] start a diet because it works for a friend or their favorite celebrity. The results tend to be short-lived because it needs more personalization."
According to Essa, "without personalization, health goals do not stick long-term [because] personalization considers the ebbs and flows of a person's everyday life." By crafting a weight-loss plan around your specific lifestyle and unique routine, you'll be much more likely to succeed without feeling worn out or restricted.
That's why Essa is such a big fan of Noom, the digital health platform that takes a customized, coaching-based approach to weight management. Noom gives users the opportunity to choose from a variety of tools — like food logging, daily articles and group support — for a tailored weight-management experience. And for users looking for even more personalization, Noom's newest feature offers video-based, live access to coaches who further invest in their individual experiences.
So if you find yourself in a health rut, comparing yourself to others or in need of a little motivation, try adding some personal flair to your weight-loss plan — starting with some of Essa's simple tips on customizing your approach below.
1. Find a Coach Who Offers Practical Advice
For encouragement and accountability on your path to better health, enlist a coach. Noom's various coaching options allow specialists to really get to know their users — and that connection helps them craft a plan specific to the user's personality and goals, Essa says.
"Coaches at Noom ask lots of questions about our users' lives that enable us to form a relationship [and] help them work through situations that are unique to them," she says. "While our coaches always keep the user in the driver's seat of their journey, practical tips and tricks can benefit our [users]."
And as you build a partnership with your coaches, they'll encourage you to speak up if something isn't working because "true personalization requires trial and error," Essa says.
Another simple way to personalize your weight-loss journey is by tracking your food intake. According to Essa, logging your bites can help foster self-awareness and gauge your progress, which is key to effective change.
Daily food logging also allows you to get curious about what's working and what isn't — and Noom makes tracking totally accessible. "The app will share insights and guide [users] based on what they log," Essa says, and coaches help facilitate open dialogue about how your eating habits affect your holistic health.
3. Understand Your Own Eating Habits
Getting comfortable discussing your food log with a coach — whether that's a friend, family member or Noom specialist — may help you understand your overall health in a new way. "Food is very personal," Essa says. "Food elicits childhood memories, connects strangers and is the cornerstone of culture."
Psychology is key to Noom's approach to weight management. "Because we do not restrict any foods, we guide our users to focus on eating more foods that nourish them, while still making space for all kinds of food," she says. So take a moment to think about your own eating habits. You might be surprised by what you come to understand about yourself.
4. Set Achievable Goals and a Clear Action Plan
As a first step in goal-setting, Essa recommends getting at the root: Why are you embarking on a weight-loss journey? And why is it important to you? "From there, it's about reverse engineering it," she says. "Consider if your goal needs to change or if you need a little outside help to uncover blind spots." Maybe your goal is solid, but you need help building habits.
Maybe it feels unattainable, and you need a dose of positivity. "One of my favorite questions to ask [Noom] users is, 'Are you enjoying this? Does this feel like something you can do long-term? If not, what has to change?'" Essa says.
If a mid-afternoon chocolate fix is the highlight of your day, keep it on rotation. If you're feeling sluggish every time you hit the gym, try scaling back a bit or going at a different time of day. "The key is to set smart goals and understand that failures are not a weakness, rather an opportunity," Essa says. Ultimately, the journey is yours to experience — and finding ways to personalize it might just encourage longer-lasting habits.
‌Ready to take a more personal, customized approach to healthy living? Take the quiz to start Noom's 14-day free trial today.‌