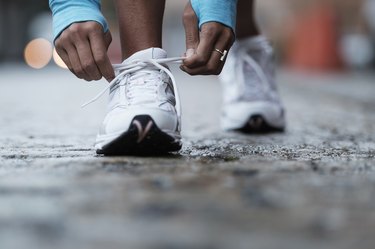 When Lynn Olanoff started running 11 years ago, she fell in love with the Asics Gel Cumulus. She thought that would be her forever shoe. Now, the 41-year-old mother of two has cycled through an assortment of brands and styles, even serving as a shoe tester for a popular gear review brand.
When she tries a shoe, she looks for ample cushioning. She's not necessarily thinking about her personal bests. But with the advent of performance-enhancing "fast" shoes, she doesn't deny that improved times have crossed her mind.
"I'm curious to try them," she tells LIVESTRONG.com. "I have been trying to break two hours in a half-marathon for forever. I finally got down to 2:02. So sometimes I think, 'maybe these shoes would put me over the edge.'"
It's a logical thought. Since the birth of the Nike Vaporfly 4% in 2017, we've seen jaw-dropping race times and running records broken in the elite world. Eliud Kipchoge wore the Alphafly Next% to break the two-hour marathon barrier, running a 1:59:40 in Vienna in October 2019. Then, hours later, Kenya's Brigid Kosgei broke the women's world record by 81 seconds, running a 2:14:04, while wearing the ZoomX Vaporfly Next%.
Even before these records dropped, Nike released its own study that said that its patented technology could give competitive runners a 2.7 to 4.2 percent edge in running economy. Since then, there has been much research done to see if the claims were true and how and why this performance boost occurs.
What Does the Latest Research Say?
A June 2021 study published in the ‌Journal of Applied Physiology‌ compared the times of elite marathoners wearing the shoes in 2019 (this was the first year Nike's Vaporfly 4% was available to everyone) to times over the previous 10 years. The study said: "Our findings indicate that the approximately 4 percent reduced energetic cost of running observed in laboratory settings translates to real, but lesser, improvements in real-world racing conditions." The 4 percent improvement translates to approximately a 1 to 2 percent improvement in finish times.
As Nike's shoes have evolved, other companies have designed their own versions of carbon-plated racers. The super shoes use ultra-compressed foam, a stiff carbon plate, and are shaped as though you're wearing a rocking chair on your feet. But despite replications, advancements, and runners' improved performances, how super shoes work is still being studied.
The other area that is missing in the body of research is whether or not these shoes work for recreational runners. Until 2023, the research has looked only at runners who achieve speeds of 7:26 minutes per mile or faster. That time is equivalent to a 3:15 marathon. For reference, a 2019 survey by RunRepeat said that the average marathon time is 4:29:53.
A small January 2023 study in the ‌International Journal of Sports Physiology and Performance‌ finally looked at how the shoes functioned for runners at slower speeds. The researchers gathered eight men and eight women to study the Nike ZoomX Vaporfly Next%2 versus the Asics Hyper Speed. The Asics shoe was a similar weight but does not have carbon-plated technology or ultra-compressed foam.
The 16 runners had 5K bests from the year before averaging 19:06 for the men and 20:18 for the women. The runners were asked to run 5-minute running reps on a treadmill first at 8 minutes per mile and then at 9:40 minutes per mile. On average, running economy was better in the Vaporfly — but only by 1.4 percent at a pace of 8:00 minutes per mile and 0.9 percent going 9:40 minutes per mile.
Researchers of the study believe the reduced benefit might have something to do with energy return from the compressed foam. Because the foam is returning the energy you put into it, someone who is going at a slower speed, and who is not generating as much force, will not get as much of a return.
The research also showed that at slower speeds, some runners showed ‌worse‌ running economy wearing the Vaporflys. Here, the researchers speculated, runners going at slower speeds might be impeded — not helped — by the carbon plate.
Running coach and elite runner Joshua Sanchez is a super shoe enthusiast, to say the least. When he saw the Nike Alphaflys in action at the 2020 Olympic Trials, he became increasingly interested in the construction and started a YouTube channel to talk about the potential mechanics. He does his best to make sense of it for the everyday runner.
"Think of a trampoline. When you're jumping on a trampoline, if you want to get maximum height, you have to jump at a certain point. If you jump too early or too late, you're not going to get maximum height," he says.
In a sense, if you're running too slow, you "miss" the sweet spot. So, the carbon plate might hinder your momentum or act as an obstacle. So what does this mean? Does the slower you go mean the less these shoes work for you? Not necessarily.
First, the ‌International Journal of Sports Physiology and Performance‌ is statistically small and has its own set of limitations. Sandra Hunter PhD, FACSM, is a director of Marquette University's Athletic and Human Performance Research Center and one of the researchers of the 10-year super shoe study from 2021. She looks forward to more research on the subject of recreational runners.
"The researchers were very transparent that there needs to be more data," she says and notes, "they tested higher caliber people at slower running speed," meaning, the study asked the runners to go at a slower pace than their race pace.
She also says the results are from treadmill running as opposed to in the field. It's also important that the speeds were not normalized for gender, and the women had to run the same speed as the men. All these factors may impact stride.
Finally, mid and back-of-the-pack runners might be wondering how this translates to them. After all, the subjects tested were still pretty darn fast. There is yet to be research for the vast majority of us who take more than four hours to complete 26.2 miles.
Super Shoes Could Help Your Mental Game
With a lack of evidence for regular runners, why would anyone shell out nearly $300 for a single pair of these kicks? It's a valid question, but don't dismiss the super shoes just yet.
The placebo effect is indeed all in your head, but as Hurst says "it's not all made up. It's a biological response."
What he means is the belief that something is benefiting you triggers a brain chemistry reaction.
"We have a spike in dopamine, which is our reward system. So if I give you a pill, for example, your body's going to go, 'oh, this is going help me.' So you get a spike in dopamine and then that's going to translate itself to a change in our physiology."
If you replace the pill with a pair of carbon-plated shoes, the placebo effect would work in the same way.
"If I say 'this is an amazing shoe, look at how Kipchoge could break two hours, you can do an amazing thing too,' that belief is going to augment the benefits of the shoes," Hurst says. "Of course, if you don't believe that it's going to work, then you're not going to get a placebo effect."
Hurst says that in one of his pieces of research — an August 2019 review of 32 studies that looked at more than 1,500 participants in the ‌European Journal of Sports Science —‌ results showed the placebo effect could improve performance by 5.1 percent.
When it comes to how successful people are in the super shoes, Hurst believes it's probably a combination of the shoes and the psychology of their marketing. He'd like to see a study done where runners wear shoes that only look like a super shoe but that do not have the technology to see how much of the success is psychological.
The Bottom Line: Do What's Right for You
Here's the thing: No study can tell you how you will feel and function in super shoes.
"It's good to be skeptical when you've got an expensive shoe that everyone thinks is the silver bullet," Hunter says. But on a non-scientific, personal note, she offers a perspective as a runner with fairly average PR times. "I love them — I love the cushioning and the extra spring you get."
They will not be for everyone. Depending on the stiffness of the shoe and how it affects the ankle, Sanchez says some runners might want to avoid them. "If they have Achilles issues or plantar fascia problems, it might hurt their foot because they can't bend the plate."
He urges anyone who is interested to try them on and give them a run. If you're objective, you should be able to tell quickly if they are going to be comfortable or too weird for you.
In the end, most runners know that any piece of equipment can't replace hard work, nutrition and smart training.
"The shoe doesn't make the runner," Sanchez says. But when given a hypothetical situation of a recreational runner chasing a time goal who is just close enough to taste it, he says without hesitation: "Just wear the shoes."