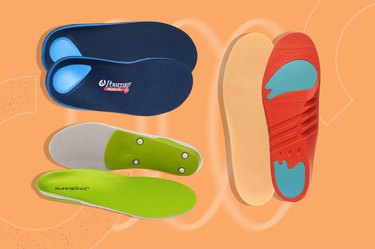 If you're among the estimated 77 percent of Americans who experience foot problems at some point in their lives, per the American Podiatric Medical Association (APMA), you've probably noticed there are a near-endless amount of products out there claiming to relieve foot-related issues.
One product that actually shows promise, according to podiatrists, is a shoe insert or insole. This orthopedic device helps support your foot by distributing pressure evenly across the sole and optimizing the foot's biomechanics when working, walking or exercising, says Najwa Javed, DPM, board-certified podiatrist with Silicon Valley Podiatry Group and founder of E'MAR Italy.
No two sets of feet are the same, which is why insoles are so customizable — you can choose from a variety of shapes, sizes and levels of support to address your specific foot or ankle issue, says Elizabeth Bass Daughtry, DPM, a podiatrist and foot surgeon based in North Carolina. And there are certain things you'll want to look for in an insole to support you when you stand all day.
Here, find podiatrists' top picks for insoles, and learn how to shop for the right shoe insert for you.
The Best Insoles for Standing All Day
We chatted with podiatrists and a pedorthist, who offered product recommendations and broke down what to look for in insoles that can help keep you comfortable when you're on your feet most of the day. We selected these products based on their criteria, including:
Comfort
Material
Structure
Cost
Availability
1. Powerstep Pinnacle Full Length Insoles
Pros
Thin profile fits most shoes
Alleviates heel pain
Extra support for shock-absorption
Cons
Not ideal for lower arches
These thin insoles are ideal for pretty much any shoe type. They're full-length, double-layered and provide just enough support to make standing all day bearable.
"Powerstep insoles have a semirigid arch support and are relatively durable, so they make a good option for those with a higher arch and normal arch," Dr. Daughtry says. "This type of insole also offers a slightly deeper heel cup with extra cushioning in the heel, which is beneficial for those with plantar fasciitis."
2. 10 Seconds Pressure Relief Insoles
Pros
Supportive heel
Pressure relief
Cooling
For lower arches, Michael Fishkin, certified pedorthist with Northern Illinois Foot & Ankle Specialists, recommends a cushioned type of support with a very low arch like that found in the 10 Seconds 3020 Pressure Relief Insole.
"This is a totally accommodative, cushioned type of support," he says. "I'd also recommend ‌Spenco Cross Trainer Insoles‌." (From $24.51, Amazon.)
Bonus: If you're prone to overheating, these insoles feature air flow channels that help keep your feet cool. (If that's you, consider investing in some of the best breathable shoes for sweaty feet, too.)
3. Spenco Total Support Max Shoe Insoles
Pros
Semi-rigid support
Ideal for athletes
Reduces overpronation
Cons
May feel too stiff for some users
Those with a higher foot arch can benefit significantly from insoles, especially those that have very flexible feet and ankles, to control the excessive motion, Dr. Daughtry says.
A great brand for higher arches is Spenco because it offers rigid structure that supports the arch as well as advanced support for the heel.
Fishkin recommends Spenco Maxx, which has a deep heel cup and full arch to really support and stabilize the foot, he says.
4. FORMTHOTICS Unisex-Adult Sport Insole
Pros
Great support
Comfortable
Come in a variety of colors
Podiatrist Zahava Robinson, DPM, a podiatrist at Bondi Podiatry in Sydney, Australia, recommends these insoles to most of her patients who have non-complex foot structures with mild pronation.
"They heat mold over time to the shape of the patient's feet and they are an affordable option for those with plantar fasciitis, heel pain, instability and mild acute injuries," she says.
Plus: They feel soft and spongey under your foot, which means they are great for enhancing sports shoes.
5. Superfeet GREEN High Arch Orthotic Support
Pros
Offer foam arch support
Last up to 12 months
Natural anti-bacterial coating, to prevent odors
Cons
Can feel a little stiff
Pricey
If you're looking for a durable insole that will last you up to a year and will help cut down on pesky foot odors, this is a great pick.
Superfeet insoles maintain their shape for up to 500 miles with a high-profile design that helps stabilize the foot and ease pressure on joints. The deep heel cup offers support and can help with shock absorption.
6. Redi-Thotics Comfort Shoe Inserts
Pros
Offer foam arch support
Last up to 12 months
Prevent unpleasant odors
Cons
Can feel stiff and restricting
Any respite from the often debilitating pain a bunion can cause — especially for those living an active lifestyle or standing on their feet all day — is worth pursuing.
Luckily, these insoles provide the right kind of support. They feature a special pasti-flex shell on the bottom along with a barretex-plush top cover that helps cool the foot and wicks away moisture.
What to Look for in an Insole for Standing All Day
Not all insoles are created equally, and it's important to buy the correct kind for your needs. Here, podiatrists share what to look for when shopping for insoles or shoe inserts.
To ensure maximum comfort, Dr. Javed recommends seeking out insoles that are semi-rigid and provide cushioning for the ball of the foot.
"If the insoles are too soft and flexible they will not be able to support the pressures of the body," she says. "If the arch support bends easily at the arch, it will not be supportive."
Material matters when it comes to the right insole. Peter Lovato, DPM, podiatrist with Northern Illinois Foot & Ankle Specialists, recommends opting for a neoprene material that features cushioning that springs back to continue to provide ample shock absorption.
"Some are more rigid throughout, which offers more support — it just depends on if the patient can tolerate the level of support," he adds.
While any advertisement mentioning "memory foam" might sound appealing, Fishkin recommends against this material for insoles.
"Memory foam does compress over time and does not spring back like a mattress does," he says. "It can bunch up adversely in the footwear, creating other issues."
When shopping for the right insole for standing all day, be sure the structure is not too aggressive for your foot type, or you'll wind up with discomfort. And pay attention to the heel counter.
"An insole with a good heel counter will help reduce ankle motion and create ankle stability," Dr. Javed says.
Is this an emergency? If you are experiencing serious medical symptoms, please see the National Library of Medicine's list of signs you need emergency medical attention or call 911.