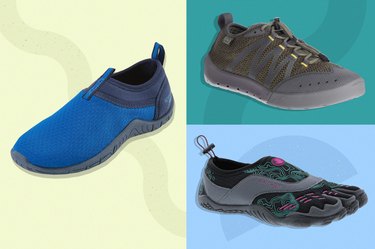 Summer is a time for outdoor adventure. Whether your passion is hiking, kayaking, fishing or exploring the beach, you need a solid pair of water shoes.
Water shoes are footwear used for activities that switch between dry land and water. They protect your feet from sharp rocks and hot surfaces, while helping you gain traction and avoid slipping on wet ground.
You can find water shoes of all shapes and sizes — like stylish sandals that transition from the trail to a restaurant or no-nonsense shoes that extend past your ankles. With so many options, knowing which to pick can be challenging. But don't worry. We've got you covered with these eight pairs recommended by outdoor adventure experts.
We turned to a handful of adventure specialists for the features they consider essential in a pair of water shoes. Using their feedback, we gathered products that checked the following boxes. You can learn more about how we cover products here.
Quick-drying
Durable
Breathable
Superior traction
Comfortable
A Note on Language
We make deliberate choices about the language we use when it comes to gender. But because manufacturers typically market shoes according to gender, we've listed both women's and men's picks below.
However, the main difference between most men's and women's shoes lies in the shoe width and size. In some cases, men's shoes are built to support greater weights. So people with larger bodies may want to opt for men's versions, whereas people with smaller bodies may prefer women's versions.
1. Best Water Shoes Overall: Columbia Men's Drainmaker IV Water Shoe
Columbia's hybrid shoe was built to carry you through wet and dry conditions, earning them top ranking on our list.
"These shoes are well-ventilated, quick-drying and offer superior cushioning, making them ideal for various outdoor activities," says Nina Clapperton, founder of Traveling With Your Pets.
The shoes feature a mesh upper for breathability and midsole ports to encourage water drainage, keeping feet cool and dry. They also offer a sturdy rubber outsole with enhanced traction to help you stay sure-footed when navigating slippery surfaces.
2. Best Water Shoes for Men: Teva Men's Omnium 2 Sandal
These best-selling Teva sandals offer great protection and durability. They're also versatile enough for both wet and dry conditions, Clapperton notes. The synthetic upper is quick-drying, while the rugged rubber outsole supplies stellar traction on various surfaces.
The shoe is also treated with a peppermint-based antimicrobial to fight the growth of odor-causing bacteria, helping your feet stay fresh through the longest adventures.
3. Best Water Shoes for Women: Keen Women's Rose Sandal
According to Liz Ho, camping guide and founder of Camping Guidance, a camping gear review site, these Keen women's sandals are a standout. They boast a secure fit, excellent arch support and a protective toe box — "perfect for women with active lifestyles," Ho tells LIVESTRONG.com.
These sandals also feature anti-odor technology and a stylish design, so you can feel good about wearing them to dinner after your outdoor adventures have wrapped up. Score a pair in one of several colors, like basic black or blue tie-dye.
4. Best Water Shoes for Kayaking: Columbia Men's PFG Bahama Vent Shoe
After burning through 15 pairs of water shoes over the course of two decades of kayak fishing, Reuben Lim founder of FishingSensei.com, considers these Columbia slip-on boat shoes to be the cream of the crop.
They're made of quick-drying canvas and leather and incorporate vent midsole ports to drain water. Grip-wise, they're built more for surfaces that are mostly dry but may be wet at times, such as kayaks. They're also treated with an advanced stain repellent — ideal for messy activities such as fishing.
"Personally though, what I think really sets these water shoes apart is their comfort," Lim tells LIVESTRONG.com. They're lightweight and fit less snugly than many other water shoes, he notes.
5. Best Water Shoes for Kids: Speedo Kids Tidal Cruiser
Protect your kids' little feet from hot surfaces and sharp objects with a pair of well-built water shoes. Ho suggests checking out this Speedo pair. "They offer an easy slip-on design, quick-drying fabric and a durable outsole for varied terrain," she says.
Kids will appreciate the mesh fabric's ventilation and the shoe's neoprene collar for a secure fit and fuss-free on and off. Meanwhile, parents will value the reasonable price tag and wide range of sizes.
6. Best Water Shoes for Hiking: Salomon Tech Amphib 5 Water Shoes
These Salomon water shoes are ideal for hikes through creeks and across slippery terrain. They reach your ankle for added coverage and support and feature a quick-drying, breathable upper that helps keep out unwanted dirt and rubble. A reinforced toe cap protects your feet from bumps, while a grippy rubber outsole ensures maximum stickiness on both wet surfaces and trails.
One interesting feature is the collapsible heel, which allows you to wear the shoes like a normal shoe or slide them on and off.
7. Best Water Shoes for White Water Rafting: Chaco's Torrent Pro
These Chaco's were co-developed with professional whitewater athletes to deliver a cross-trainer built for the sport. "They have excellent grip on wet surfaces and offer quick drainage — crucial for white water rafting," Ho says.
Made of a knitted polyester upper with a reinforced closed-toe design, these water shoes will protect and support your feet in and out of the raft. Plus, they've been coated with an antimicrobial treatment to keep your feet fresh.
8. Best Water Shoes for the Beach: Body Glove 3T Barefoot Cinch Water Shoes
Lim considers these slip-on Body Glove water shoes the best on the market for the beach. "In terms of traction, snugness, breathability, and flexibility, they excel in every one of them," he says.
These minimalist shoes offer a barefoot sensation, so you can enjoy the softness of the sand beneath your feet while enjoying protection from shells and rocks. They dry quickly once you're out of the water, allowing you to walk the beach without your shoes becoming heavy or soggy. "I can vouch that their quick-drying material and drainage system really works like magic," Lim says.
What to Consider Before Buying
When testing water shoes, check that they fit snugly but not too tightly. "Consider the size of your regular shoes as a starting point," Clapperton says. As she notes, some water shoes tend to run small due to added insulation or other features. So, check customer reviews and manufacturer size guides to see whether you need to size up.
Some people like to wear quick-drying socks with their water shoes. "It can be a fantastic idea, especially if you're looking to avoid blisters during long, water-based activities," Clapperton says. It's a matter of personal preference. Just be sure to test how your water shoes fit while wearing socks if that's how you plan to wear them.
The materials in your water shoes will greatly affect their performance, longevity and comfort. Clapperton recommends looking for options with a midsole and upper made of quick-drying, breathable and durable materials like mesh or neoprene. "These materials will also help prevent foot discomfort, odor, and the growth of bacteria or mold," she adds.
To ensure maximum traction on wet, slippery surfaces, look for water shoes with rubber outsoles.
No matter if you prefer sandals or full-coverage water shoes, check that they offer a sturdy toe cap to prevent toe-stubbage. A toe cap can also help protect your feet from sharp rocks, shells or other debris, Clapperton notes.
If you're hiking, go for water shoes with added ankle and arch support.
"Water shoes that are easy to put on, take off, and adjust can enhance your overall experience," Clapperton says. She recommends looking for shoes with user-friendly features like pull-tabs, bungee laces and adjustable straps.
Clapperton recommends checking a shoe's care instructions before purchasing. "Some water shoes are machine-washable, which can be a handy feature if you're planning to use them regularly," she explains.