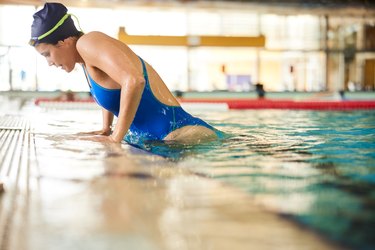 For some swimmers, long workouts in the pool or ocean can cause itchy, dry, irritated or even burning skin. And as someone who deals with some pretty bad eczema, speaking from experience, it makes swimming ‌even‌ more difficult.
But also speaking from experience, finding the right post-swim skin and hair products can be a total game changer. Browse some of the best swimming skin- and hair-care products for sensitive skin and learn how to find your best formulas.
To help us narrow down our list of under-desk treadmills, we turned to KJ Kroetch, a certified swimming and triathlon coach, avid swimmer and owner of All Terrain Endurance. We chose our top picks based on the following criteria. You can learn more about how we cover products here.
Features
User Ratings
Formula Sensitivity
1. TRIHARD After-Swim Body Wash Extra Boost
As a triathlete myself, I've had to invest a fair amount of post-swim skin and hair products. And TRIHARD is a brand I won't swim without. This body wash eliminates the harsh smell of chlorine and salt.
I also love that it's great on sensitive skin. Pool chemicals can cause my eczema to act up pretty badly but when I use this wash consistently (right after I swim), I'm spared dry, itchy skin.
2. Ultra Swim Chlorine Removal & Hard Water Treatment Moisturizing Shampoo
When shopping for post-swim products, ingredients matter, according to Kroetch. For your shampoo, you want a sulfate-free formula that eliminates harsh elements found in all kinds of water.
This shampoo gently washes away chlorine, salt water (necessary for open-water swims), minerals, odor and any unwanted tints for color-treated hair.
3. TRIHARD Pre & Post Swim Conditioner
Alongside TRIHARD's body wash, this conditioner is the other product I bring to every pool workout. Not only does it smell amazing, it washes even the faintest bit of chlorine out of my color-treated hair.
The best part? You can use this before and after your swim. To get some extra protection from hard water, just apply the conditioner like a hair mask and put your swim cap on top.
Pro tip: Don't apply too much to your roots because it can cause your cap to feel a little slippery.
4. TRISWIM Swimmers Lotion
Chlorine and salt water can be pretty drying but this lotion is enriched with aloe vera and Vitamin B5 and E to help keep your skin moisturized.
It's best that you apply this only after you swim, though, as it's not water-resistant and the fragrance can linger on the water and affect other swimmers, according to Kroetch.
Plus, it's great for healing a sunburn!
5. Reef Safe Sun Barrier SPF 50 Sunscreen
Kroetch is a big fan of Zealios products for all kinds of exercise, including swim.
"They make a sunscreen, including a reef-safe version and that is my go-to for face and body," she says.
This formula has zero harsh chemicals and is specifically formulated for sensitive skin. It's unscented and it won't stink if any drips into your eyes.
And for swimmers who like longer workouts, this one is water resistant for up to 80 minutes.
3 Things to Look for in Swimming Skin and Hair Products
1. Chlorine and Salt Absorption
The biggest thing to look for in any post-swim product is chlorine or salt protection, according to Kroetch. These elements are inevitable when you swim in the pool or ocean but they can damage your hair and dry your skin, so getting those off your body and hair are a priority.
Chlorine and salt can be especially harmful to sensitive skin. So, before you buy a post-swim shampoo, conditioner or body wash, read the label to check that it removes traces of chlorine and saltwater.
2. Fragrance-Free Formulas
For products you're using in the water (like sunscreen), look for a formula that's free of any aroma or fragrance, Kroetch recommends. When you wear a scented lotion or perfume, the scent can leech into the water and disturb other swimmers or wildlife.
Specific to sunscreen, you want a product that's water resistant and, if you're swimming in the ocean, reef safe. Inevitably, some of your sunscreen will get washed away as you exercise but a water-resistant formula can help you hang on to as much protection as possible.