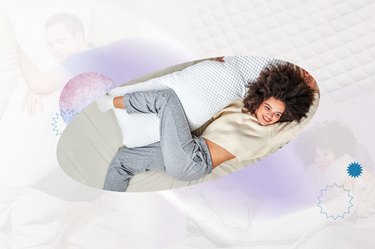 I have always been a stomach sleeper, and despite my efforts to change, I would always wake up in the morning with a mouthful of pillow. And while it hasn't caused any problems for me yet, I knew that changing to sleeping on my side or back would set me up for a healthier neck and back in the future.
Unfortunately, nothing was able to keep me right-side-up — until now.
When I first got the Pluto Puff Body Pillow, I didn't expect it to be life-changing, but I was excited to test out what I consider a high-end pillow — I'm typically more of a $30 for a two-pack kind of girl.
While most products I test will become a part of my routine for a while before getting pushed aside by my old habits, this pillow has remained a staple for over two years. And you'd have to pry it out of my cold dead hands before I give it up.
Features and Functionality
Now you may be thinking: "Is a body pillow really worth $110? I could get one on Amazon for $20." Sure, you can get a body pillow for much less, but if you can swing the price, this one is worth it.
I'll start with the feel. This is no lightweight fluff pillow. It's weighty, plump and has just the right amount of support and softness. I sleep with it between or under my knees, so I need it to withstand a decent amount of weight without flattening or condensing — and it has done that and continues to do that after two years of consistent use.
It's stuffed with a synthetic fiber designed to emulate the feel of 600-fill European down, which gives it the signature plushness while being hypoallergenic and animal-cruelty-free.
The pillow is also huge — and I'm not complaining. It measures in at 21 x 54 inches, and has an 8- to 9-inch loft height. This means it works great for everyone — even if you played center in college basketball.
The pillow also comes with a removable, quilted, microfiber case. It's super soft to the touch, and it has a cooling effect that prevents it from trapping heat and feeling toasty. I prefer to add another cover on top to better match my bedding, and even with the additional fabric, it always feels cool to the touch.
Buy Your Own Pluto Puff Body Pillow
While I'm still not 100 percent free of stomach sleeping, this pillow has helped me to wake up on my side or back the majority of days during the week. It has also reduced any morning neck stiffness.
And while my Puff is still going strong, I would not hesitate to replace it on the day it finally loses it's oomph.
Want to experience for yourself what it's like to be obsessed with a pillow and get the best sleep of your life? You can test out the Puff for 125 nights, and if you don't love it, you can send it back and get a full refund. But trust me, once that pillow enters your bed, you won't want it to leave.
More Sleep Essentials We Love
Is this an emergency? If you are experiencing serious medical symptoms, please see the National Library of Medicine's list of signs you need emergency medical attention or call 911.