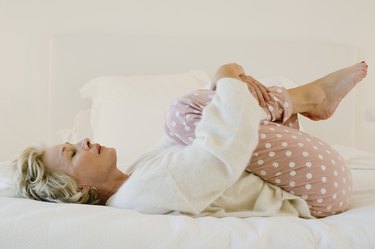 Morning back pain can make it tough to get moving. Any sudden jolt may cause some pain. So, you lay low — in bed — hoping it will go away. Or, you hold your breath as you manage to get up, one stiff joint at a time.
As you move through your morning, your stiff back muscles (and joints) release. But you may be wondering why lower back pain often strikes in the morning — and what you can do to prevent it in the first place.
What Causes Morning Back Pain
Back pain can strike at any time of the day. But your back may be at its most vulnerable state in the morning, according to Orthopaedic & Spine Center of the Rockies. That's because pressure on the lower back can build from various factors including what you sleep on, how you sleep, as well as what your day-to-day looks like.
An unsupportive mattress can add to any discomfort, and sleeping on your stomach can put a strain on your lower back, according to Keck Medicine at the University of Southern California. Daily factors that may contribute to lower back pain include poor posture, a sedentary work environment and an ill-fitting office chair.
"Muscle strains, whether due to strenuous physical activity or extended sitting periods, are common culprits too," says personal trainer Vivian Yu, co-founder of One Body Personal Training and GymNearMe.
So, what's the most common cause of morning back pain? "It's usually due to sleeping in an odd position, but can also be caused by arthritis or inflammation," Jasmine Marcus, PT, DPT, CSCS says. "The worst thing you can do is get scared and stay in bed. Both of those things can increase your pain." She recommends gentle stretches in all directions upon waking, like the ones below, as well to keep moving throughout the day.
Yu suggests adding strength training and flexibility workouts into your daily routine. "An ergonomic workstation and a comfortable mattress can also make a world of difference," Yu says.
5 Stretches to Ease Your Morning Back Pain
When you wake up with that familiar stiffness, there are some bed-friendly stretches that you can do. The knees to chest stretch is a great way to ease a tight and sore lower back, according to Yu.
Lie on your back with both knees bent and your feet flat on the floor or mattress.
Draw your knees toward your chest, just enough to grasp your lower legs.
Interlace your fingers just below the knees.
Gently pull your knees closer to your torso with your hands.
Hold for 30 seconds or as long as feels comfortable.
Tip
Because raising both knees at the same time may require some abdominal strength, bring one knee up first, allowing the other to follow, to prevent any strain. Or, do this stretch one knee at a time:
"Lie flat, pull one knee to your chest while keeping the other foot steady on the bed," Yu says. Then repeat on the other side.
2. Supine Hamstring Stretch
Lie on your back with both knees bent and your feet flat on the mattress or floor.
Press into the mattress with your left foot as your raise your right leg toward the ceiling.
Clasp your hands behind your thigh or calf and gently draw your right leg toward your chest.
If comfortable, you can extend your left leg.
Hold for 30 to 60 seconds.
Return to your starting position and repeat on the other side.
Tip
Keep a slight bend in your legs as you stretch them to prevent any strain or discomfort.
Lie on your back with both knees bent and your feet flat on the mattress.
Cross your right ankle over your left thigh, just above the knee.
Use your right hand to gently press your right thigh away from your chest.
Reach your hands through to grab the back of your left leg and draw your "figure 4" shape toward your chest.
Hold for 30 seconds.
Return to your starting position and repeat on the other side.
Lie on your back with both knees bent and your feet flat on the mattress.
Gently draw your knees toward your chest at a 90 degree angle.
Flex your feet toward the ceiling.
Reach your hands through your legs and grab the outside of each foot.
Spread your knees apart and draw them closer to your armpits.
Gently rock from side to side.
According to February 2021 review in the ‌International Journal of Environmental Research and Public Health‌, the hip flexor muscles should be tight enough to support the lower spine, but not so tight as to cause stiffness and pain. Stretching those muscles helps by increasing flexibility and improving mobility within that region.
This butterfly stretch is one type of stretch that can target those muscles to reduce the tension and ease the pain.
Lie on your back with both knees bent and your feet flat on the mattress.
Bring your feet and knees together
Place your hands between your legs and gently guide your knees open to the sides.
Bring the soles of your feet together.
Hold this pose for 30 seconds.
Tip
Tip: For a more restorative pose, place a folded pillow below your lower back and tailbone (your sacrum) before executing the stretch.
While poor posture, sedentary behavior and an unsupportive mattress may be some factors to blame, lower back pain can also be the result of a deeper issue that can necessitate the proper medical attention.
Severe back pain that doesn't resolve is an indication you should seek medical help, according to the Cleveland Clinic. It is especially important to see a doctor if your back pain is accompanied by weakness in the legs, back swelling, radiating pain and any numbness or tingling in the groin, buttocks or legs. Fever, nausea, as well as stool and bladder concerns are other factors to watch out for.
"It's essential to remain vigilant," Yu says. "If you find the back pain persisting or if it is accompanied by symptoms such as weight loss, fever, or bladder/bowel problems, please consult a healthcare professional without delay."