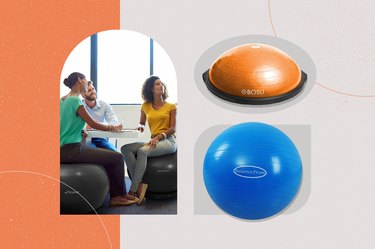 An exercise ball — aka Swiss ball, physio ball or stability ball — is a versatile and relatively affordable tool that anyone can use to enhance their training.
This piece of equipment introduces an element of instability; that wobble you feel when you place your weight on an exercise ball forces your muscles to work harder to maintain balance.
"Stability balls can also help seniors improve balance and posture and reduce the risk of falls," she tells LIVESTRONG.com. "They are especially useful when exercises need to be done seated, such as seated leg lifts, shoulder presses or marches."
If you've ever swapped your office chair for an exercise ball for even a few minutes, you know they can help counteract slouching, bring more attention to your posture and increases core engagement, George says.
So, it makes sense to have one on hand for times you want to spice up your at-home sweat session (or late afternoon Zoom call). But, choosing an exercise ball that works specifically for you and your space is critical.
To help you find the best exercise ball for your indoor workouts, we chatted with health and fitness experts including trainers, coaches and physical therapists. We chose our top picks based on their recommendations and criteria. You can learn more about how we cover products here.
Durability
Comfort
Versatility
Size
Price
Materials
Color
Ease of set up and use
1. Best Overall: Vivora Luno Exercise Ball
‌Sizes:‌ Standard (65 cm) and max (75 cm)
‌Weight:‌ 4 pounds
‌Weight capacity:‌ 400 pounds
‌Material: ‌PVC inner, polyester felt cover
‌Color:‌ Anthracite
The Luno exercise ball from Vivora does everything a traditional exercise ball can do — you can sit, lean, balance and lift weights on it, thanks to its 400-pound weight capacity.
But because its PVC inner is encased in a charcoal grey washable felt cover, the Luno feels like an elevated version of the exercise balls you'd typically find in a gym.
"It's very soft and feels luxurious to sit or work out on," George says.
And while aesthetics are secondary to function, the Luno's design blends into a home or office setting by looking more like furniture than a piece of exercise equipment. The attached handle, a seemingly small detail, makes moving the Luno from one area to another a breeze.
2. Best Budget: BalanceFrom Anti-Burst and Slip-Resistant Exercise Ball
‌Sizes: ‌S (38 to 45 cm), M (48 to 55 cm), L (58 to 65 cm), XL (68 to 75 cm), XXL (78 to 85 cm)
‌Weight:‌ 2 pounds
‌Weight capacity:‌ 2,000 pounds
‌Material: ‌PVC
‌Colors: ‌Black, blue, gray, green, red, pink, purple
‌Included accessories: ‌Foot pump
This pick is Alison Staples' go-to ball. Staples, a coach at &Running in Howard County, Maryland, and physical therapist assistant, characterizes the BalanceFrom as a workhorse.
"As a clinician, durability and sturdiness of a stability ball are most important," she says. "I see a lot of patients during the day and need a reliable piece of equipment that doesn't need to be inflated after every use and is sturdy enough to support weight variations."
She's also a fan of the ball's grippy surface. "This brand doesn't slip when used on the tiled floor, making it easier to focus on the exercise," she says.
Staples also appreciates the wide variety of size and color options. "It's fun for patients to pick their own color, and it makes it easy for me to pick the best size for their height and weight."
3. Most Durable: Theraband Pro Series Stability Ball
‌Colors and sizes:‌ Yellow (45 cm)., red (55 cm), green (65 cm), blue (75 cm)
‌Weight‌: 3 pounds
‌Weight capacity:‌ 1,000 pounds
‌Material:‌ PVC
‌Included accessories: ‌Inflation adaptor, two plugs, instructional poster
"Perform Better is the primary fitness equipment distributor for the industry, and anyone can purchase commercial-quality fitness equipment from them. They sell the stability balls used by professional health clubs," he says, noting that distributors tend to provide more quality control than big box stores.
This Theraband stability ball is at the top of Perform Better's curated exercise ball offering. Made from PVC, this ball has a weight capacity of up to 1,000 pounds, and multiple online reviewers remarked on the quality of the ball's material.
"Very good quality. Thicker rubber than I expected," one five-star reviewer wrote. "The ball is very sturdy and like the one I am using in PT right now," another customer wrote.
4. Best for Beginners: Trideer Exercise Ball Chair
‌Sizes:‌ L (58 to 65 cm) and XL (68 to 75 cm)
‌Weight:‌ 1 pound
‌Weight capacity:‌ 330 pounds
‌Material:‌ PVC
‌Colors:‌ Black and teal
‌Included Accessories‌: Ring base, foot pump
Beginners (and anyone else seeking a little extra support) will appreciate this Trideer exercise ball chair, which comes with a separate base.
The ball can be used with or without the inflatable ring, offering a middle ground between total instability and solid ground; you can wobble a little without the fear of the ball rolling out from under you. This feature is also helpful for anyone looking to swap their office chair for an exercise ball.
While this ball holds a 4.4-star rating on Amazon, some reviewers noted that the ball lost air quickly and needed to be re-inflated frequently. (This issue was often compounded by the quality of the included foot pump, which multiple customers felt was poor.) Otherwise, most reviewers found this product easy to use and enjoyed its versatility.
5. Best Mini: Bender Ball
‌Sizes‌: 6 to 9 inches
‌Weight‌: 1.1 pounds
‌Weight capacity:‌ 300 pounds
‌Material: ‌ABS
‌Color:‌ Green
‌Included accessories:‌ Two inflation straws, instructional DVD and five streaming workouts
Pilates and barre workouts require a ball that's smaller than a typical exercise ball. "The ideal size is 8 to 9 inches in diameter for a small Pilates ball. Any bigger, and it can be cumbersome for a lot of exercises," George says. The Bender Ball, which George recommends, can be inflated to up to 9 inches.
Despite its small size, the Bender Ball can withstand a weight of up to 300 pounds. Its slightly tacky surface and pliability make it easy to grip and hold with your hands, feet, and limbs.
This "squishiness," George explains, "allows the user to wedge it behind their back for core work or squeeze behind their knee for glute exercises. If the ball is too stiff, it can be hard to hold onto or put the body in awkward angles and positions."
With each ball, customers receive an instructional DVD, streaming workouts and straws for inflation. Many reviewers appreciated the bonus materials, but many found the straws difficult to use.
6. Best Half Ball: BOSU Home Balance Trainer
‌Size‌: 26 inches in diameter, 10 inches in height
‌Weight:‌ 13 lbs
‌Weight capacity:‌ 300 lbs.
‌Material:‌ Rubber
‌Colors:‌ Blue, green, black, orange, red, pink, purple
‌Included accessories: ‌Pump, downloadable workouts and wall chart
BOSU has become synonymous with flying saucer-shaped half balls you can use face up or face down — and with good reason, George says.
"The BOSU Balance Trainer has always been the standard of quality. The non-slip surface and thick, durable material make it stand out above the other balance trainers," she explains. "BOSU, the company, has also invested a lot of money, time and energy into creating really high-quality instructor education, which enhances how we use the BOSU as trainers and, therefore, our clients' results."
At around $130, the BOSU Home Balance Trainer is pricier than most standard exercise balls, but thanks to its unique design, it's more versatile than a basic ball.
5 Factors to Consider Before Buying an Exercise Ball
Ready to rock and roll? Before you add any exercise balls to your cart, check out these expert-backed shopping tips.
How you intend to use your exercise ball should inform your purchase. Will you, for example, be using it for barre and Pilates workouts? Then, you'll want to go with a smaller ball you can tuck behind your knee and between your ankles.
If you're in the market for a standard-sized ball, will you be storing it in your main living space or using it as a chair? In that case, you may want to pay more attention to the ball's colors and materials and pick something that blends in with your decor.
2. Choose a Size According to Your Height
If you're shopping for a standard exercise ball, select a size based on your height. Some brands offer a sizing guide, but you can compare the height of the seat of your chair to the stability ball's diameter.
"The most common sizes are 55 cm, 65 cm and 75 cm. You want to choose the size that allows your knees to be at a 90-degree angle when you sit on the ball," George says.
While you ‌can‌ buy an exercise ball for less than what you'd pay for a cup of coffee, you probably shouldn't. Balls made with cheaper materials are more likely to pop, leak air or never inflate properly.
"Stability balls are typically made from PVC or rubber," George says. "I suggest looking for a ball made out of high-quality, anti-burst materials. This is where you sometimes get what you pay for, so be careful with the extremely inexpensive balls."
Not every ball comes with a pump, and often, the included pumps are weak or ineffective. Make sure you have access to a pump that works, and pay attention to your ball's inflation instructions. Some manufacturers recommend that you partially inflate the ball and wait a day or two before fully inflating it.
Of course, when using or storing your exercise ball, you'll want to avoid sharp objects (including your pet's nails and teeth!) and any surfaces that may snag, scratch or puncture your ball.
If you have the space, you can always stow your ball in a closet or an empty corner. Otherwise, an equipment rack or wall-mounted net will keep your exercise ball from rolling around your home like a PVC tumbleweed.
Just make sure to avoid heaters, direct sunlight and super-cold spaces (like the garage during the winter), as extreme temperatures can damage the ball's material.