Having a big, strong chest is a pursuit on which a lot of fitness enthusiasts spend many hours. But developing your pectoral muscles won't happen overnight, even if your training program and diet are spot-on. For this reason, many lifters rely on muscle-building supplements to improve their physiques.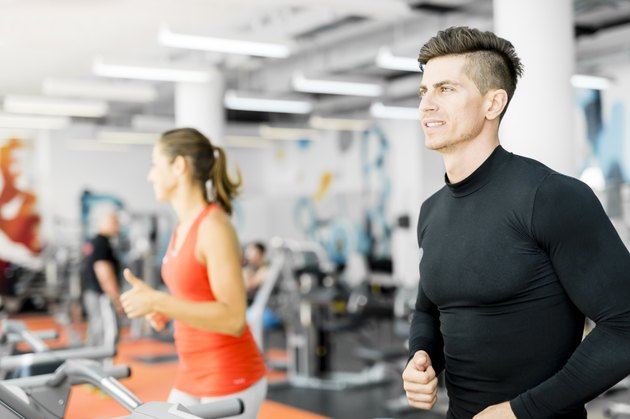 Weight Gainers
Weight gainers are high-calorie powdered supplements that contain a vast array of ingredients to help you gain muscle. Most contain high levels of protein, perhaps 40 to 50 grams, and anywhere from 100 to 200 grams of carbohydrates per serving. Weight gainers typically range in calories from 500 to 1,300 per serving. One important ingredient found in many weight gainers is CLA. Research from the journal Applied Physiology, Nutrition and Metabolism found that CLA can reduce body fat and increase muscle mass.
Creatine
Creatine is a popular supplement because it is both inexpensive and effective. Creatine is sometimes included in caffeinated pre-workout supplements, but is available on its own. In either form, creatine can improve your chest with proper training. A study from the journal Medicine and Science in Sports and Exercise found that creatine can increase lean muscle mass and strength.
Protein Powder
Protein is a very important supplement for gaining muscle because it contains amino acids. Amino acids are the building blocks of muscle. But that's not all protein can do for you. In addition to providing needed calories, nutrition and conditioning expert Dr. John Berardi points out that protein can increase levels of Insulin-Like Growth Factor 1, or IGF-1. This hormone is related to muscle growth.
Testosterone Booster
Testosterone boosting products are very powerful supplements that encourage your body to produce more testosterone and discourage it from undergoing natural processes that convert testosterone into estrogen. Maintaining high levels of testosterone is important for building a big chest because, as research from the journal Clinical Endocrinology indicates, the hormone helps to increase lean muscle and reduce body fat.