Being overweight or obese is a serious health concern. It raises the risk of many chronic medical conditions and can contribute to back and joint pain. Weight gain does not happen overnight, it usually creeps up through the years. This allows an individual to slowly change clothing sizes, make other adjustments and eventually deny that there's a problem. However, an increase of weight in adults should not just be a part of aging and needs to be kept under control. Avoiding weight gain, while not easy, should be part of an overall plan to help reduce the risk of disease.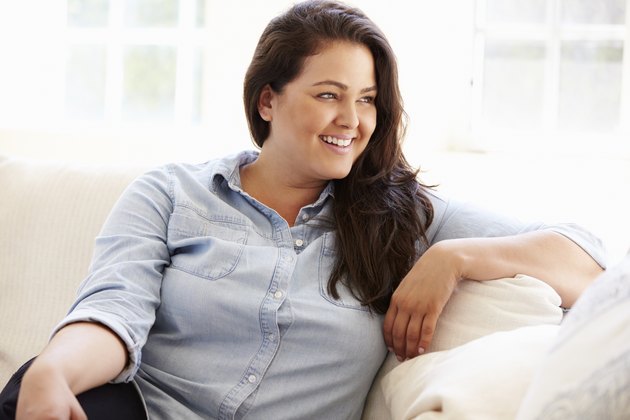 Considerations
A study in the New England Journal of Medicine in March 2000 examined how much of the average annual weight gain in adults happened over the holidays vs. other times of the year. The study says the average annual weight gain in adults under age 25 was approximately 0.5 to 1.5 pounds. Between the ages of 25 and 44, the annual increase in weight jumped to 3.4 percent in men and 5.2 percent in women. This means that if a man and a woman who each weigh 160 pounds both gained weight at this rate, the man would gain a little more than five pounds each year and the woman would gain a little more than eight pounds each year. However, the study could not prove that the weight gained tended to happen over the holidays, as it appeared to occur throughout the year.
Defining Overweight and Obesity
The terms "obesity" and "overweight" are not interchangeable. Being obese means there is an excess of body fat. This includes a man with 25 percent or more excess fat and a woman with 30 percent or more excess fat, says the Weight Control Information Network webpage. This differs from being overweight, which is a measurement of total body weight that does not separate fat vs. muscle and bone. An athlete may be overweight, but actually have a low percentage of fat. Measuring body fat is difficult, so body mass index, or BMI, is sometimes used instead. This involves taking a person's weight in pounds and dividing by height in inches squared, then multiplying this number by 703. While it does not measure fat directly, it does give an indication when weight is becoming unhealthy. In general, for adults, a BMI of 25 to 29.9 is considered overweight and a BMI of 30 or higher is considered obese.
Causes
Many factors contribute to weight gain in adults. Genetics and environment may make some people predisposed to being overweight. Certain diseases and some medications can also increase the chances. However, most cases of adult weight gain occur because more calories are consumed than are burned off, says the Centers for Disease Control and Prevention (CDC). If there is concern, a physician can run tests and determine if weight gain is due to a medical condition or medication or from overeating and being physically inactive.
Significance
According to the Office of the Surgeon General, as weight increases, so does the risk for death, especially in adults age 30 to 64. Just 10 to 20 extra pounds increases the risk of dying from heart disease and developing diabetes. Women who gain more than 20 pounds after age 18 double their risk for postmenopausal breast cancer. The surgeon general says that "for every two-pound increase in weight, the risk of developing arthritis is increased by 9 percent to 13 percent." In contrast, arthritis symptoms improve with weight loss. Sleep apnea, gallbladder disease, incontinence and many other medical conditions can be caused by putting on extra weight during the adult years.
Solution
Losing excess weight or avoiding additional weight gain in adults requires a combination of exercise, calorie reduction and behavioral changes. It is not easy, but the National Institute of Diabetes and Digestive and Kidney Diseases says losing just 5 percent to 7 percent of current body weight can prevent or improve chronic health conditions related to obesity. If losing weight seems daunting, start by making adjustments so no more weight is gained.