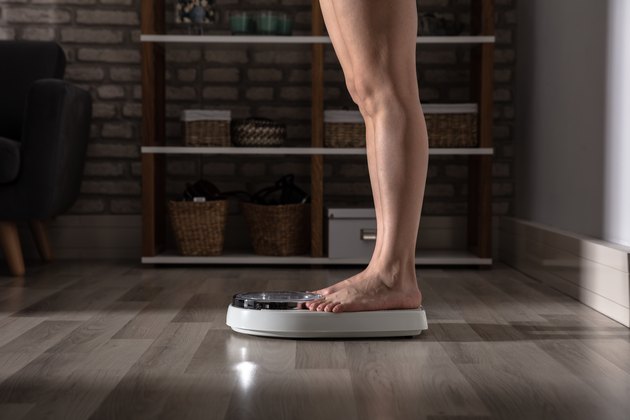 Tip
Without a balanced diet and regular exercise, the average adult can expect to gain around 0.6 to 1.7 pounds per year after age 30. The key to preventing weight gain is to stay physically active and eat foods that support metabolic health.
Aging and Weight Gain
Your body weight is directly related to your metabolism and lifestyle habits. As you age, your metabolic rate decreases. This means that you'll burn fewer calories, which in turn, may contribute to weight gain.
As the American Institute for Cancer Research notes, age-related weight gain is due to a decrease in muscle mass, reduced physical activity and metabolic slowdown. People tend to be less active as they get older. Many of them have a busy lifestyle and prioritize comfort.
Think about it: Would you prefer to go to work by car or jump on the bike and take a morning ride to your office? Probably the first option.
When you were younger, though, it was a lot easier to find time for a ride and stay active throughout the day. This decrease in physical activity leads to a gradual reduction in lean mass, which in turn, slows down your metabolism and increases body weight.
According to the Harvard School of Public Health, being moderately active for at least 30 minutes a day can lower the risk of chronic diseases and help you maintain a normal weight. Yet, one in three people worldwide gets little or no exercise at all.
The average weight gain per year after 30 has tended to increase as junk food became widely available. More than one-third of Americans consumed fast food on a given day between 2013 and 2016, as reported by the National Center for Health Statistics. In fact, older people carry almost 30 percent more fat, especially in the abdominal area, compared to when they were younger — and their eating and exercise habits have a lot to do with it.
Why Does It Matter?
While it's normal to gain some weight as you get older, that's not an excuse to overeat and stop being active. A review published in the International Journal of Cancer in April 2014 assessed the impact of weight gain and obesity on cancer risk. As researchers point out, the risk of breast, endometrial and colorectal cancers goes up for every 5 percent increase in body weight from age 25 to baseline.
Another study, which appeared in the journal Circulation in December 2012, has linked age-related weight gain to hypertension. Young male adults of normal weight who become overweight or obese by age 45 were twice more likely to develop high blood pressure than those who maintained their weight.
According to the American Council on Exercise, daily energy expenditure decreases by approximately 150 calories per decade after age 20. This means that if you're 40 years old, you burn about 300 fewer calories per day compared to when you were in your early 20s.
However, there are ways to keep your metabolism up and maximize your energy expenditure. A balanced lifestyle that emphasizes regular exercise and healthy eating is essential.
Exercise for a Faster Metabolism