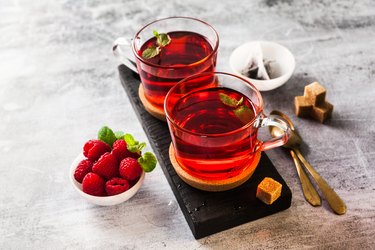 People have used red raspberry leaves for centuries because they are said to have health benefits. Many of these benefits are not proven, but, raspberry leaf tea side effects are minimal when taken in appropriate doses.
Tip
There are no reported side effects from using red raspberry leaf when taken as a tea. Higher concentrations, such as in red raspberry leaf supplements, may also be safe, but further research on the benefits and side effects are needed.
Red Raspberry Leaf Benefits
The red raspberry fruit is known for its sweet taste. You might eat raspberries raw or in jams. You can also use red raspberry leaves for flavor in cooking. There are many potential medicinal uses of red raspberry leaves, and they are made into teas and supplements.
Some people use red raspberry leaf supplements and tea for treating gastrointestinal (GI) disorders and common stomach ailments like diarrhea, according to a June 2016 review in ​Antioxidants​. It's also been used to treat sore throats, skin rashes, inflammation and flu symptoms. One of its most popular uses is reducing pain and discomfort associated with menstrual cramping and labor.
But, it's important to note that these claims are not backed by up-to-date clinical research. In other words, the healing capacity of red raspberry leaves in both supplement or tea form is largely anecdotal and needs further study.
What we do know is that red raspberries and their leaves have high antioxidant activity, according to the review in ​Antioxidants.​ That being said, more research is needed to determine the true benefits of red raspberry leaves.
Red Raspberry Leaf Side Effects
There are currently no known side effects of red raspberry leaf supplements or tea. Still, there are groups of people who should use caution.
People with diabetes who are on medication should talk to their doctor before taking red raspberry leaf supplements or tea, as the two may interact. One December 2016 case study in ​Obstetrics and Gynecology​ found that red raspberry leaf tea reduced blood sugar to dangerous levels in a person with gestational diabetes.
Also, people with hormone-sensitive conditions, such as breast cancer, should talk to their doctor before using raspberry leaf supplements or tea, as it may act like estrogen in the body and worsen these conditions, per a 2004 review in ​Oncology Nursing Forum​.
Red Raspberry Leaf Tea and Pregnancy
Typically, midwives recommend red raspberry leaf tea to help ease labor pain and shorten the duration of labor. Red raspberry leaf tea has been linked to shorter labor times because it stimulates uterine contractions, according to 1999 research in the ​Australian College of Midwives Incorporated Journal​. But since this research is old, newer studies are needed to confirm these claims.
If you're wondering when to start drinking red raspberry leaf tea during pregnancy, the American Pregnancy Association says it's likely safe in the second and third trimesters. Still, talk to your doctor before doing so.