Widely marketed as a weight-loss supplement, the fiber from konjac root, also known as glucomannan, appears to have some other medicinal properties of interest. These include the ability to inhibit absorption of cholesterol and glucose by the gastrointestinal system, as well as strong laxative effects. However, glucomannan is not without potential side effects, some of which can be serious, particularly for those with certain preexisting conditions.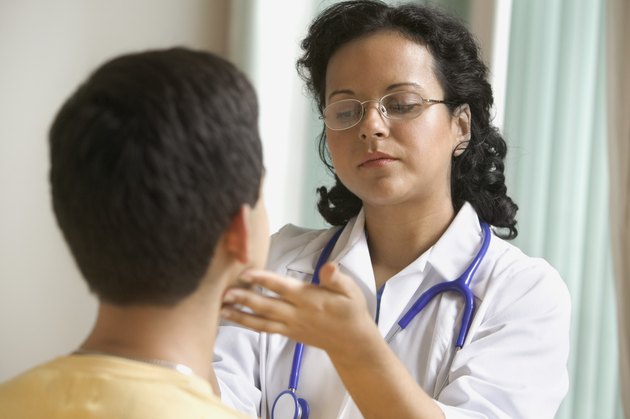 Blockages of Esophagus, Throat or Intestine
The very characteristics that make konjac root attractive for weight-loss applications in rare circumstances can cause potentially life-threatening blockages of the esophagus, throat or intestine. Glucomannan absorbs large quantities of water, helping to give weight-loss candidates a feeling of fullness and thus reducing their appetite for more food. If the fiber becomes lodged in the esophagus before it reaches the stomach, its intended destination, then it can become a choking hazard, particularly as it swells with any liquid it may pick up. In "The Complete Guide to Herbal Medicine," authors Charles W. Fetrow and Juan R. Avila cite rare cases in which such blockages caused perforation of the esophagus, necessitating surgical removal of the fibrous mass under general anesthesia. Anyone with preexisting esophageal problems should avoid glucomannan in all forms.
Health Canada, the federal agency charged with helping Canadians to maintain and improve their health, considered such blockages a serious enough threat to issue a health advisory in January 2010. The agency warned that products containing glucomannan pose "a potential for harm if taken without at least eight ounces of water or other fluid. The risk to Canadians includes choking and/or blockage of the throat, esophagus or intestine, according to international adverse reaction case reports." Australia banned glucomannan products in 1985 because of the potential for obstruction of the esophagus or intestines.
Gastrointestinal Distress
Far less dangerous but annoying nonetheless, glucomannan can cause a variety of gastrointestinal complaints, including diarrhea, loose stools and flatulence. Those who experience such symptoms usually can find relief by reducing the amount of glucomannan they are taking. If, however, gastrointestinal discomfort should persist, users should discontinue use of the fiber altogether and consult their doctors.
Potential for Interaction
Several studies indicate that glucomannan slows or reduces the body's absorption of both cholesterol and glucose. In a study published in the October 2008 issue of the American Journal of Clinical Nutrition, Connecticut researchers found that glucomannan supplements lowered levels of both total cholesterol and low-density lipoprotein, the so-called bad cholesterol. An earlier study by researchers in Taiwan, published in a 2003 issue of the Journal of the American College of Nutrition, concluded that glucomannan supplements lowered blood glucose levels of patients with type 2 diabetes.
While such findings might be considered positive news under most circumstances, they do represent a cautionary note to patients who are already taking medications to reduce blood glucose or blood cholesterol levels. It is important that they take these properties of the konjac root fiber into consideration before beginning to use products containing glucomannan. The net effect of taking both without first consulting a health professional could be to reduce serum glucose and/or lipids beyond levels that are considered healthy.