Without calories, the human body does not get the energy it needs to continue to fuel itself. All calories come from either fat, protein or carbohydrates. There are many types of carbohydrates. The term "carbohydrate" is commonly used to reference foods that are relatively high in carbohydrates in relation to protein and fat content.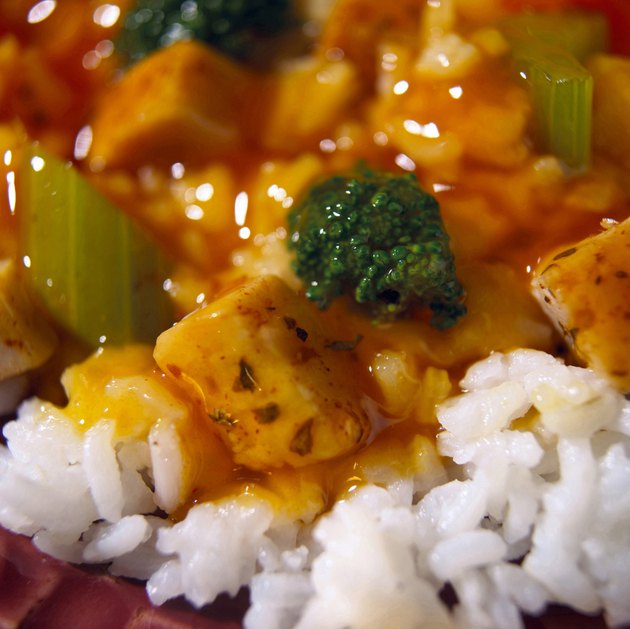 Calorie Basics
A calorie is a basic measurement unit for the energy content of food. They are essential to maintain the body's vital functions, or basal metabolic rate. Fat is the most calorie-dense source of calories, at 9 calories per gram. Both protein and carbohydrates contain 4 calories per gram.
Carb Breakdown
Chemically speaking, a carbohydrate is an organic compound that consists of carbon, hydrogen and oxygen in a specific ratio. Carbohydrates function mainly to supply the body with available energy, but the body also stores them as glycogen for longer-term energy use. Depending on how complex these chains of carbon, hydrogen and oxygen are, they form either monosaccharides, disaccharides or polysaccharides. The more complex carbs, polysaccharides, require more time and energy for digestion and are considered healthier than monosaccharides like simple sugars.
How Much You Need
Depending on your age and activity level, calorie and carbohydrate needs can vary drastically. The more active you are, the more calories and carbohydrates your body will require. The National Institutes of Health recommends that sedentary women age 19 to 30 consume 2,000 calories per day, while those 31 to 50 years should get 1,800 calories. The calorie recommendation for active women 19 to 30 years old is 2,400 calories, but that drops to 2,200 calories for those 31 to 50 years. Sedentary men aged 19 to 30 should aim for 2,400 calories per day; those age 31 to 50 years should opt for 2,200 calories. Active men ages 19 to 50 should consume 3,000 calories per day.
A Balanced Diet
Being in calorie balance, or burning and consuming the same amount of calories, maintains weight. Burning more calories than you consume results in weight loss, and consuming more calories than you burn results in weight gain. The U.S. Department of Agriculture recommends that 45 percent to 65 percent of your daily calories should come from carbohydrates.